Beatings, threats and abandoning people at sea: According to human rights group Mare Liberum, the violence against migrants at the hands of European border guards has "reached an entirely" new dimension. In a new report, the organization documented close to 10,000 pushbacks in 2020.
Human rights group Mare Liberum on Thursday (February 11) published a damning report on so-called pushbacks between the Greek Aegean islands and Turkey, the country with the largest refugee and migrant population in the world.
According to Mare Liberum, 2020 saw "an unprecedented escalation of human rights violations in the Aegean" at the Greek-Turkish border.
The main actor who carried out the "systematic expulsions," according to the NGO, was the Greek coast guard, while European border and coast guard agency Frontex as well as ships under NATO command were also involved.
Mare Liberum said it documented 321 incidents, both at sea and on land, in which 9,798 people were illegally pushed back in 2020. Although not new, "their scale, the precise methodology and the strategically deployed violence and humiliation" had "reached an entirely new dimension" that began in March, according to the report.
Deprived of right to asylum
Most cases detailed in the report are about the damage to inflatable boats of people seeking protection, as well as the passengers, which included children, "deliberately being subjected to physical and psychological violence."
"These pushbacks are not isolated or extreme instances of European deterrence, but rather the current and everyday "modus operandi" at the EU's external border," said Paul Hanewinkel of Mare Liberum, one of the authors of the report. "We live in a Europe where people are abandoned at sea in tiny life rafts, instead of legally accepting people seeking protection."
Mare Liberum said it mainly reconstructed the pushbacks "through the testimonies of witnesses who were themselves pushed back at the Greek-Turkish border, cross-checking and evaluating official government websites, press reports and data from other organizations and actors."
So-called pushbacks refer to the practice of preventing people from seeking protection on their territory by forcibly returning them to another country, generally immediately after they crossed it. They are illegal as they violate international law and human rights, including the principle of non-refoulement and the right of migrants to claim asylum after they crossed a border.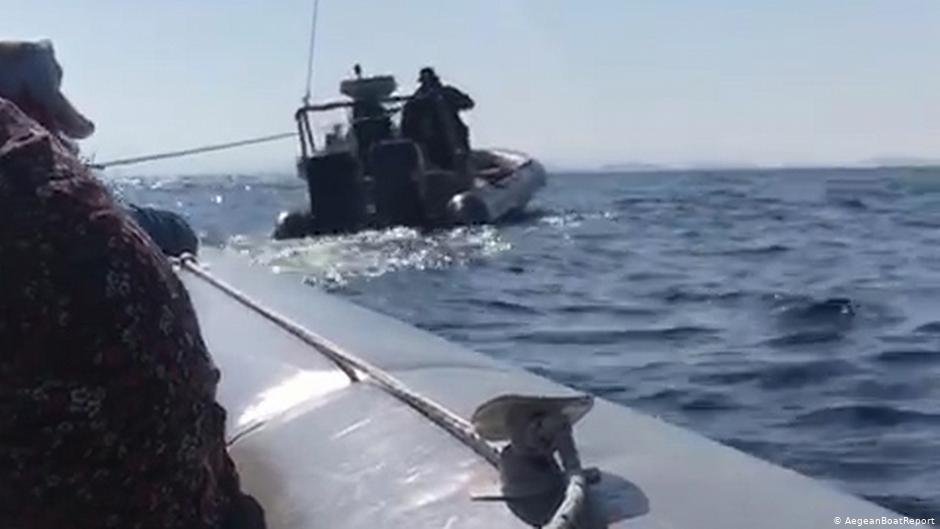 Pushed back after reaching Greece
In its report, Mare Liberum said that in some cases, migrants were pushed back after they had reached Greek soil and claimed asylum.
A ZEIT Online article from this week about Frontex desribes a similar pushback case: A Syrian family was presumably flown back from the Greek Aegean island of Kos to Turkey in 2016, despite the practice being illegal and the family being promised they'd be brought to Athens.
The Syrian family, which is now in Iraq as they cannot return to their home country, brought an action in 2017 at the European Court of Human Rights against Frontex for violating the right to asylum and other basic rights. In the fall of 2020, after two and a half years of waiting, they received the final report: Although the complaint was forwarded to the Greek authorities, they couldn't prove any wrongdoing.
In recent weeks and months, EU border agency Frontex has come under intense pressure and scrutiny due to accusations about hushed up human rights violations, fraud, bullying and secret meetings with the arms industry.
Earlier this week, German politician Claudia Roth from the Green Party called for Germany's withdrawal from the agency in the absence of a "complete reorientation of Frontex."
Last week, the EU's commissioner for home affairs, Ylva Johansson, said that the latest reports were "very concerning" for an agency that is "going to be, by far, the biggest EU agency with a lot of power."
With AFP, epd