116 refugees who had been living in Greek camps flew into the German city of Hanover on Wednesday, February 17. The group was composed of 53 adults and 63 children.
26 family groups of refugees have arrived in Germany, the German interior ministry said in a press release on Wednesday. The 53 adults and 63 children have already been granted refugee status by the Greek authorities, continued the press release.
The latest 116 people to land in the German city of Hanover are part of an agreed contingent of people in need of protection. The agreement was signed between Germany and Greece in March 2020.
Back then, Germany said they would be ready to provide a passage to Germany for 244 ill children and their families as well as 53 unaccompanied minors.
Then, after a fire destroyed the main migrant camp on the Greek island of Lesbos, the German government offered places to a further 150 unaccompanied minors. This group was then extended further, to offer places in Germany to 1,553 members of refugee families.
'First direct relocation' from Lesbos to Germany
IOM Greece on Twitter noted that the latest flight represented "the first direct relocation from a Greek island to another European country under the EU relocation scheme." IOM added that the project was "continu[ing] to support vulnerable people in need."
The relocation program has been a collaboration between the Ministry of Migration and Asylum in Greece, the Greek Asylum Service, the UNHCR, the International Organization for Migration (IOM). UNICEF, the UN children's agency, also supports parts of the program which concern unaccompanied minors.
According to UNHCR figures in January, a total of 2,235 people had been relocated from Greece to various European countries, including Belgium, Bulgaria, France, Croatia, Finland, Iceland, Ireland, Italy, the Netherlands, Norway, Portugal, Luxembourg, Lithuania, Slovenia, Switzerland and Germany.
Destination: Various German states
The families will be shared out between several German states, including Baden-Württemberg, Bavaria, Hessen, Lower Saxony, North Rhine Westphalia, Rhineland Palatinate, Schleswig-Holstein up near the Danish border and Thuringia.
The German Interior Minister Horst Seehofer has made sure that all such flights are operated and signed off by the German federal government. The families are then sent to various German states, depending on where they might already have relatives, or their particular medical needs.
According to the German government, since April 2020, 1,677 people have now arrived in Germany on flights like these.
According to the latest UNHCR data from February 14, there are still "some 17,200 refugees and asylum seekers residing on the Greek islands." 48% of those come from Afghanistan originally, 16% from Syria and 8% from Somalia.
Looking for a school and a hospital
In January, the UN refugee agency UNHCR reported on one Somali family who was relocated to Germany from Greece in December 2020. 18-year-old Nasro Mohamed came with her severely ill brother and their mother, Hindi Adan, from Athens and landed in Germany on December 10.
Nasro's wish was to find a doctor for her brother and a school for herself. She explained to UNHCR that her brother "cannot walk. He cannot speak. He needs constant medical care." Partly because of this, Nasro hopes to study and become a doctor, so that "maybe I can help him."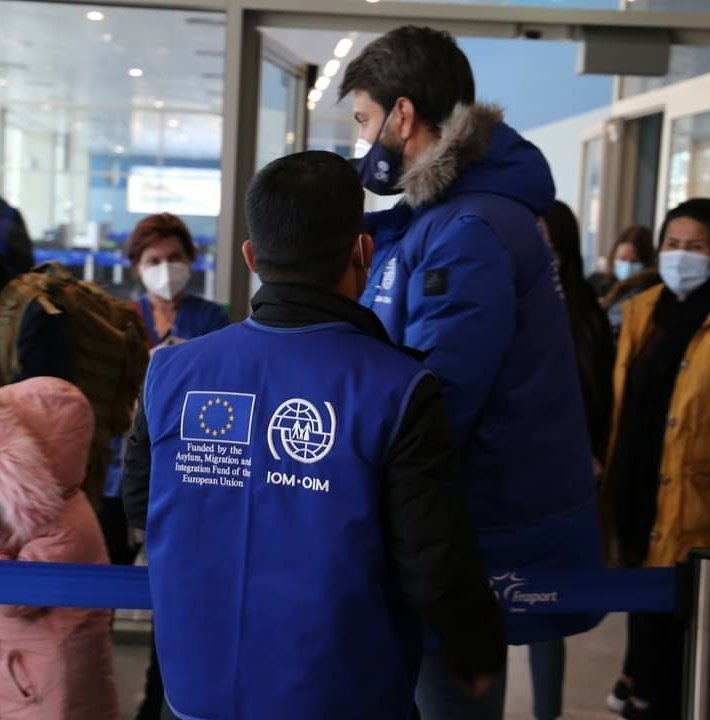 From Somalia to Speyer
UNHCR reported that Nasro and her family have ended up in the south-western German city of Speyer. They fled Somalia three years ago, after Nasro's father was killed by militants in the country's capital Mogadishu.
The militants, according to UNHCR, then began threatening Hindi's life and so she took the decision to flee to Greece in 2018. They arrived first on the Greek island of Leros, but then UNHCR helped them move, a week later, into a private apartment "due to their vulnerabilities."
The family stayed in the apartment for ten months until they were offered a place on the relocation scheme to Germany. Nasro can already speak English and she and her mother told UNHCR that they have been watching German television and hoped to start language lessons soon. They are pleased to have arrived in Germany and Nasro told UNHCR that her brother is pleased too. "My brother sees me happy, so he is smiling [too]," Nasro said.