Dozens of people joined a protest rally in Paris at the weekend in support of the anti-migrant group Generation Identity. The group is due to respond to a government order for its dissolution.
Around 200 anti-migrant protesters attended a demonstration on Saturday in the French capital, Paris. The gathering was largely peaceful, according to a reporter from the Associated Press, although there were some scuffles between protestors.
The members and supporters of the group Generation Identity (Génération identitaire) held flags of the movement and placards that said "Stop dissolution." A counter-demonstration also took place in southern Paris against the group, AP reported.
Generation Identity, which is based in Lyon, has witnessed support in France and other European countries. Its members say they want to defend French and European civilization against newcomers -- in particular Muslims.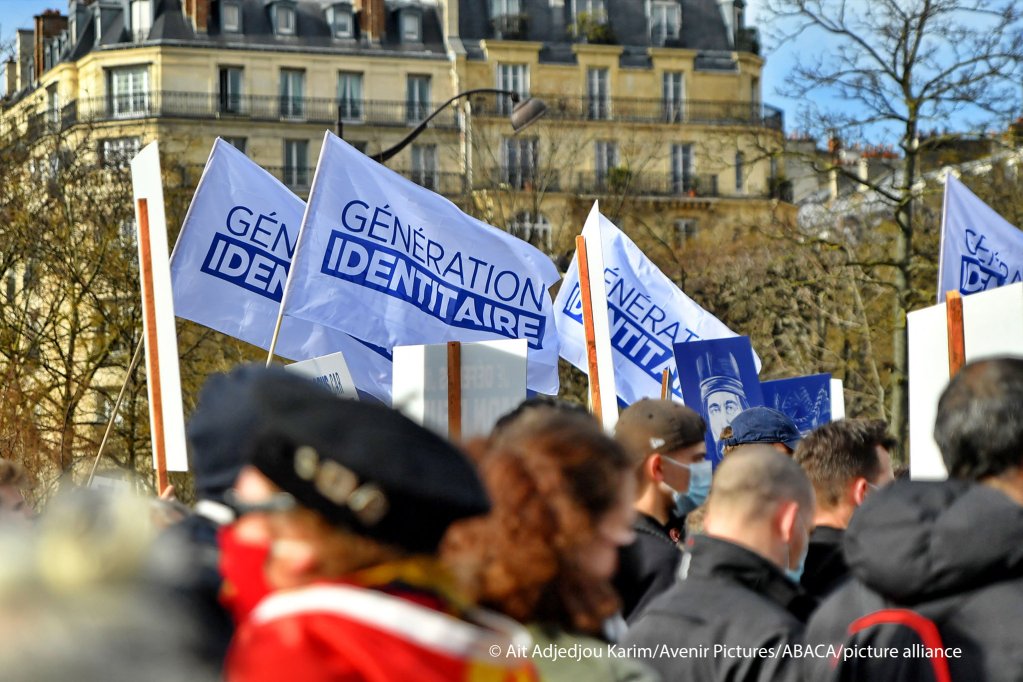 The group was behind a 2017 "Defend Europe" mission on the Mediterranean Sea that used a chartered anti-migrant ship crewed by European citizens.
Last month, around 30 GI members blockaded the Col du Portillon pass on the border between France and Spain, saying they were combatting "the terrorist and migrant risk in the Pyrenees."
Dissolution proceedings
Generation Identity has been involved in several legal battles. It is currently facing proceedings announced by the French Interior Minister Gérald Darmanin, who wants to disband the group.
Announcing the proceedings earlier this month, Darmanin cited France's security code forbidding "combat or private militia groups" and groups that "provoke discrimination, hate or (racial) violence,'' according to French daily newspaper Liberation. The paper had seen a copy of the government's seven-page justification, according to AP.
The group was given 10 days to respond; the deadline is Monday. Generation Identity's president, Clement Gandelin, told AP that his group had the evidence it needed to refute the allegations. He said they would fight to the end in court to retain the right to operate, and if the group was dissolved, he said, "the militants will still be there.''
Also read: France considers shutting down anti-migrant group
With Associated Press