Between Friday and Sunday, some 550 migrants were rescued in the Central Mediterranean. While the private rescue organization Sea-Watch said it saved some 450 people, a Libyan patrol boat picked up nearly 100 from a shipwreck, in which 20 passengers are reported missing.
After three consecutive days of rescuing migrants from distress in the central Mediterranean Sea, the crew operating the Sea-Watch 3 vessel handed over some of their rescuees to an Italian coast guard vessel.
According to Sea-Watch, the crew of the Sea-Watch 3 vessel on Sunday night was "assisting" a "wooden boat in distress with ~90 people" that was in "imminent danger" off Lampedusa. At that time, the 55-meter vessel had already picked up 363 people in five operations.
Due to an apparent lack of space to accommodate all rescuees, the crew on Sunday night evacuated the 90 people to life rafts.
The German NGO tweeted that initially, "Italy and Malta denied support." However, the Italian coast guard then transferred the 90 people to their vessel and "disembarked" them on the Italian island of Lampedusa early Monday morning, Sea-Watch announced on Twitter.
Six rescues in three days
In total, Sea-Watch said it rescued 453 people in six separate operations in the central Mediterratean off Libya, taking place between Friday and Sunday.
The first rescue took place on Friday (February 26), one day after the Sea-Watch 3 had arrived in the search and rescue (SAR) zone more than 50 kilometers off the Libyan coast. 45 people, including 15 minors, were rescued, the aid group said. Then, on Saturday, the crew rushed to the aid of people after their inflatable dingy lost air, which brought the number of rescuees to 147.
Operations three, four, five and six, Sea-Watch reported, happened in only roughly 24 hours between Saturday night and Monday morning. First, the crew picked up 73 people, among them "16 women and some children". Only hours later, an additional 97 people were rescued "from a double-decker wooden boat". In the afternoon, the crew picked up yet another 44 people, which brought the number of rescuees to 363. The sixth rescue took place on Sunday around midnight.
On Monday around noon, Sea-Watch said 363 people remain on board the vessel and "need a port of safety immediately."
15 Europe-bound migrants missing
On Sunday, at least 15 mostly western Africans likely drowned when their boat capsized Sunday (February 28) off the coast of Libya. It was the second deadly shipwreck involving Europe-bound migrants in the Mediterranean in just over a week, news agency AP reported.
According to Safa Msehli, spokesperson for UN migration agency IOM, a rubber boat carrying at least 110 migrants had set off Friday evening from the Libyan coastal town of Zawiya. When the boat started to sink early Sunday, Libya's coast guard managed to rescue at least 95 migrants, including six women and two children, Msehli said.
Yet the 95 survivors reported that 15 passengers died in the shipwreck. According to Msehli, many of the survivors suffered from burns and hypothermia. A few of them had to be taken to a hospital. "Some who needed urgent medical attention were transferred to clinics, but most of them ended up in detention," Msehli told InfoMigrants.
Sunday's shipwreck was the latest along the deadly central Mediterranean migration route. Last week, at least 41 migrants were reported dead, "part of a group of some 120 migrants on a dinghy that left Libya on February 18," AP reported. In January, at least 43 migrants had died off Libya, in what has been described as the first major shipwreck in the area this year.
According to the IOM, around 170 people have lost their lives in the central Mediterranean in 2021 so far. Last year, the number of people who died trying to reach Europe amounted to nearly 1,000 on the same route. 
Data by the UN refugee agency UNHCR shows that around 3,800 boat migrants have arrived on Italy's shores so far in 2021, the vast majority on Sicily.
Rescued -- only to be tortured
Those intercepted and returned to Libya are routinely placed in detention centers notorious for suffering including abuse, torture, slavery, extortion and rape. According to the IOM, nearly 4,000 people, including some 410 women and children, have been forcibly returned to Libya by the country's coast guard since the beginning of the year.
Last week, some 350 African migrants, including over 100 children, were reportedly freed from a secret prison in southeast Libya. The IOM said that many of them were malnourished and had been abused.
There are also mounting reports on stand-offs between Libyan maritime authorities and NGOs in international waters, including reports that Libya's coast guard is increasingly interfering in the actions of NGOs operating rescue missions at sea.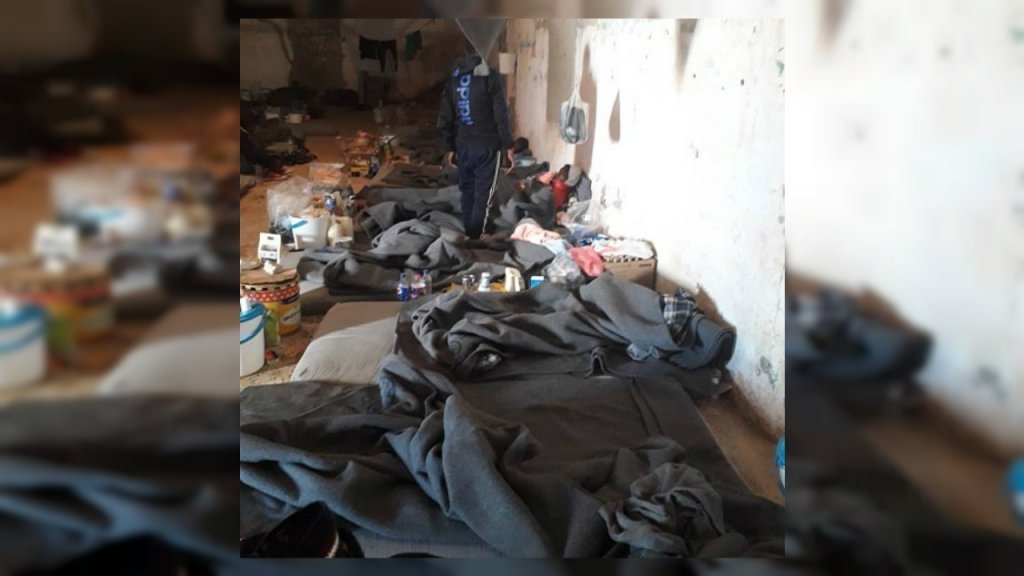 The IOM and the UNHCR have repeatedly called for an "urgent and measurable shift in the approach'' to the situation in the Mediterranean, including an end to migrant returns to "unsafe'' Libya.
Libya has become the major transit point for African and Arab migrants hoping to reach Europe since the overthrow of longtime ruler Moammar Gaddafi in 2011. Traffickers have exploited the chaos and often pack desperate families into ill-equipped rubber boats that stall and founder on the dangerous central Mediterranean route. More than 17,000 people have drowned along the way since 2014, according to the IOM.
Also read: Smuggling network source reveals harrowing details of migrants' 'death journey' inside Libya
Sea-Watch 4 christened
Meanwhile, Sea-Watch announced that it christened its fourth migrant rescue vessel on Sunday. A small crowd attended the event at the shipyard in which the vessel is currently being retrofitted, according to Sea-Watch.
The godparent of the vessel is the 18-year-old Alpha Jor Barry who was one of the first people to have been rescued by the crew of Alan Kurdi, another SAR vessel of Sea-Watch.
With dpa, AP, AFP