Greek Prime Minister Kyriakos Mitsotakis has announced that the destroyed Moria migrant camp on Lesbos will not be rebuilt. A new structure elsewhere on the island will reportedly replace the temporary Kara Tepe camp.
In a meeting with the mayors of the Greek islands hosting refugees, Mitsotakis said that a park is to be built on the site of the former Moria migrant camp on the island of Lesbos, German news agency dpa reported Thursday.
The notorious Moria camp, which hosted around 12,500 refugees and migrants at the time, burned down last September after residents of the camp allegedly set fire there.
The prime minister also repeated that the temporary Kara Tepe camp -- which was set up after Moria was destroyed -- would be replaced by another camp, dpa reports, quoting the Greek Kathimerini newspaper. The new camp will be built somewhere else on Lesbos -- with the support and financial help of the EU, Mitsotakis said.
There are currently around 15,000 refugees and migrants living on the Aegean Islands of Lesbos (8,837), Samos (3,441), Chios (1,978), Kos (481) and Leros (397).
The temporary camp of Kara Tepe on Lesbos, which has been also dubbed 'Moria 2.0', now holds just under 7,000 people, with a maximum capacity of 10,000, according to official figures by Greek Ministry of Civil Protection from March 1.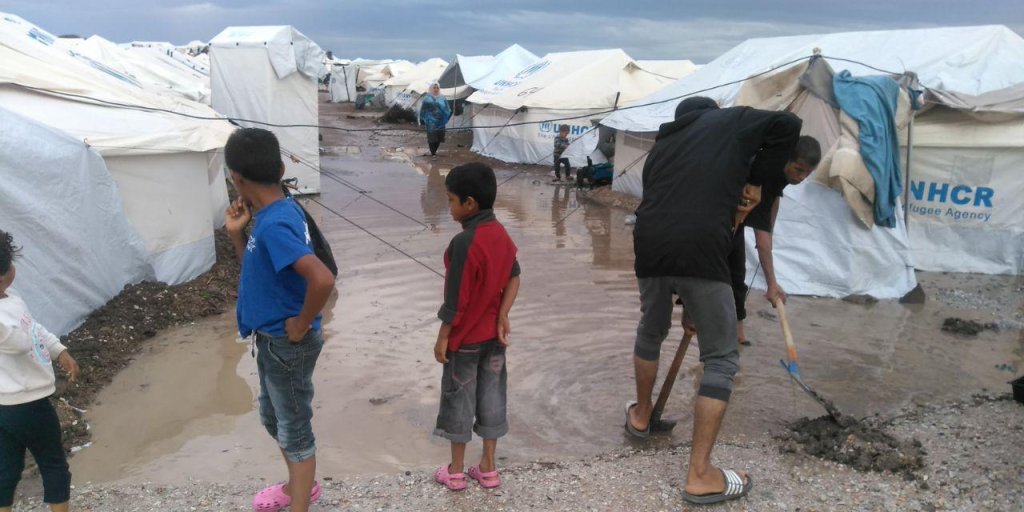 Precarious conditions for migrants
At the meeting with island mayors, Mitsotakis claimed that despite its temporary nature, Kara Tepe is still much better than Moria ever was, according to Kathimerini.
Yet migrant aid organizations have said that the conditions at Kara Tepe are far below minimum standards and have called for the immediate evacuation of migrants to the mainland. Situated directly by the coast on a former military firing range, the Kara Tepe camp is exposed to the elements and heavy storms have repeatedly caused flooding and collapses of tents.
In a letter sent to the Greek ombudsman last month, the organization Legal Centre Lesvos wrote that there is "insufficient healthcare, privacy, food, electricity, running water, hot showers and other hygiene facilities" at the camp. Furthermore, they said that only 269 toilets at Kara Tepe were operational. (This would mean that on average more than 25 people share one toilet.) "Measures in place to prevent the spread of COVID-19 are inadequate and physical distancing is impossible, given that camp residents have to queue to access all basic necessities," Legal Centre Lesvos warned.
In early February, Greece's migration minister had announced that Kara Tepe was 'largely' equipped for winter. Despite some improvements (new showers were installed, for the first time with hot water), images from residents in the camp sent to InfoMigrants still showed miserable conditions.
Moreover, a recent report by the NGO Civil Fleet describes how children at the Kara Tepe camp (they make up around 36% of the camp's population) are traumatized and depressed to the point where they have stopped talking and playing, are self-harming and have thoughts of suicide. 
Also read: Winter brings more suffering for refugees
With dpa