Bosnian authorities have announced that over 100 migrants who had been sleeping rough have been moved into asylum centers. Nearly half of those moved were reportedly children.
The 115 migrants in question had been staying in eight abandoned houses and buildings in the northwest of the country, where they lacked basic amenities such as running water, electricity and heat. A total of 53 child migrants stuck in Bosnia were among the migrants.
They were relocated to a camp in the region that hosts vulnerable groups in particular, according to a statement by the Bosnian Service for Foreigners' Affairs.
There were no immediate details shared on their countries of origin.
Read more: Bosnia: Refugee aid groups under pressure
Sleeping rough for the 'game'
Thousands of migrants and refugees are currently stranded in Bosnia-Herzegovina in the middle of the country's harsh winter conditions. They all hope to reach EU countries and gather in the northwestern part of the country in hopes of finding a way to cross the border into the neighboring EU member state Croatia irregularly.
Their efforts are regularly thwarted, as Croatia as enacted a series of measures to push back the migrants -- in many instances involving force. While Croatian authorities deny these reports, migrants and refugees in Bosnia have become used to trying to cross the border dozens of time in hopes of succeeding that they refer to the practise as the "game."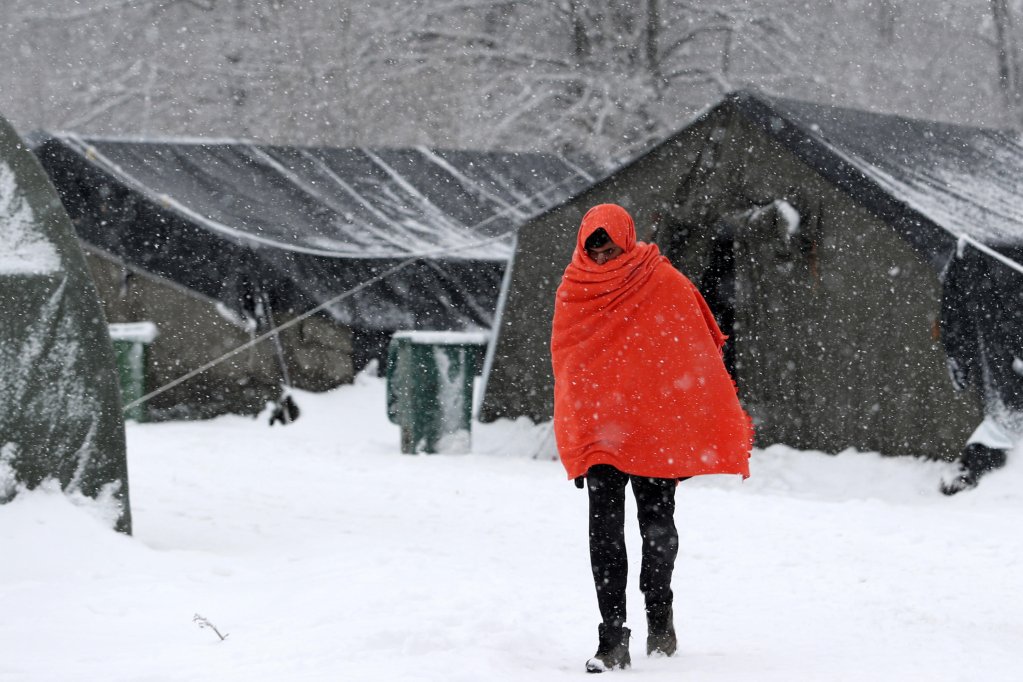 A deepening crisis
An estimated 10,000 migrants live in Bosnia, with the majority staying in government-run camps. But many have also been sleeping on the streets -- especially those who keep repeatedly trying to cross the Bosnian-Croatian border every couple of days. Sleeping rough near the border gives them more frequent opportunities to try the crossing. 
Bosnia meanwhile is struggling to manage the increasing number of refugees and migrants from the Middle East, Asia and Africa being stuck there, as the poor European nation is still recovering from the Balkans' war in the 1990s.
Bosnia and the European Union have also been at loggerheads for a while on how to best manage the crisis situation. While Bosnia demands more EU help and an opening of borders, the EU argues that Bosnia rather needs to first optimize its migration policies.
With AP