In the second major attempt this year, some 60 migrants have crossed the border fence separating the Spanish overseas enclave of Melilla from Morocco. Melilla and nearby Ceuta are chosen by many sub-Saharan Africans as a gateway into Europe.
Early on Monday (March 8), 59 migrants scaled a double fence and entered the Spanish enclave of Melilla, authorities said.
A total of around 150 migrants attempted to get through from Morocco, according to officials. Two of the migrants and three officers from Spain's Civil Guard paramilitary force were slightly injured, the Spanish government's delegation in Melilla said.
It added that most of the migrants were stopped by Moroccan security forces, according to news agency AP.
The 59 migrants who managed to enter the Spanish territory will be tested for the coronavirus and "spend a two-week quarantine in a government-run center for migrants," AP reported.
More than 450 people have arrived in Ceuta and Melilla so far this year, nearly 200 of them by land, according to the UN refugee agency UNHCR.
Europe's razor wire borders in Africa
The autonomous Spanish cities of Ceuta and Melilla on Morocco's Mediterranean coast have the European Union's only land borders with Africa. Separated from Spain by the Strait of Gibraltar, they are therefore the only way to enter the EU from Africa without crossing the Mediterranean.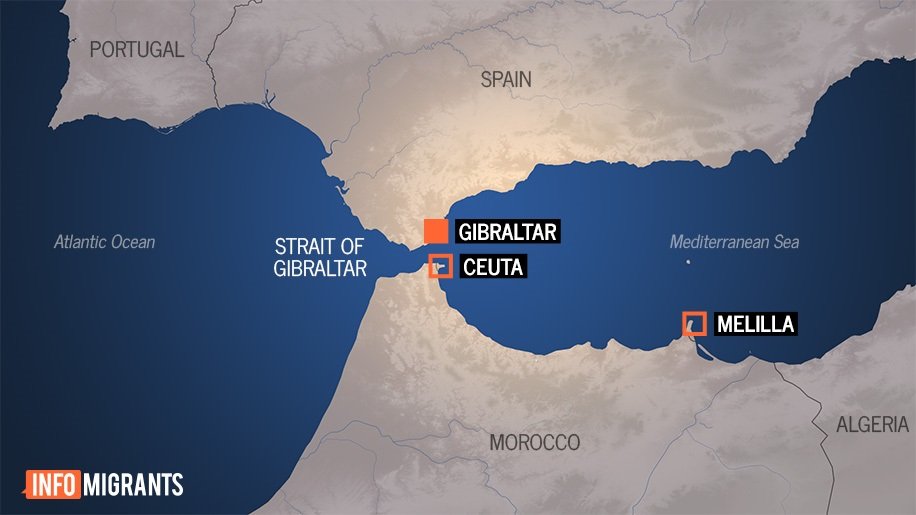 As such, they are a magnet for African migrants trying to reach Europe in search of a better life, despite migrants often getting stuck in either of the enclaves that fall outside the continent's Schengen area of free mobility.
Each of the two Spanish territories is surrounded by a fence around six meters high. The boundary in Melilla is smaller than in Ceuta and further from Spain.
Second major crossing in 2021
Friday's mass irregular border crossing in Melilla was the second major such attempt this year. In mid-January, 87 people successfully crossed the border fence.
Late last month, local police discovered migrants in Melilla hiding in waste containers in an attempt to reach the Spanish mainland. One man was found almost dead inside a plastic bag full of toxic ash. Also last month, police arrested eight members of a gang they say is engaged in trafficking hashish and transporting migrants from Melilla to the Spanish mainland.
In November last year, Spain's highest court announced that it would back fast deportations of migrants who attempt to enter Ceuta and Melilla. And in August, UNHCR, IOM and Amnesty International said migrants and refugees staying at centers inside Melilla are in danger due to overcrowding.
About 2,250 people attempted the risky crossing to Ceuta and Melilla by land or in boats last year, down from 7,900 in 2019, according to the Spanish interior ministry.
With AP