The government of Cyprus is building a barrier to prevent migrants and refugees from crossing over from the northern, Turkish Cypriot part of the island. The southern, Greek-administered part of Cyprus is part of the European Union.
The government of ethnically split Cyprus has come under fire over its decision to lay razor wire along a section of a buffer zone controlled by the United Nations (UN) which divides the northern Turkish side from the internationally recognized Greek part of the island.
The government in Nicosia says the move is needed to stem migrant inflows from the island's breakaway north.
Critics say the plan is "ineffective" and could cement the partition between the two sides of the island.
Earlier this week, the first parts of the barrier were laid out on the southern side of the buffer zone.
The fence will initially be 11 kilometers long. According to the news platform in-cyprus, it will stretch from the village of Astromeritis to the old Nicosia Airport.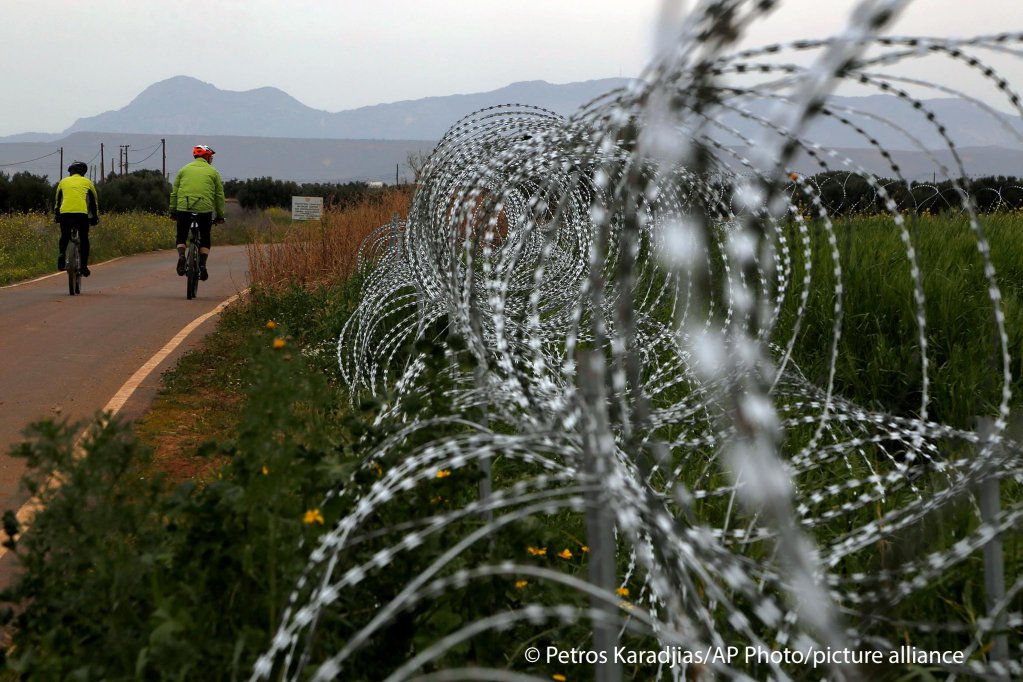 High asylum numbers
Many migrants reportedly cross into European Union (EU) territory along the UN buffer zone. Most migrants and refugees on Cyprus come from Syria and Afghanistan via Turkey to the northern part of the island and then cross to the southern part, reports dpa.
The number of refugees and migrants arriving on Cyprus has risen dramatically in recent years, said Cypriot President Nicos Anastasiades according to dpa. In 2019, there were nearly 10,000 migrants on the island -- up from 2,936 in 2016, 4,582 in 2017 and 7,761 in 2018, according to police statistics. Total numbers for 2020 and 2021 were not yet available.
About four percent of Cyprus' population is currently made up of asylum seekers -- that's more than four times the EU average. Cyprus also has the highest number of first-time asylum applications in the EU per capita.
In 2020, the country received about 7,000 asylum applications – most of them from Syrians.
Threat to peace talks
Although there have been some relocations of vunerable asylum seekers from Cyprus to other EU member states in recent years, President Anastasiades has repeatedly said that Cypriot authorities were overwhelmed and called on other EU countries to take in more asylum seekers.
Critics, including the communist-rooted opposition party AKEL, said the razor barrier only leaves "huge question marks since it implies the delineation of borders and entrenching our homeland's division," reports AP.
Other opposition parties criticized the timing of the decision. They said it jeopardizes an agreed-upon framework to reunify Cyprus amidst an effort to resume dormant peace talks.
Also read: Frustration boils over at Cyprus migrant camp
With AP, dpa