A 25-year-old Afghan man, father to a five-year-old child who died in November in an attempt to reach the Greek island of Samos from Turkey by boat, has spoken out about being charged with endangering his son's life by the Greek authorities and why he is bringing a counter-case against the Greek coast guard.
"My son was in my arms when the boat broke on the shore," says the 25-year-old Afghan man to the news agency Associated Press, AP. His quiet voice recounts his story in a video and a long printed feature.
The man has asked to be known just by initials N.A. although back in November when father and son attempted to reach the Greek island of Samos, his story was reported under several different names, from Naser to Abdul.
"I did not understand at that time what happened. I found myself in the water," he says simply, looking out at the Aegean Sea which surrounds Samos. "I lost my son from my arms. I looked around for my son, I couldn't find him. The water destroyed [the boat], it was very windy," N.A. remembers.
Following this incident N.A. was charged by the Greek authorities with "reckless endangerment" of his son's life and could face a prison sentence of up to ten years, if convicted, reports AP.
'Direct attack'?
N.A.'s lawyer, Dimitris Choulis, has told numerous media outlets, including the Russian state media channel and international news agency RUPTLY, that he sees these charges as a "direct attack" on asylum seekers.
The Greek government disagrees. Greece's migration minister, Notis Mitarakis, told AP that the charges did not represent a toughening of the government's stance. "If there is the loss of human life, it must be investigated whether some people, through negligence or deliberately, acted outside the limits of the law," Mitarakis explained.
Mitarakis added that "people who choose to get into boats which are unseaworthy, and are driven by people who have no experience of the sea, obviously put human lives at risk." Mitarakis underlined that Turkey is deemed by the EU to be a "safe country" and therefore no one needs to flee Turkey for the EU.
'No choice'
N.A. though told AP he had "no choice but to make the journey." He fled Afghanistan when he was just nine years old and after receiving two rejections for his asylum application in Turkey, he feared being deported back to a country he barely knew. He said he was hoping, by reaching Europe, he could give his son an education. N.A. says his son wanted to "to go to school, where, unlike him, the boy could learn to read and write and eventually fulfill his dream of becoming a police officer."
But those dreams were dashed on the rocky cliffs of Samos, on a stormy night in early November (November 7), when the two of them, in a group of other Afghans hoping to reach Europe, found themselves in a boat that capsized and broke up against the rocks. N.A. told AP, with a tear rolling down his face, that without his son, "I don't know how to live." He added, "he is the only one I had in my life. All my hopes were him."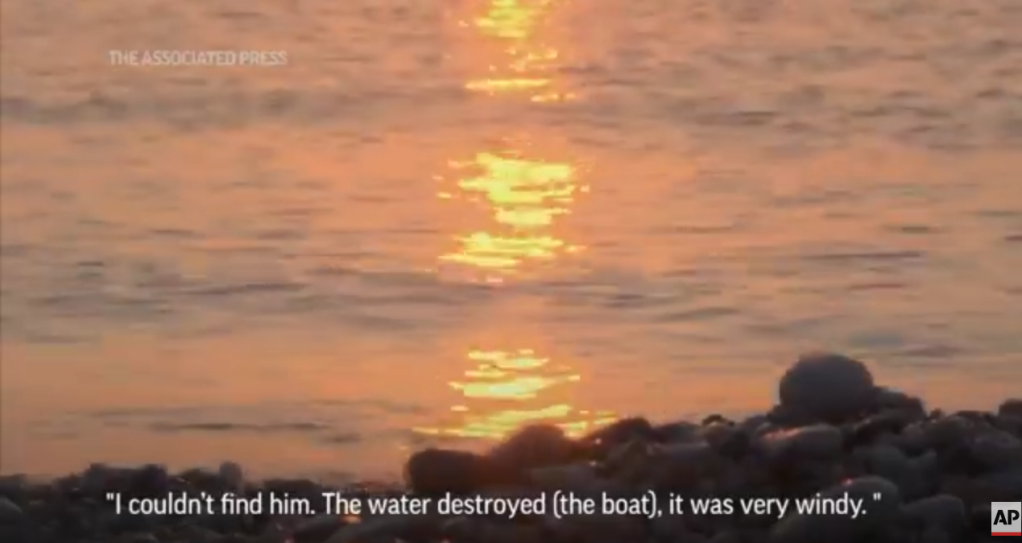 As N.A faces a trial, AP has tried to reconstruct what happened during the night. They have pieced the story together through interviews with N.A., another passenger on board the same rubber dinghy, the head of the Aegean Boat Report, Tommy Olsen, who first reported the boat's arrival to the Greek coast guard, and various legal documents.
According to AP's research, the 24 Afghan passengers on board the boat on which N.A. and his son were traveling set off from the Turkish coastal town of Izmir. N.A. got the number of a smuggler from his neighbor, after his second asylum application was rejected. His son, by all accounts spoke fluent Turkish, and N.A. who is divorced had decided to raise the child alone.
'An intelligent sweet child'
A fellow passenger on board the boat, 29-year-old construction worker Ebrahim Haidari, told AP that he remembered N.A.'s son as an "intelligent sweet child who easily struck up conversations with the other passengers and joked with the smugglers in fluent Turkish."
Haidari remembers that the group was worried as the sea wasn't very calm that night but the smugglers gave them lifejackets and told them the weather was set to improve. The short crossing became longer as the passenger who had been designated to pilot the boat "struggled to control [it]." The rubber dinghy began taking on water and people were screaming, remembers Haidari.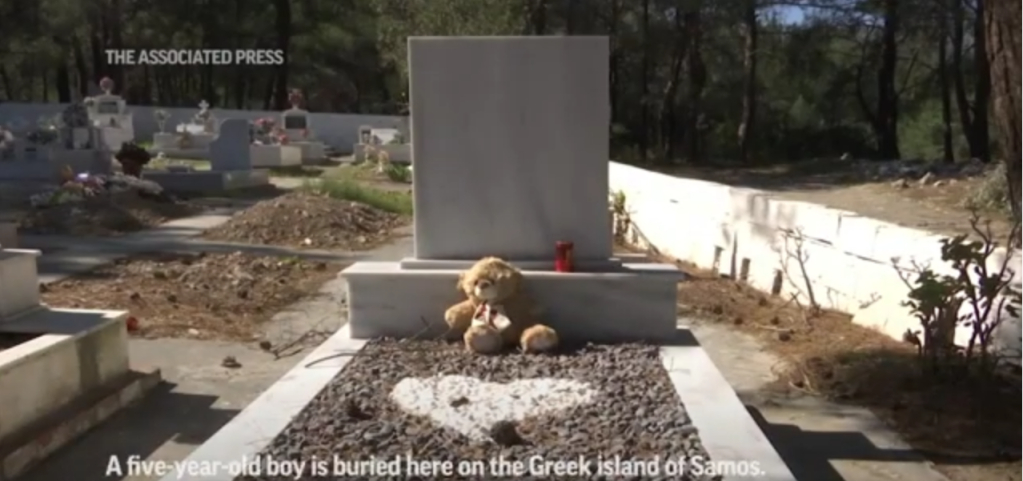 When the people on the boat saw a mountain loom up in the distance, they headed towards that, hoping that they could reach land, but the rocky cliffs broke the boat up and all the passengers landed in the water. There was "chaos" remember N.A. and Haidari.
N.A. says he doesn't know how to swim but his lifejacket brought him back up to the surface, and an unknown hand eventually grabbed him from the rocks. N.A.'s lawyer Dimitris Choulis is looking into what happened during this period and has called for a proper investigation into the events.
Searchlights and chaos
According to N.A.'s account whilst he was still in the water, two boats, or the same boat twice passed near to where they were, scanned the water with searchlights, but did not stop and help. N.A. is sure that they saw him in the water. "They were going around and coming back, going around and coming back," he remembers. Haidari told AP, "maybe they didn't see us, or didn't want to help us."
The Samos coast guard has a very different account, although they didn't speak directly to AP. According to AP, from legal documents they obtained, it was the Samos coast guard who initiated the process of charging N.A.
One member of the Samos coast guard however gave an account of that night, speaking to AP on condition of anonymity. This person said they were alerted to the presence of a migrant boat by Tommy Olsen at Aegean Boat Report. Olsen reportedly told AP that often migrants call his non-profit organization when they get in trouble as they fear being push backed by the coast guard.
Looking for help
The anonymous source at the coast guard told AP that on receiving Olsen's call they dispatched two boats, which left Samos' main port of Vathy at around 12:20 a.m. on November 8. They arrived in the area of Cape Prasso at around 1am, however they "saw nobody."
In the early hours of the morning, around 6am, the coast guard said they spotted a "heavily pregnant woman." They took about 90 minutes to rescue her, and while that was going on, they said they discovered a small boy's body nearby, which turned out to be N.A.'s son.
At around 6:40 a.m. another coast guard patrol on land came across a group of about ten people, who had managed to walk several hours from Cape Prasso. The group included N.A. says AP. The coast guard source suggested the reason charges were brought against N.A. is because he wasn't found with his son.
N.A. said that he "desperately sought help to find his son all night," but not being able to swim, was unable to search for him in the waves himself. Until the trial, N.A. is not allowed to leave Samos, but has been granted temporary asylum in Greece. He is being helped by refugee organizations and the efforts of his lawyer Choulis.
Counter-case
Choulis told DW that his efforts to counter-sue the coast guard and call for an investigation have been delayed by the COVID-19 pandemic. According to a DW report, the group in the boat made a distress call to Aegean Boat Report at 11:51 p.m., via WhatsApp. The coast guard said they were in turn contacted by Aegean Boat Report at six minutes past midnight.
When Aegean Boat Report checked back in with those on the boat at 1:18 a.m., they were told by the Afghans that no one had yet come to help them. The coast guard also refused to speak to DW, but released a statement saying they always worked in a "professional manner, respecting all human rights."
Choulis also told DW that he has some "questions" over the pathologist's report from N.A.'s son's death. According to Choulis, the pathologist examined the body days after the death but recorded his death at precisely 11:45 p.m. on November 7, exactly 21 minutes before the coast guard received the call from Aegean Boat Report. Choulis says he doesn't believe that timing is an accident. "This would allow for a small window of opportunity to let the coast guard off the hook," he suggests.
Choulis says he has scientific experts who say it is difficult to give such an exact timing for death when the body is examined days after. DW, say they were not able to see the autopsy report themselves and were provided this information by Choulis.
Choulis told DW that N.A. hopes to leave Samos as soon as he is able after the trial, in order to try and escape the "terrible memories." He doesn't have a destination, just somewhere where he can live in peace and work, he explained.
This article was based on an AP feature by Elena Becatoros and a DW report in German by Max Zander.