IOM UK recently set up an online conference to showcase migrant women's resilience during the COVID-19 pandemic. The conference came a week after International Women's Day, and featured five women who had migrated to the UK from various parts of the world.
Migrant women and girls face "additional challenges" as part of the COVID-19 pandemic -- that was one of the broad findings of the UN Migration Agency IOM's recent report into the effect of the global health crisis on women and girls. Yet, many migrant women are also showing resilience in the face of the coronavirus, too, the document highlighted.
To mark International Women's Day, IOM UK gathered together five women who had migrated to the UK -- some more recently than others -- to explain how they were playing their part in showing resilience for themselves and the communities they worked with across the country.
Dipti Pardeshi, IOM UK's Chief of Mission, highlighted a recent report from UN Women which estimated that the COVID-19 pandemic will "push 47 million more women and girls into extreme poverty," around the globe, "reversing decades of progress to eradicate extreme poverty."
It also makes women more vulnerable to migrant traffickers, as they attempt to dig themselves out of poverty, accepting offers of work abroad. In fact according to United Nations Women, 72% of all those who are smuggled or trafficked are women and girls.
Abuse heightened due to pandemic
Increased violence and domestic abuse is another phenomenon which has been heightened by the pandemic, with many migrant women in particular experiencing difficulties accessing shelters and sexual reproductive care -- either because services are overstretched or because of the terms of their visa, migration status, or lack thereof.
Migrant workers who are already in the UK, noted Pardeshi, "have struggled to find employment during the COVID-19 pandemic, because of lockdown measures but also [because] households are no longer willing to hire live-in carers and cleaners due to fears of COVID-19 transmission."
Many of these women, said Pardeshi, were ineligible for government benefits and had consequently often had to look for work "in places and situations where they may face sometimes heightened risk of exploitation, and limited protection from COVID-19."
Domestic migrant workers in the UK
One of the speakers on the panel, Filipina Marissa Begonia, spoke about her life as a migrant domestic worker, first in Hong Kong and Singapore and then in the UK. After years of abuse and exploitation herself, she founded an organization to try and protect others from suffering the same fate as she did.
Begonia's organization, the Voice of Domestic Workers (VODW) acts as an education and support group, calling for justice and rights for "Britain's 16,000 migrant domestic workers."
She stressed that many of them were still working in conditions in the UK which could be described as modern slavery.
Begonia also shared that she was a mother of three children, but in order to provide for their future, she felt compelled to leave them behind to work abroad when they were just three, two and one years old, respectively.
Begonia says she worked for years for abusive employers until she realized that she herself had rights which she could, and should, exercise.
As lockdowns and restrictions have shrunk many people's lives in the UK, Begonia said that VODW has had to step up its engagement to support her fellow domestic workers. Many of them have even lost jobs as a result of the pandemic. Others have not been provided with adequate protective equipment or have been scared to go to the hospital or doctor to be tested if they developed symptoms for fear of being deported.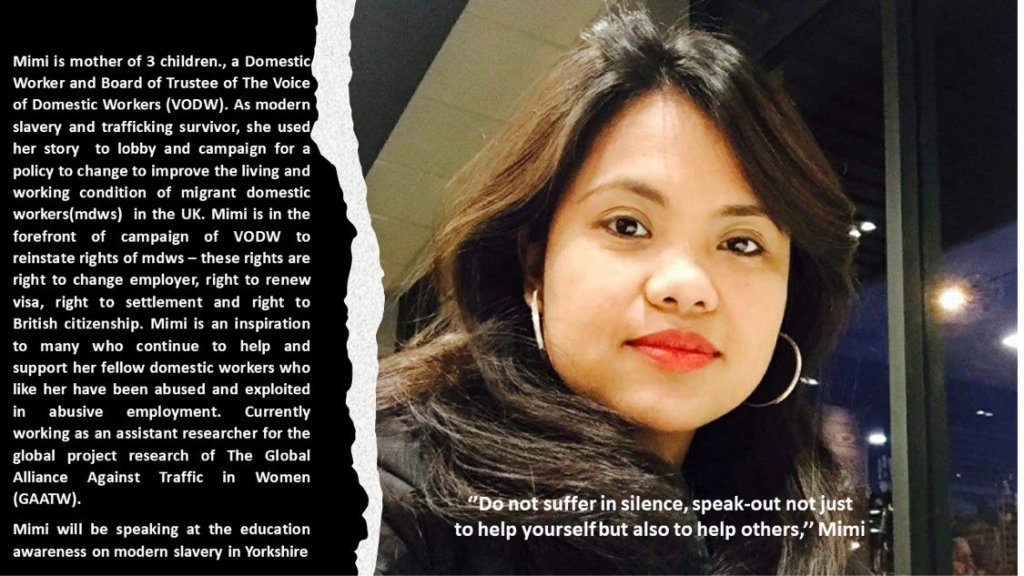 Fighting for (migrant) women's rights
Halaleh Taheri, born in Iran, was the second speaker on the IOM panel. A multiple migrant by her own account, she became a "Kurdish freedom fighter during the Iranian Revolution in 1979" and was a member of the armed Kurdish militia, fighting for the independence of Kurdistan.
Taheri says that back then, she lost nine members of her family. After three years fighting in the mountains she realised the "impossibility of the task" and moved to Iraq, where she lived for 11 years.
After the start of the first Gulf war in 1992, Taheri "was forced to flee again, this time to neighboring Turkey." In Turkey, Taheri asked for asylum via the UN and was granted it in Sweden. Once she got to Sweden, Taheri retrained as a social worker and lived and studied for 14 years, where she gained a degree in Pedagogy and began fighting for women's rights.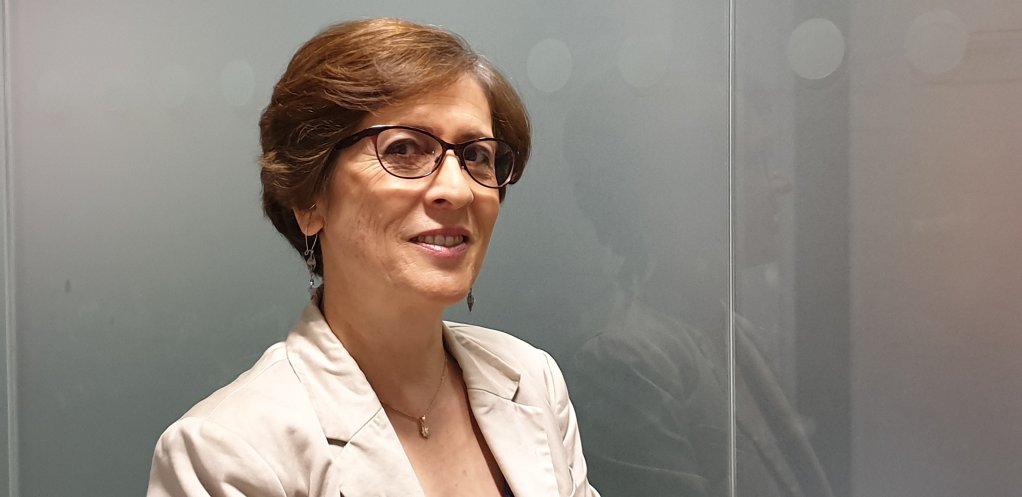 In 2005, Taheri made her latest migration, this time to London. Five years later, she set up the organization, Middle Eastern Women and Society organization, or in short: MEWSo. Taheri says she made "an early decision in her life to dedicate her time to helping displaced women."
MEWSo helps women, particularly women from the Middle East, in adjusting to a new life in the UK. The organization gives advice to women who contact them on housing, benefits and domestic violence. In addition, the organization provides "support to help cope and recover from trauma that [women] have experienced in their country of origin (such as sexual and domestic abuse and so-called honor-related violence) as well as issues related to mental and physical health."
One of Taheri's latest campaigns is making sure that migrant women don't remain just a footnote or a "special project" in the new domestic abuse bill that is making its way through the British parliament. She says, as the bill stands, it doesn't do enough to protect migrant women from abuse.
Tenacity and advocacy in Coventry
Loraine Mponela, originally from Malawi, arrived in the UK in 2008, where she sought asylum. Although Mponela says her claim for asylum was "refused in 2017" she has managed to stay and join an organization in Coventry, where she is based, which is called the Coventry Asylum and Refugee Action Group or CARAG. She is now the current chairperson of CARAG.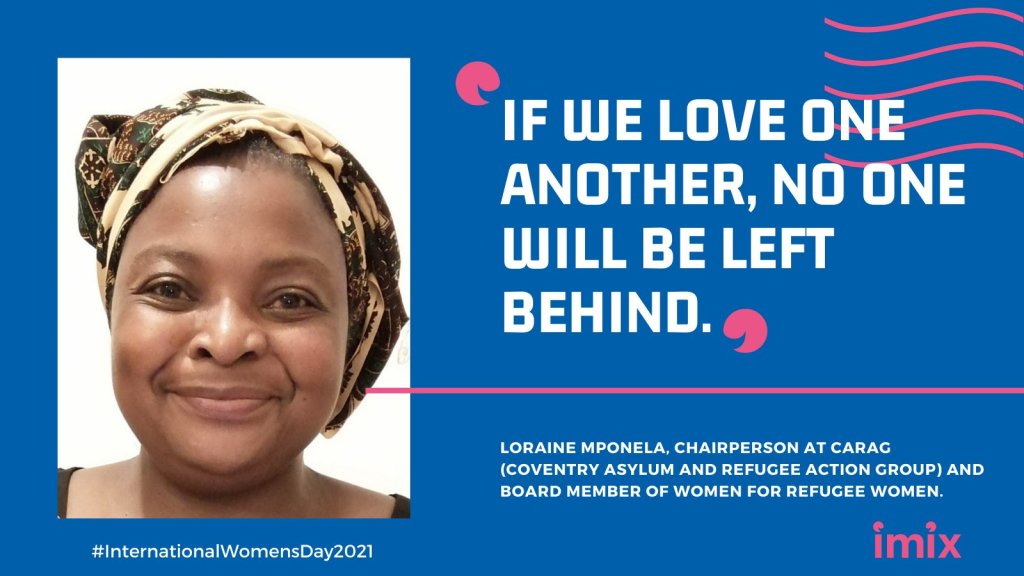 During the pandemic, Mponela and her colleagues say they have been working tirelessly to support and campaign for refugees, migrants and asylum seekers in her local area, offering peer to peer support and helping signpost people through registering with their local doctors as well as trying to address some of the additional homelessness that the pandemic has wrought in the migrant community.
Mponela says she and her colleagues are committed to "keep fighting" and are pushing for the rights of refugees and asylum seekers to access meals, housing, work and healthcare. She hopes the UK government will grant "indefinite leave to remain" to all those waiting for their asylum claims and migration status to be settled, so that they can access those rights, which in many cases have been denied to them.
Campaigning against child marriage
Nada Al-Ahdal also knows all about resilience. Born in Yemen in 2002, Al-Ahdal became famous for running away from a child marriage that her family were trying to impose on her when she was just 11 years old.
According to Al-Ahdal, her family turned to her to fulfill a marriage contract when her older sister set fire to herself in order to escape her own marriage contract. Her aunt, who had been married as a child, too, also committed a similar act of self-immolation and died. Her sister suffered severe injuries but survived.
One of her uncles saved Al-Ahdal from the marriage and allowed her to live with him, speaking up for her in the face of the family. Al-Ahdal has just turned 19 and is now living in the UK, where she sought -- and was granted -- asylum.
In those few years, Al-Ahdal has harnessed the power of social media and video to campaign for and make changes in Yemeni law. She says that children should be protected wherever they are in the world, and stresses that even though she might be thousands of miles away from Yemen, she plans to continue her work from London.
Migration affected her eyesight
The final speaker on the panel was Halima Begum, a woman who came to the UK as a child, being the daughter of a migrant worker. Although Halima Begum is completely anchored in the UK and is Chief Executive of the Runnymede trust -- a race equality think tank -- she says migration has had its effects on her life too.
As a child, Begum contracted typhus fever. At that time, around 40 years ago, she says her father's migration status meant that she wasn't granted immediate access to the healthcare she needed, which resulted in her blindness in one eye.
Begum points out that migrant and BAME (Black, Asian and Minority Ethnic) women have been "overexposed" during the COVID-19 pandemic to dangers, threats and risks. That is why she is also calling for a fairer immigration system to be introduced in the UK in oder to make sure that a lack of citizenship doesn't leave people "under-protected."
The women on the panel agreed that although the pandemic had been hard on everyone and particularly on the communities for whom they perform advocacy work, it had also given a boost to grassroots solidarity: Technology has helped provide and boost global connection, allowing people all around the world to get on board with protesting and campaigning for women.