In the town of Velika Kledusa, most migrants have only one ambition: to get to Croatia and continue their journey to western Europe. Some of them have already attempted the crossing more than twenty times. Each time they try, they risk being pushed back by force by Croatian police.
On a dirt track leading up to Velika Kledusa, a border town in northern Bosnia, Hejrat Allah pushes his white bicycle. Exhaustion and the huge backpack this Afghan is carrying are slowing down his pace.
Hejrat Allah is heading for the Croatian border. His wife has just called him, she has been deported from Croatia with their two daughters aged three and five. The father of the family is going to collect them. For them, it is yet another failed attempt to cross, but it will not be their last. Between them, Hejrat Allah and his wife have tried 45 times to cross the border into Croatia.
They agreed that it would be best if his wife tried to cross the border with their daughters first and then, once in Zagreb, apply for family reunification so that Hejrat Allah can join them. The family have settled in Velika Kledusa to be as close as possible to the border.
>> Also read: 'We live like animals,' migrants stuck in Bosnia say
From the heights of this small town, both Croatian and European flags can be seen flying over the border posts.
In the squats and improvised camps of Velika Kledusa as well as in the Miral accommodation center managed by the International Organisation for Migration (IOM), the migrants are occupied mainly by this "game" of crossing into Croatia. Some have spent months or even years in Bosnia trying and trying again.
'Bengali jungle'
In the woods where about fifty Bangladeshis have set up a small camp nicknamed the "Bengali jungle", some migrants are trying to rest and recover their strength before making another attempt to cross. Under a shelter made of pieces of wood and plastic sheeting, Atik is rolling out small balls of dough with a piece of plastic pipe to make patties.
The young Bangladeshi from the town of Sylhet was deported from Croatia just four days ago. He is already planning to try his luck again the day after our meeting.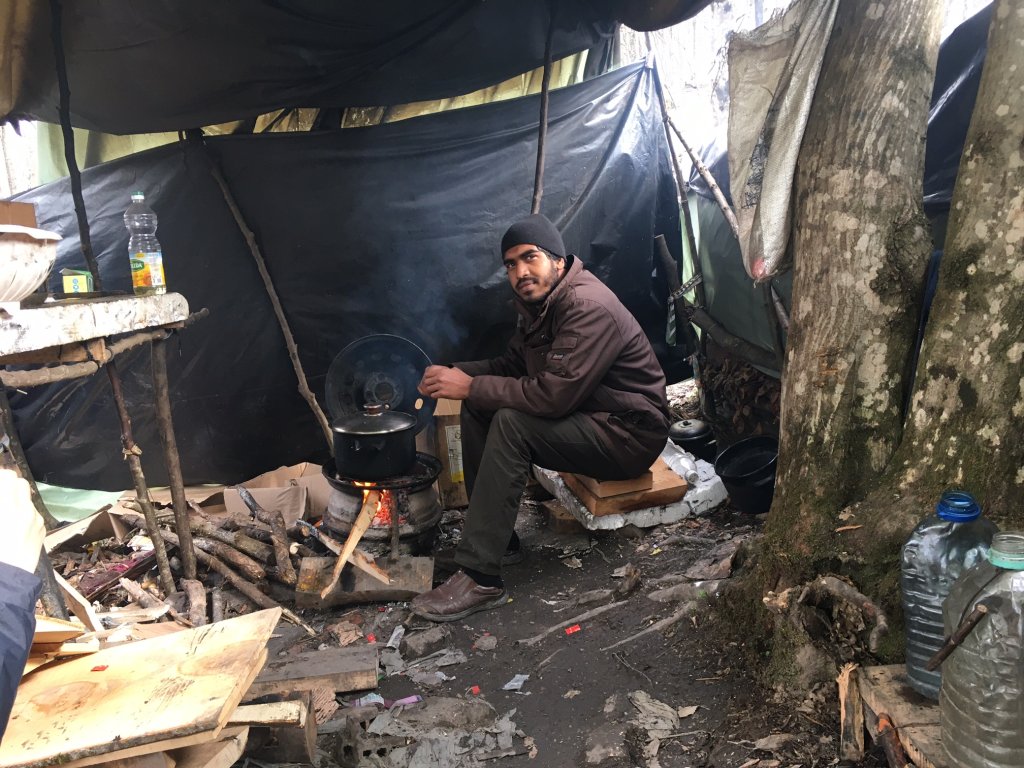 A little higher up in the muddy camp, Ahmad is crouched by a pot. While his rice cooks on the fire, he tells us that he, too, has been trying relentlessly to cross into Croatia. "This winter, when there was too much snow, we went to Lipa camp, near Bihac, for a few days and came back," he recalls.
The ropes left stretched between the trees are a reminder of those rainy or snowy days when people had to use them to pull themselves up to the top of the sloping camp without slipping. Now that temperatures are a little milder, they are used to hang laundry.
Also read: 'Hundreds of migrant children stuck on Balkan route'
'We'll get through, inshallah'
It's the hour of departure in what is known as the "old factory" squat. Several young Algerians have taken up residence in this large shed with a dirt floor. In the center, they have set up two small tents and old, faded sofas around a fire.
Three of them are leaving this afternoon to try their luck again in getting to Croatia. As they leave, the young people embrace each other and wish each other good luck. "We'll get through, inshallah", one of them repeats, a tense smile on his face.
"They will walk to a Croatian village 18 kilometers from here. From there, they will take a bus to Zagreb, then another one to the Slovenian border. Then they have to walk 25 kilometers to the Italian border," explains Mohammed, who is staying in Velika Kledusa for the time being. What happens next? "We don't know, we've never managed to get that far," laughs the 30-year-old.
This afternoon, around the fire, the atmosphere is joyful. Yet everyone knows the risks of crossing the border illegally and being arrested by the Croatian police.
'We won't let you go unless you hit him'
All the migrants interviewed describe the brutality of the Croatian police officers in the same way: "They strip us naked", "they steal our phones and our money", "they hit us", "we are sent back to Bosnia wearing only our boxers".
Mohammed recounts more episodes of violent arrests.
"Two policemen each held one of my arms, while a third one, behind me, beat me with his baton", he describes. The young man says he had bruises on his legs and back for more than two weeks. On another occasion, the Algerian was forced to hit the friend who was with him. "The policemen told me, 'we won't let you go unless you hit him'. Around the fire, there is silence. Mohammed will not say whether he hit his friend.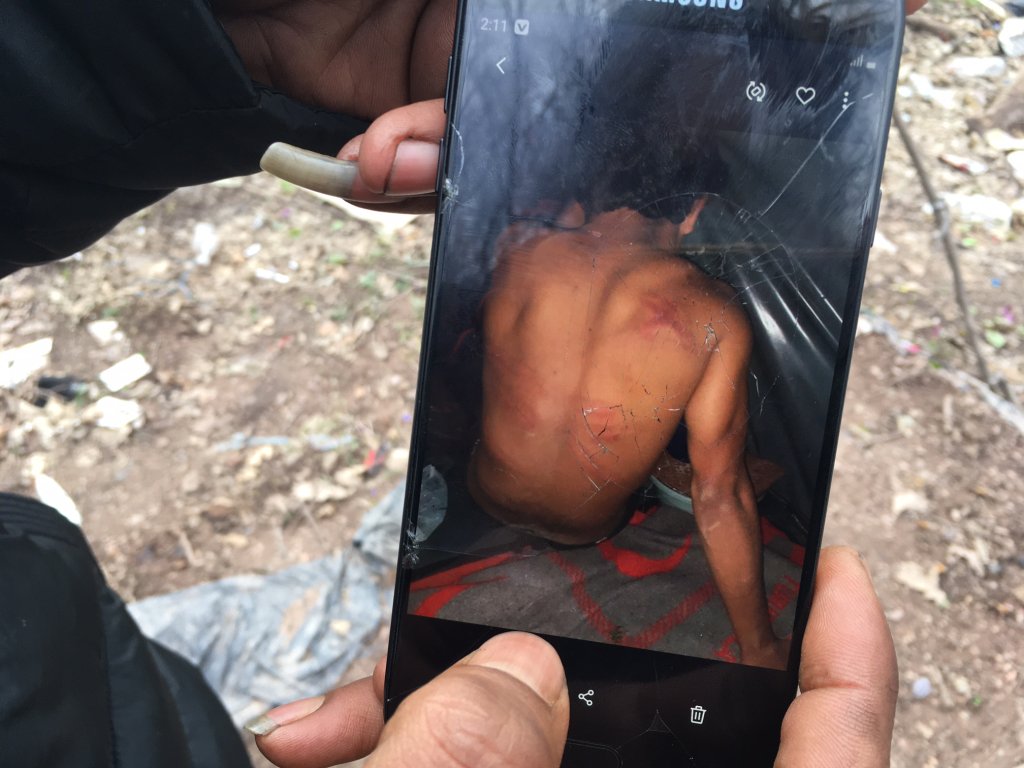 Abdul Rahmane, on the other hand, took photos of his body covered in bruises after he was expelled by Croatian police officers to prove that he had suffered violence. The 17-year-old Bangladeshi has been in Bosnia for eight months. Despite five unsuccessful attempts to cross the border, he is not discouraged. "Right now it's too cold, but I'll try again in five days," he says.
In Velika Kledusa, as in Bihac, the association No Name Kitchen documents police violence at the Croatian border and participates in the Border Violence Monitoring Network. In October 2020, this organization published a damning report on the violence perpetrated by the Croatian police on migrants. Several cases of sexual violence were recorded.
In reaction, the European Commissioner for Internal Affairs, Ylva Johansson, said she "takes these accusations very seriously". She had already called on the Croatian government to carry out a "thorough investigation" into the violence after the publication of a report by Amnesty International in June 2020. For its part, Zagreb continues to reject any accusations of police violence at the border.
Also read: 'Help the refugees stuck in Bosnia', implores Lipa camp resident in letter to EU
Clothes and shoes
This violence is accompanied by the systematic theft of the migrants' clothes and sleeping bags. To try to protect them from the cold, No Name Kitchen distributes warm clothes, shoes and sleeping bags. These precious goods are stored on the floors of the house that serves as the headquarters of the association's members.
"The refugees always need trousers and shoes because they are always on the move," explains Merit Kohlstedt, a volunteer at the association. "Recently, we have also received more children's clothes because we are seeing more and more families."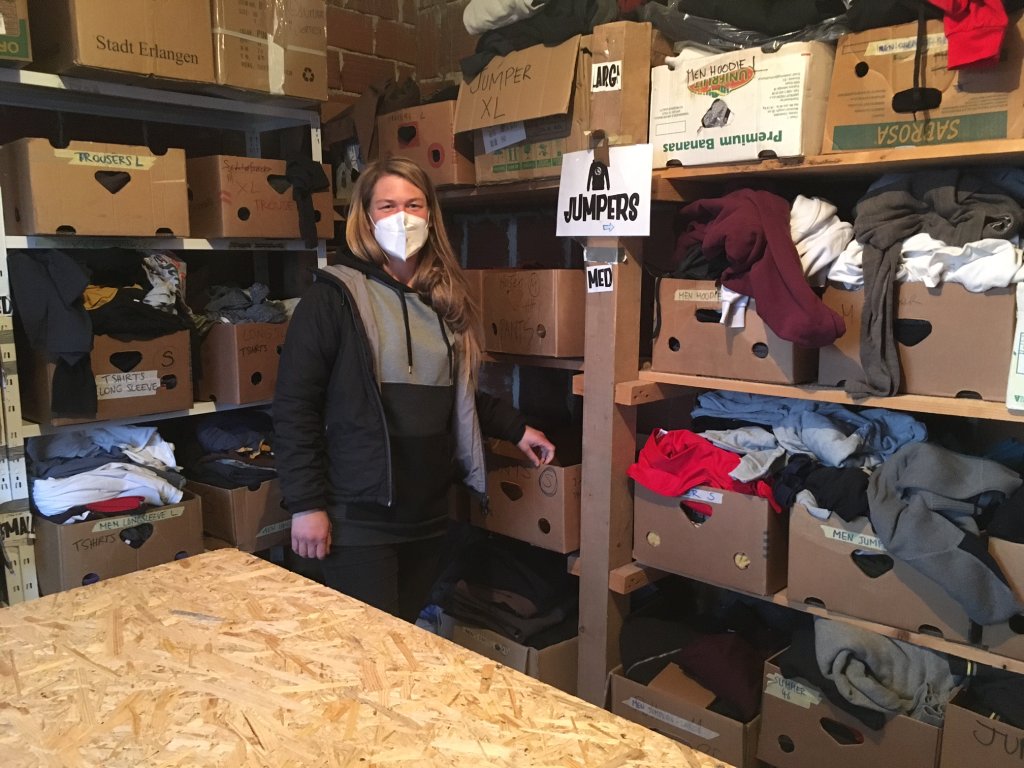 The shelf where the sleeping bags are stored is partly empty. Only the thicker ones remain. "These are warmer but they are also much heavier. We distribute the smaller ones the most because they are light," says the young woman from Germany.
For the migrants in Velika Kledusa, almost as many sleeping bags are needed as there are crossing attempts. In other words, a lot. This is because here, the question of giving up does not arise. "We have spent so much to get here. Our fathers sold their cows, their houses. It would make no sense to go back," says a group of three Afghans we meet in the "Bengali Jungle".
In the squat of the old factory, a bespectacled Algerian smiles: "When you've reached this point, there's no turning back."
By Julia Dumont, reporting for InfoMigrants from Bosnia