In England, a group of volunteer citizens have been keeping watch over the British coast for several months, looking for migrant boats in distress. The goal is to ensure that people who risk their lives to arrive in Kent are properly taken care of.
The idea was born last summer. As England faced an explosion of irregular migrant arrivals on its shores -- four times as many as in 2019 -- a small handful of concerned British citizens were inspired to do something about it in their own way. What's really going on offshore? Are border forces engaging in "pushbacks"? Are the migrants who cross the Channel at great risk to their lives being led to safety? To find out, these anti-racist and anti-fascist activists started an online fundraiser in August.
The group quickly raised 19,000 pounds (about €22,000). With the money they formed "Channel Rescue", an organization capable of monitoring and documenting what is happening off the coast of Kent, the region in the south-east corner of England where almost all the migrant boats arrive.
Seven months later, 25 people are actively involved in the organization and about 50 others have been "trained". They are ordinary people, from all walks of life, including civil servants, university employees, managers of charitable organizations, teachers.
"One of the things we train them on is how to allow a boat to dock safely," Maddie Harrison, a volunteer who joined the organization in September, told InfoMigrants. The volunteers are also trained in navigation basics, first aid and human rights.
In reality, however, the bulk of Channel Rescue's activities consist of monitoring. "We want to make sure that migrants' rights to safety are respected. We don't want to interfere or take the place of government agents," Harrison said.
Scanning, noting, communicating with the coast guard
Thus, three or four times a week, teams of three people patrol the English coast off Kent in the early hours of the morning, armed with telescopes and patience. "We are always thinking about the weather: when the sea is calm, we know that we have to be outside [migrants try to cross more often in calm weather]," Harrison said. "But even when it's windy, runs happen. Ideally, we would be stationed outside every day, all night."
Crossings are indeed frequent: on March 23 alone, six boats carrying a total of 183 migrants reached the British coast from France, the highest number of successful crossings recorded in this area on a single day since the beginning of the year.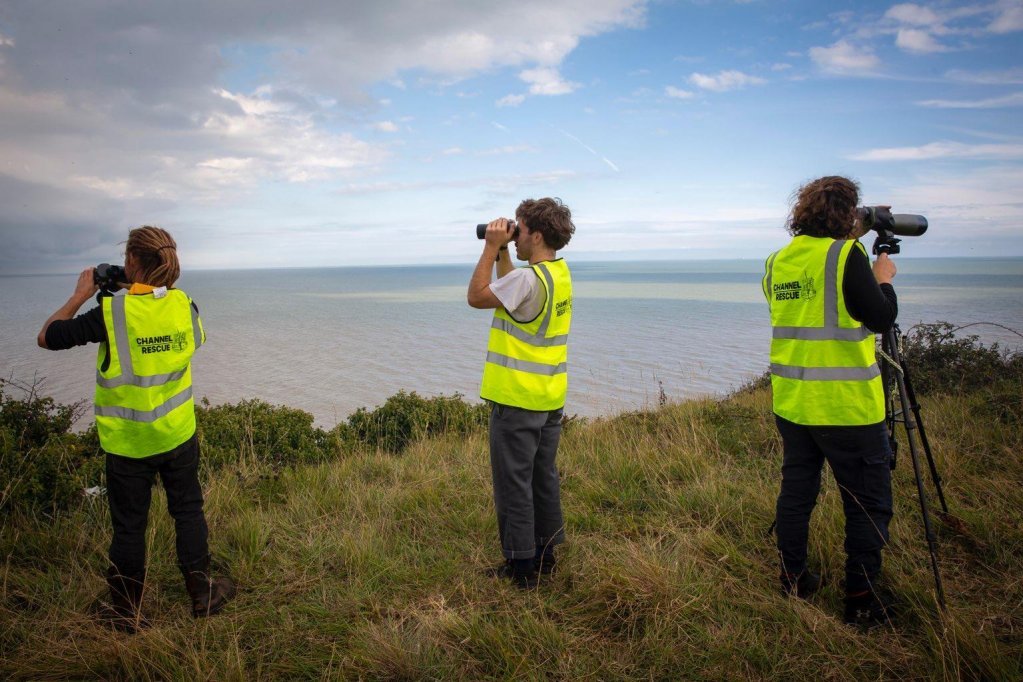 Since the departures from the French coast are generally launched at nightfall, according to the activists, the Channel Rescue teams show up at around 5 am near Dover and remain in place for hours, depending on the situation.
"The places where we station ourselves have been identified as strategic locations by locals who collaborate with us, from where we can observe the sea," Harrison explained, without disclosing the exact locations.
From there, "one person scans, another notes everything that happens and a third manages any communication with the Coast Guard," she said. If a migrant boat is intercepted by the Border Force, the GPS coordinates, the times and the names of the vessels involved are scrupulously recorded. So far, the activists haven't had to alert the Coast Guard.
'The far-right activists are always there'
In addition to law enforcement, Channel Rescue tries to keep an eye on far-right activists, who are very present in the region, for other reasons. Some of them infiltrated the ranks of the newly formed organization last November, forcing Channel Rescue to tighten its protocol for accepting new members.
"These activists seem always to be there when a boat arrives in a port, intimidating and harassing migrants," Harrison said, recalling an incident on a beach last summer in which a man was "violent" towards a migrant who had just disembarked.
"It has also happened that these activists have gone to meet a boat of migrants off the coast to tell them 'Go back to where you came from,'" she added, pointing out that Channel Rescue, which has no boat, is confined to land for its observations. "We don't see far enough. We know we are missing things that are happening offshore."