The UK Home Secretary Priti Patel is facing "serious questions" from a parliamentary committee after claiming that migrant accommodation in former army barracks was "safe."
Priti Patel, the UK's Home Secretary (interior minister), is facing some "serious questions" about the housing of migrants and asylum seekers in former army barracks in Kent and Wales.
An enquiry was started after NGOs and migrants complained about the housing of migrants in dormitories and barracks. Complaints got worse after almost half of the migrants housed in the Kent barracks, Napier, became infected with COVID-19 in January and February 2021, following an outbreak there.
According to a report in the British newspaper Financial Times, Yvette Cooper, an opposition Labour MP who chairs the Home Affairs Parliamentary select committee, said that Patel needed to answer questions about the accommodation.
The FT reported that Cooper judged it "unacceptable" that Patel told the committee that Napier barracks in Kent and Penally barracks in Wales "had been set up in a safe manner when so many people housed at Napier had fallen ill."
In a letter dated March 18, Patel wrote to Cooper and the committee seeking to update the committee "following the commitments the Permanent Secretary and I made at the evidence session of February 24."
'Safe ... and in line with public health guidance'
The letter claimed that because both Napier and Penally had been set up in places which had "previously accommodated our armed forces," then they were "safe" and "in line with public health guidance."
Patel added that they were "working closely with our contracted partners, the local authority and other partners throughout." She stressed that the accommodation at the former army barracks as well as the use of hotel accommodation in Glasgow, Scotland, had been pressed into service "in response to the enormous pressures placed on our asylum system by the coronavirus pandemic."
Patel said that steps had been taken "to reduce the [health] risks" involved in communal accommodation in line with guidance from Public Health England and Wales. She said that they had made "improvements to ensure the safety of those in asylum accommodation."
The Wales site would be wound up shortly, as the government had decided not to extend the temporary planning permission, confirmed Patel. Napier barracks in Kent however, which houses many migrants who reached England on small boats across the Channel, would "remain in operation," wrote Patel, "in accordance with current needs."
This is despite repeated calls from NGOs and humanitarian organizations for the barracks to be shut down and the migrants and asylum seekers housed within to be found alternative accommodation.
Improvements underway
In the letter, Patel also said that they had a COVID management plan for Napier barracks which she enclosed to the parliamentary committee. She said they were "working with our provider, health agencies and other local stakeholders to improve the operation of the site."
The committee asked her to clarify "how many people are currently sleeping in dormitories or sharing rooms with unrelated adults in Napier and Penally?" Patel replied that "everyone was sharing accommodation." She clarified that "as of March 15, there are 45 individuals at Napier and 53 at Penally."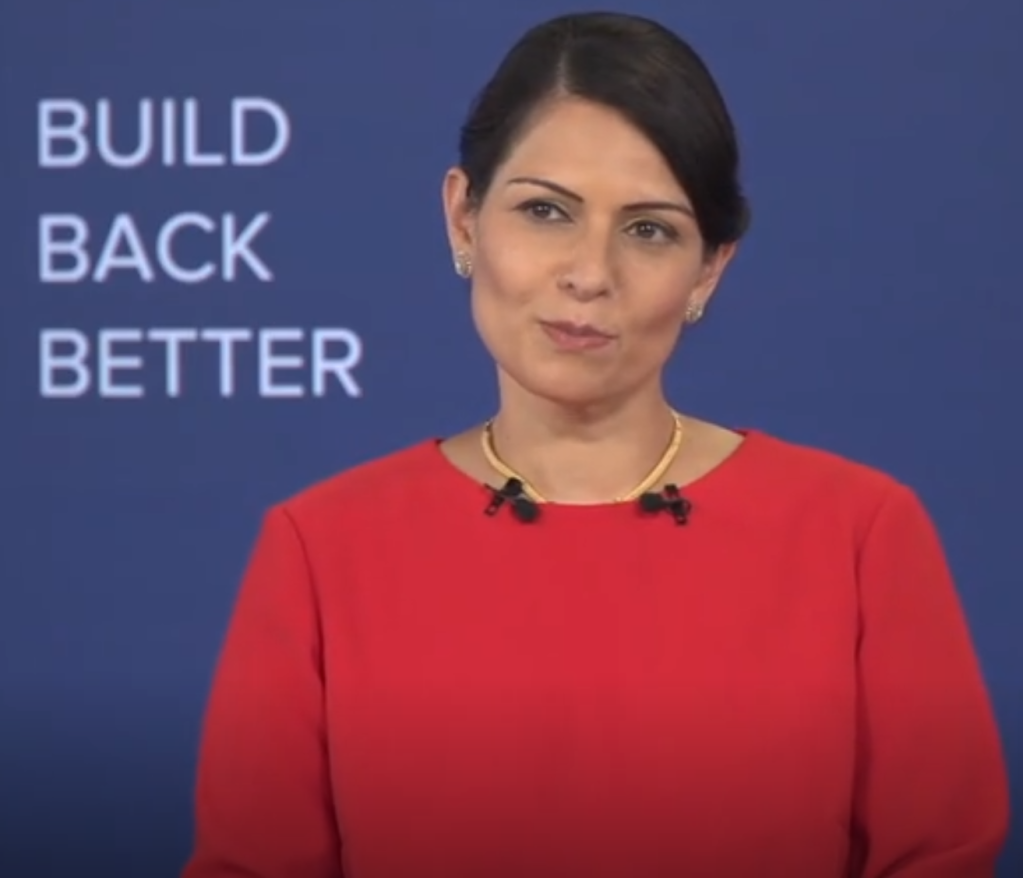 In Napier, Patel said blocks "are housing between four and ten people." However, these numbers could be "subject to change as people move through the sites." She added that the COVID outbreak in the Napier barracks had been "declared closed on March 6." Patel said there were no current COVID cases at Napier at the moment.
During the outbreak, Patel said they worked quickly to bring the disease under control "as quickly as possible." All people who tested negative, she said were offered alternative accommodation as soon as possible. This she said, "prevented their exposure to COVID and allowed those who were COVID positive more space to self-isolate."
Protests about conditions at Napier
This statement though was disputed by testimony from migrants housed in the accommodation who claimed that, at least at the start of the outbreak, they were not moved quickly, and as a consequence many more people fell ill.
The situation at Napier led to protests by migrants and a fire was started on January 29, 2021. After the fire, migrants and NGOs claimed that people were left without water or heating over the weekend and that conditions worsened. Patel says that was not the case and that "blocks received temporary heating and power from generators after a short period." She said, "full power was restored on February 2."
Patel said that reports of the intimidation and harassment of asylum seekers was being addressed and that the government took the "wellbeing of asylum seekers ... extremely seriously." She said that "all necessary and legal steps are taken to protect people in our care."
No asylum seekers have been moved into Napier barracks or Penally since January 1, stated Patel. 13 asylum seekers were moved into another government accommodation center at Tinsley House on January 31 "following the disruption at Napier." However, "all 13 have since been moved to dispersal accommodation."
Reforms on their way
In the letter, Patel said that the government was working hard to reform the UK asylum system and speed up the decision time on cases. To reduce the backlog of asylum cases, Patel said they would be recruiting about 50% more "decision makers," leading to a staff of about 750 over the next six months.
She added that they had already contracted with the Ministry of Defense (MoD) to use the Napier site until at least September 2021. After that, any extension would be "under review." In total, she said, as of February 28, the UK government had "approximately 8,700 people accommodated in [contingency accommodation, which included] 90 different hotels across the UK."
Patel said they were working on reducing these numbers and moving people to "dispersal accommodation" as soon as possible.
Accommodation costs
Patel, said the Home Office had spent in the financial year between April 2020 and April 2021, to date "an additional 314 million pounds against our original budget for asylum support due to pressures associated with the impacts of COVID-19, of which 258 million pounds can be attributed to contingency accommodation."
For the financial year 2021-2022, Patel estimated that hotel accommodation for migrants and asylum seekers would cost the government "a further 40 to 70 million pounds."
Cooper's criticism of the government's management and Patel's response came after the Independent Chief Inspector of Borders and Immigration (ICIBI) issued a "damning statement," according to the FT, about the government's decision to accommodate migrants and asylum seekers in dormitories and camps. The ICIBI said that this decision made a "large-scale outbreak" of coronavirus "nearly inevitable."
The FT reported that Cooper pointed out that Patel had "failed to address the 'clear contradiction' between her evidence and the [ICIBI] inspectors' findings."
Cooper concluded that the committee remained "seriously concerned that so many people were placed by the Home Office in accommodation that was wholly unsuitable to a public health crisis and which encouraged the spread of COVID-19," reported the FT.