One person was killed and two others were injured in a shooting at a detention center in Tripoli last Thursday, Doctors Without Borders says. The medical charity has called for the immediate release of migrants from Libya's detention centers.
A migrant died and two others aged 17 and 18 received gunshot wounds during a violent incident at the overcrowded Al-Mabani Collection and Return Center on Thursday, April 8, Doctors Without Borders (MSF) said. The injured teenagers were taken for urgent medical care by an MSF team. The incident ended with "shots being fired indiscriminately into cells were detained people were held," according to the charity.
"This shooting demonstrates the grave risks that people face while locked up in these detention centers for an indefinite period of time," said Ellen van der Velden, MSF's operational manager for Libya.
The circumstances surrounding the shooting Thursday were not immediately clear and authorities at Al-Mabani have reportedly opened an investigation. "MSF calls on the authorities to share the outcome of the investigation with the humanitarian community and to hold accountable those found responsible," a statement by the charity said.
'Minimal natural light'
Migrants held in mandatory detention in Libya include women, men, children and unaccompanied minors. According to MSF people detained in Al-Mabani have minimal access to natural light and ventilation, are not given enough food or clean water and often do not have space to lie down, creating a high risk of infectious diseases such as scabies, tuberculosis and COVID-19.
The Al-Mabani facility houses around 1,500 migrants, up from 300 in early February, MSF said. Medical teams have observed increasing tensions inside Libya's detention centers, coinciding with the overcrowding which has resulted from a rise in active interceptions and return of migrants in the Mediterranean by the Libyan coast guard, according to the charity.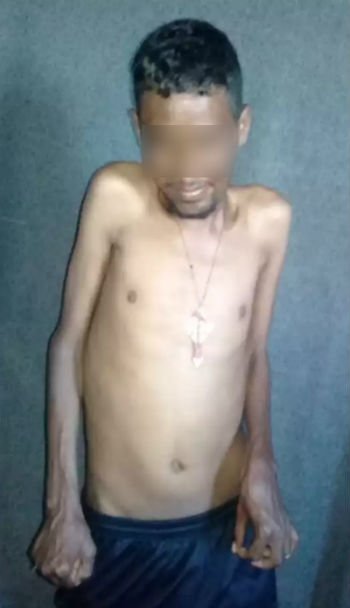 Exposed to violence
The incident at Al-Mabani last Thursday was a "clear corroboration that detention centers are dangerous places for people to be," according to van der Velden. However this was not the first time that detained refugees and migrants had been exposed to violence, MSF said. Shootings and deaths have been reported in recent months and MSF teams have seen guards using physical force, according to the organization. "In February alone, our medical staff treated 36 detainees for fractures, blunt trauma, abrasions, eye injuries, gunshot wounds and limb weakness in various detention centers."
In February, 350 migrants, including more than 100 children, were freed from a secret prison in southeast Libya. The UN migration agency, IOM, said many of them were malnourished and had been abused.
Following last week's incident, MSF repeated its calls for an end to mandatory detention of migrants and refugees in Libya and demanded that all detainees be immediately released and provided with safe shelters and access to services.
Federico Soda, IOM Libya chief of mission, also called for the intervention of the international community.
More than 6,000 migrants have been intercepted this year in the Mediterranean, MSF said. Since the 2011 uprising, the North African country has become the main transit point for migrants fleeing Africa and the Middle East. Migrants regularly depart from Libya in rubber boats that disappear or sink on the Central Mediterranean route.
Also read: What happens to migrants intercepted at sea by the Libyan coast guard?