Four people have been found dead in a makeshift boat carrying some 23 migrants near Spain's Canary Islands off the west coast of Africa, local authorities said. Nineteen of them were hospitalized on Tenerife.
At least four people were found dead on a migrant boat off the Canary Island of El Hierro on Sunday (April 11), the Spanish Red Cross said.
The vessel was spotted by a fishing boat around 193 kilometers to the south of El Hierro, the second-smallest of the seven main Canary Islands, according to local media.
A rescue operation was underway on Sunday afternoon, with three helicopters deployed to airlift the injured to safety. According to the Spanish coast guard, a fishing boat had spotted the migrant vessel.
The Red Cross said that of the 23 people aboard the boat, 16 were in a "serious condition" and three in a better state had been airlifted to Tenerife. According to the archipelago's emergency service, the four dead bodies arrived in La Restinga, a port town on the southern tip of El Hierro, Monday morning.
Dangerous crossing
The number of mostly undocumented migrants arriving irregularly on Spain's Canary Islands in the Atlantic Ocean last year was more than five times higher than in 2019 and 2018 combined.
The impact of COVID-19 on tourism and other industries in north and sub-Saharan Africa pushed many more to embark on the dangerous journey, Reuters reports.
The rate of crossings spiked starting last summer, with 3,847 people arriving in the Canaries between January 1 and April 11 this year. Last year, 23,023 people arrived on the islands' shores.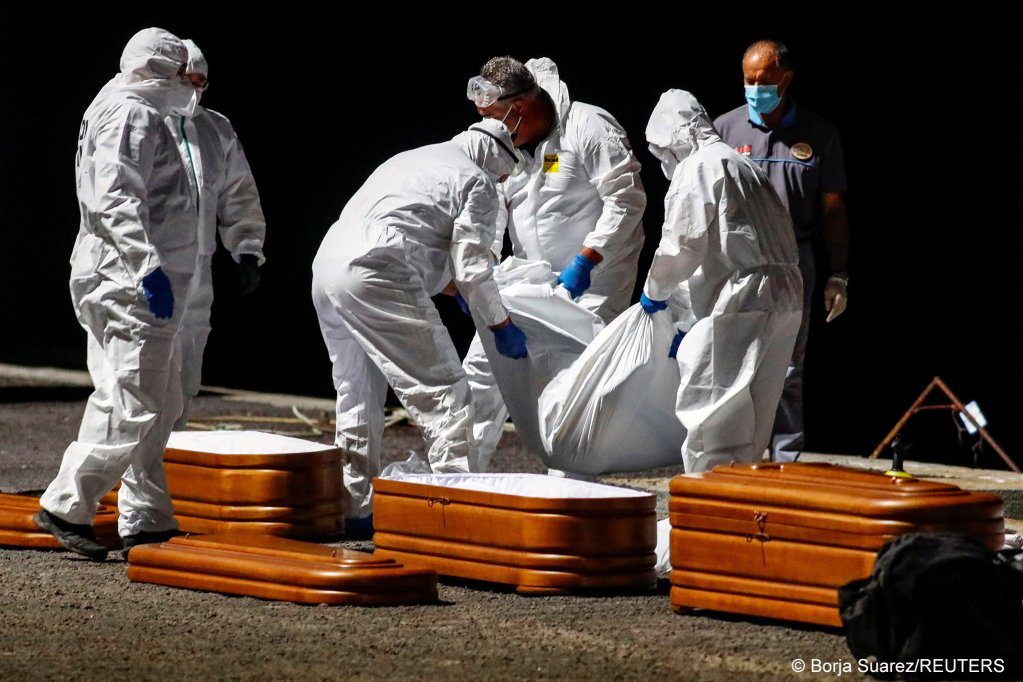 At least 850 people died or went missing last year after attempting the crossing to the islands, often in rickety, overcrowded boats with unreliable engines, the UN migration agency IOM has said. (Around half of deaths were only partially verified). NGO Caminando Fronteras, which monitors migrant flows, says more than twice as many people died last year. The route is notoriously dangerous because of strong currents. Vessels are also typically overcrowded and in poor condition.
IOM told InfoMigrants it has registered at least 47 deaths along the highly dangerous migratory route to Europe so far this year. The top three causes of death were drowning, hypothermia and dehydration.
Read more: 'Each boat is in danger' -- the rescue of migrants trying to reach the Canaries
Ongoing tensions
The nearly unprecedented influx of migrants that started in the second half of 2020 overwhelmed authorities on the islands. Thousands were forced to live in makeshift encampments before being transferred to tourist accommodation or camps set up by the military. 
In February, authorities started moving migrants from tourist facilities to new tent camps. The move came amid ongoing and increasing tensions between migrants and locals. Fearing deportation and racist attacks, migrants stranded on the Canaries recently went on hunger strike to demand their transfer to the mainland. There have also been reports of self-mutilation. Migrants feel trapped -- they are officially in Europe but unable to get to the mainland.
Last week, police fired rubber bullets in a fight at a migrant camp on the Canaries. The AP news agency reported that the unrest happened in Las Raíces camp, the largest migrant facility on the island of Tenerife. Also last week, maritime rescue authorities rescued 17 people from a dinghy in waters near Gran Canaria.
Earlier this month, the Spanish Commission for Aid to Refugees (CEAR) denounced that the Canary Islands are becoming "a new stage for migrant containment policy" such as that used in Greece.
According to the UN refugee agency UNHCR's latest figures, there are currently almost 26,000 migrants on the Spanish archipelago in the Atlantic Ocean.
UNHCR's records show that in 2020, the largest group of those who arrived between January and September 2020 hail originally from Algeria (39.5%). Moroccans are second, accounting for about 20.3% of migrant arrivals, followed by Malians (about 12.6%). Guineans, Ivorians Senegalese and "others" combined made up about 23% of arrivals in that time period.
With Reuters, AFP