An alleged migrant smuggler in Libya has been released four months after his arrest in Tripoli. Abdel-Rahman Al-Milad had been accused of involvement in trafficking and abuse of migrants and refugees.
Abdel-Rahman Al-Milad, also known by his alias Al Bija, was freed on Sunday following a decision by prosecutors, authorities in Libya said. He had been detained since October at the request of the UN Security Council Sanctions Committee, which accused him of involvement in human trafficking, migrant smuggling and fuel smuggling.
Since his release, Al Bija has been seen in his hometown of Zawiya in western Libya, where he previously commanded a coast guard unit.
Libyan officials did not reveal any further details and were not authorized to brief the media, according to the AP news agency. A spokesperson for the Libyan interior ministry also declined to comment.
Release no surprise
Hussein Baoumi, Libya and Egypt researcher at Amnesty International, told AP that Al Bija's released was not unexpected. "The Libyan authorities have failed to demonstrate that they are conducting an effective and transparent investigation with a view of referring him to a fair trial," Baoumi explained. He urged Libya's interim government to ensure that Al Bija and others suspected of having committed crimes and abuses against refugees and migrants, face justice.
Also read: Libya detains coastguard commander accused of human trafficking and migrant smuggling
Since a NATO-backed uprising, Libya has become a major departure point for people from Africa and the Middle East attempting to reach Europe by crossing the Mediterranean Sea. 
UN sanctions list
In June 2018, the UN Security Council included Al Bija in its sanctions list, along with five other leaders of networks allegedly involved in trafficking migrants from Libya. It described Al Bija ("al-Milad") as the head of the regional unit of the coast guard in Zawiya that is consistently linked with violence against migrants and other human smugglers.
The UN said Al Bija and other coast guard members were "directly involved in the sinking of migrant boats using firearms."
"Several witnesses in criminal investigations have stated they were picked up at sea by armed men on a Coast Guard ship called Tallil (used by al-Milad) and taken to the al-Nasr detention centre, where they are reportedly held in brutal conditions and subjected to beatings," the UN Security Council continued.
Al Bija has denied any links to human smuggling. He has said that the uniforms worn by traffickers look similar to those of his men, AP reports. Over the past two years he has largely moved freely in western Libya and fought together with militias to stop Khalifa Hifter's attack on Tripoli.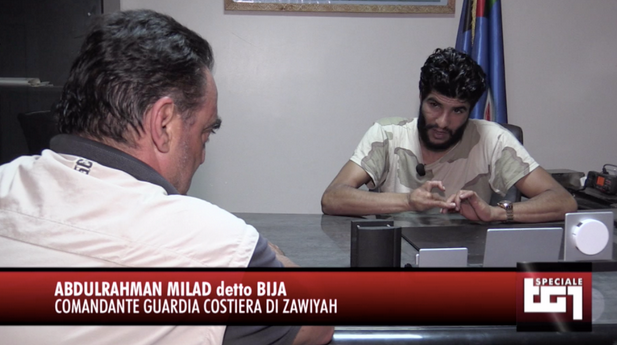 Human traffickers should be brought to justice, EU
Peter Stano, a spokesperson for the European Union, said the EU would continue to encourage Libyan authorities to bring to justice those responsible for human trafficking, including Al Bija.
In recent years, the EU has joined with Libya's coast guard and other local groups to try to prevent migrants from crossing the Mediterranean to Europe. Humanitarian groups say the practice leaves migrants at risk from armed groups or detained in inhumane conditions.
An AP investigation in 2019 found that militias in Libya tortured, extorted and abused migrants for ransom in detention centers, often in compounds that receive millions in European money, paid to Libya's government to manage migration.
With AP