The UN migration agency IOM says the death toll has risen to 42 after a boat carrying migrants capsized off the coast of Djibouti. Sixteen children were among the dead.
A boat operated by people smugglers which was transporting about 60 migrants from Yemen capsized Monday on its way to Djibouti. The International Organization for Migration (IOM) announced Wednesday that three more victims had been confirmed bringing the number of deaths to 42.
IOM spokesperson in Nairobi, Yvonne Ndege, said the smugglers have not yet been found. Fourteen people survived the boat sinking.
The migrants were returning to Horn of Africa from Yemen because of the dire conditions in the country which is facing a humanitarian crisis. "They were so desperate to leave Yemen they put their lives back into the hands of unscrupulous smugglers," the IOM's Olivia Headon in Yemen said.
Deadly voyages
For several months, boats carrying migrants from Ethiopia and Somalia have been making the crossing between the Horn of Africa and Yemen on an almost daily basis. Migrants say their goal is to reach richer Gulf countries, mainly Saudi Arabia, to find jobs. During the past year, the COVID-19 pandemic has resulted in thousands becoming trapped in Yemen or being forced to turn back.
At least 70 migrants have died on the journey across the Bab al-Mandeb Strait since last October, when at least eight Ethiopians lost their lives while trying to reach Djibouti. In early March, 20 migrants died en route to Yemen from Horn of Africa.
Also read: Yemen detention center fire highlights dangers for migrants
Ethiopians returned home 
The IOM announced Tuesday that 160 Ethiopians who had been stranded in Yemen had been returned home safely. The IOM worked with authorities in the southern city of Aden to transport the group. In a statement, it said that more than 32,000 migrants, mainly from Ethiopia, were still stuck in the country.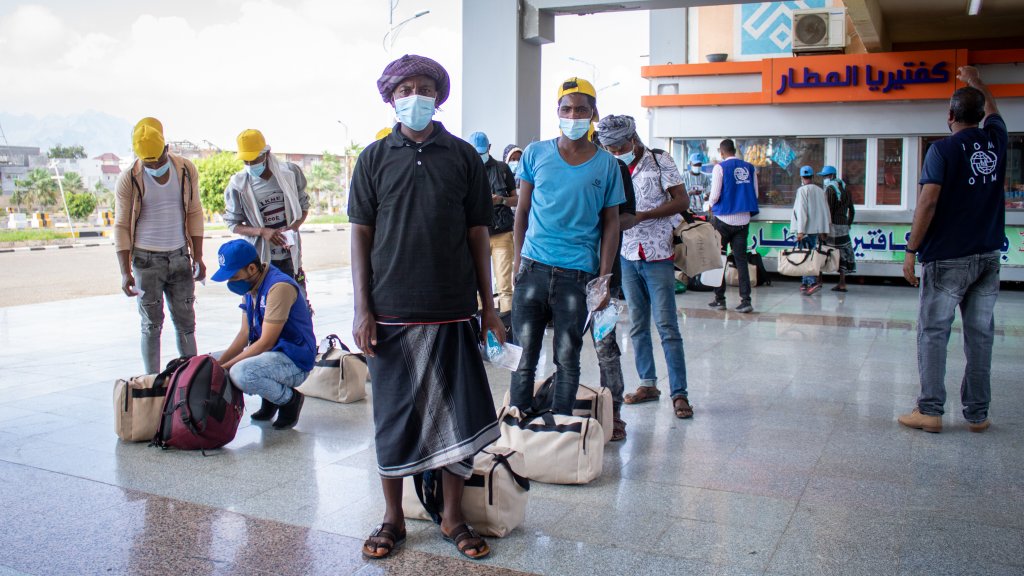 "The conditions of migrants stranded in Yemen has become so tragic that many feel they have no option but to rely on smugglers to return home," said Jeffrey Labovitz, the IOM's director for operations and emergencies.
"Those travelling on the flight today are lucky that they had a safe option available to them," said Headon. "We need governments to come together along this migrant route to help us increase the number of people who can get home safely," she told the news agency AFP.
Also read: IOM urges funds to help migrants in Horn of Africa and Yemen