BioNTech, Delivery Hero, Gorillas and other successful German companies have one thing in common: Their founders are highly qualified and venturesome immigrants. Yet a new study shows that high hurdles, especially when it comes to funding and networking, continue to hold them back.
"My name is Sophie, and my brother's name is Anton. Our parents gave us German first names so we don't stand out more than we do already anyway through our looks, our last names and our origin."
Sophie Chung's parents are refugees from Cambodia who tried everything to prepare their children for a life in Germany. According to Chung, that mission included encouraging them to accomplish more so she and her brother could "prove themselves."
"My story is that of millions of other children in Germany … We don't get the benefit of the doubt. On the contrary, we always start with a handicap," Chung said during the presentation of the Migrant Founders Monitor on Tuesday (April 27).
Chung is one of those who made it despite not having a level playing field. In 2016, she launched a digital health platform, Qunomedical, with the vision to "help patients find the right doctor anywhere in the world." Now, her startup has more than 80 employees, over 6,500 monthly patients and $2 million in funding.
Younger, more qualified and less risk-averse
Needless to say, Qunomedical isn't the only successful migrant-led German startup: Others include Auto1, Delivery Hero, ResearchGate, Gorillas, Omio, GetYourGuide -- and of course vaccine-producing medical startup BioNTech, whose Turkish-born founders' remarkable, improbable achievement last year highlighted the promise of migrant entrepreneurship.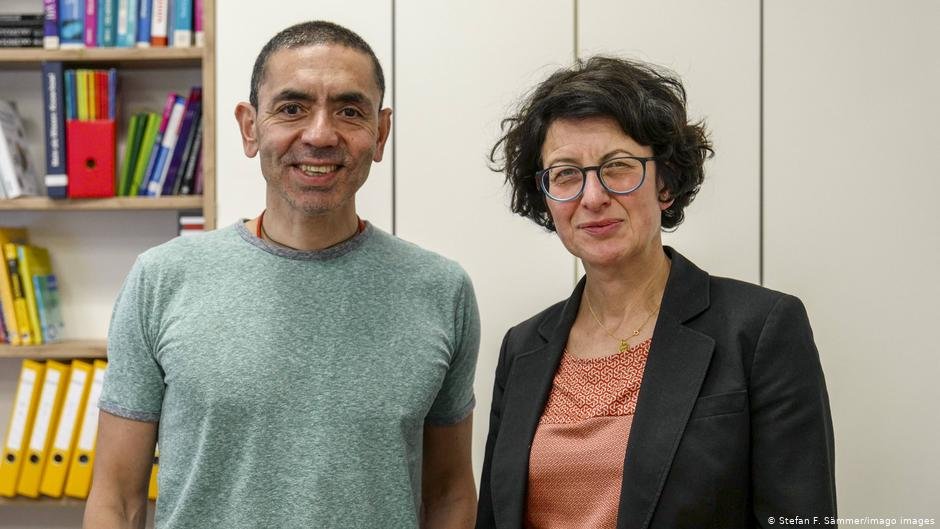 Yet "people with a migration background"* aren't only nearly as inclined to launch a business as those without such a background; studies have also shown that they are a boon for the economy by creating jobs, among other things: According to a Bertelsmann Foundation study from last year, all businesses founded by migrants had created a total of nearly 2.3 million jobs by 2018.
A new study by the German Startups Association and the Friedrich Naumann Foundation found that people with a migration background make up 20% of all startup founders in Germany, thus playing an important role for the German startup ecosystem and being a "driving force behind economic innovation in Germany."
The findings of the Migrant Founders Monitor**, which identified 354 founders with a migration background -- 57% first-generation and 43% second-generation immigrants--, also confirm that immigrants' enterprising spirit tends to be particularly pronounced. Moreover, they often think bigger, are more highly qualified and more willing to take risks than the average self-employed person:
One in five new startups launched in Germany has a migrant founder. Berlin and North-Rhine Westphalia (NRW), Germany's most populous state, have the highest shares with 21.2% and 26,6%, respectively. While Berlin mostly attracts people from abroad, the typical migrant founder in NRW is a second-generation immigrant.
Germany is popular among highly-qualified minds: More than nine in ten emigrated founders and almost eight in ten among those born in Germany have an academic background. Nearly half have a degree in a

MINT subject

. In the entire startup scene, 84% have a degree.
54% of all first-generation immigrants have established English as a working language in their company. Half of their teams are from abroad or have good or even very good global networks they can tap into, a benefit only one third of all startups can claim.
Their international focus is, in startup-speak, a "unique selling point": 78% want to expand their startup to other markets. This is an important impulse since German startups tend to be happy with the relatively large German market.
Migrant founders, especially those born outside of Germany, have higher-than-average ambitions when it comes to the so-called exit, or selling the company. Exits are said to spur growth in the startup ecosystem.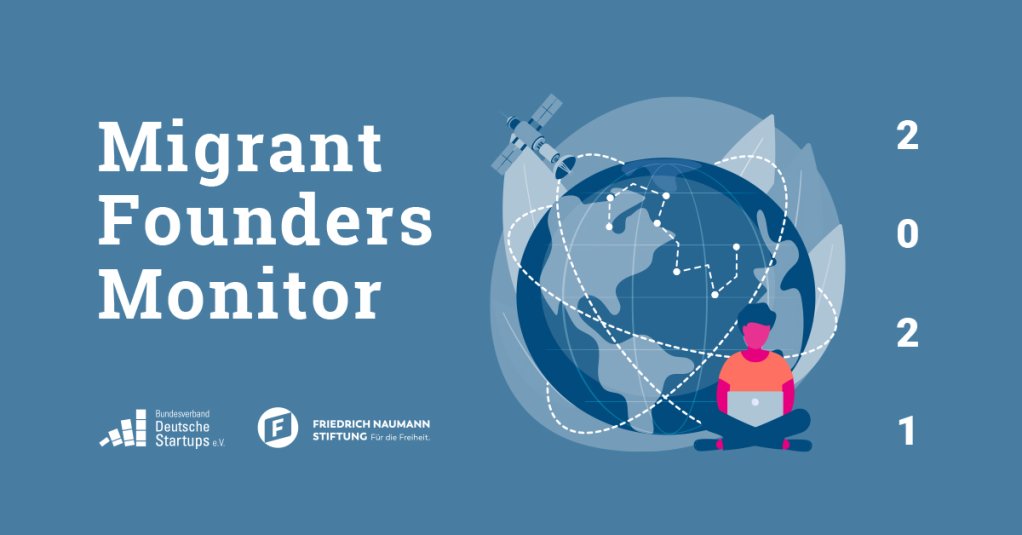 Hurdles and challenges
In spite of these encouraging tendencies, many migrant founders continue to face real cultural barriers like language and bureaucratic hurdles as well as a lack of a "welcoming culture" that Sophie Chung described above.
Last year, the row over an article headline about a prominent migrant founder exemplified this: "Despite travel stress and corona -- Indian gets 100 million for travelling!", read the German tabloid Bild headline, which led to members of the German startup community, including the head of the German Startups Association, being at loggerheads with the editor-in-chief of Bild.
Naren Shaam, who was born in India and came to Berlin in 2012 to launch Omio (formerly GoEuro) -- a travel tech startup that tries to streamline the ticket buying process for travelers --, is a typical first-generation migrant founder attracted by Berlin's vibrant, international startup scene. (In the end, Bild changed the headline to "Despite travel warnings and corona - startup founder gets 100 million euro for travelling!")
"How much potential do we lose as a country, as an industrial location, as a society because the way to starting your own business is stonier for some than for others?", Qunomedical founder Sophie Chung asked in her talk. Indeed, the Migrant Founders Monitor shows that major challenges exist in important areas. Especially funding, a lack of networking with science and administrative costs make striking out for people with a migrant background disproportionately difficult:
Glaring funding gaps: A lack of access to capital -- government support, business angels and venture capital -- particularly plague first-generation migrant founders, who received €1.1 million on average, compared to €2.6 million of all startups.
Language and red tape: 56% of migrant founders not born in Germany said language barriers were the greatest challenges when starting a company. Bureaucratic hurdles are also a key difficulty for many, both before and after incorporating their businesses.
Cultural and vocational barriers: 14% and 6.5% mentioned a lack of a "welcoming culture" and a hard time getting their international qualifications and academic degrees recognized, respectively.
Below-average cooperation: While the average startup cooperates with seven established businesses, first-generation migrant founders only have two such firm ties. What's more, they work together with scientific institutions less often. Within the startup ecosystem, however, cooperation is well-established across the board.
Smaller teams: Ten staff -- the average number of people who work for a migrant-led startup -- is significantly fewer than the 14 staff of the average startup. 
Sophie Chung said that while many doubted her and her idea, there were also investors, business partners, family and friends who supported her from the get-go. "When I started competing with my vision …, there were many who didn't think this was possible. … But there were also many people who believed in me, for alone I would have never made it," she said.
That's why, according to Chung, it is crucial to have role models and initiatives that "institutionalize visibility" like "2hearts", a new mentoring program that matches founders, managers and investors who have a migration background with university students, young graduates, professionals and people thinking about launching a business.
"All migrant success stories had key moments -- this one person who said or did the right thing like an encouraging gesture, who believed in us when no one else did. We can all play a role in supporting migrant founders. Societal change always starts with us."
* Roughly a quarter of Germany's population are so-called "people with a migration background" ("Menschen mit Migrationshintergrund"), a term politicians and academics have argued about for years. A person is considered to have a migration background if they, or at least one of their parents, was born without German citizenship. Being born in Germany is not an automatic qualification for citizenship as in some countries, although in the majority of cases, eight years of residence will suffice.
** According to the German Startups Association, the underlying database of the Migrant Founders Monitor is the German Startup Monitor (GSM), a survey among German startups with nearly 2,000 participants. The GSM focuses on so-called opportunity startups -- founders hoping to capitalize on a business opportunity -- rather than so-called necessity startups, which refers to people taking up self-employment out of necessity or lack of better income alternatives.
Correction notice: A prior version of the article wrongly stated that people with a migration background in Germany are "more inclined to launch a business than locals". In reality, people with a migration background are currently underrepresented when it comes to launching startups: While roughly 25% of all Germans have a migration background, 20% of all startups are founded by people with a migration background. It's true, however, that first-generation migrant founders have a greater willingness to take risks and a more pronounced startup mentality than the average founder.