The International Organization of Migration (IOM) has released a report examining the anguish and turmoil that migrants and refugees experience not knowing what happened to their relatives and friends. Above all, it focused on legal hurdles, especially faced by migrants in the UK, that might make an already painful situation worse.
According to the report, tens of thousands of people have to endure "the pain and uncertainty of not knowing the fate of their relatives and loved ones who went missing or died during migration journeys around the world." In addition to highlighting the emotional and psychological trauma of not knowing what might have happened, the document stressed that looking at other dimensions of ensuing lifelong turmoil was also important: 
"Their lives may be forever marked by the many psychosocial, legal and financial impacts related to the disappearance of their relatives," the report said, adding that the families of missing migrants usually receive "little visibility and lack access to adequate services and support."
The IOM Global Migration Data Analysis Centre (GMDAC) interviewed migrants and refugees in multiple countries, including Ethiopia, Spain and Zimbabwe as part of its Missing Migrants Project, with a particular focus on migrants in the United Kingdom.
In addition to understanding the complexities those affected suffer, the project was also aimed at giving "a voice to those who lost family members in the course of their migration journeys and are searching for their missing loved ones in several countries."
Migrants lack access to legal services that others have
Among its findings, the document stated that there are grave differences in the way that cases of missing migrants are handled as opposed to missing persons in general, i.e. people who are registered as having a permanent address or are in a comparable situation.
The report found that while in the latter cases, laws generally protect those who have missing loved ones in their lives and even extend to inter-governmental cooperation between nations not only to investigate these cases but also -- in case of death -- to allow for formal arrangements to be made for funerals, the cases of missing migrants lack similar infrastructures.
The document says that in cases of missing migrants, however, government institutions typically refer enquiries to law enforcement and immigration control offices instead of regarding them as human rights issue and thus enacting humanitarian responses regardless of immigration status. This results in a lack of resources for tracing of the missing migrants, and to make appropriate provisions for the deceased.
This issue of applying different standards according to legal status leaves relatives unable to reach closure about the loss of a loved ones, the paper argues.
Read more: Missing children: 'If they weren't migrants, everyone would panic'
Shortcomings in UK migration policy
The report's focus on the United Kingdom yielded noteworthy results in its own right. Above all, it stresses that the families of missing migrants in the UK might hold back in looking for their loved ones because they might be migrants themselves, fearing that exposing themselves to authorities could negatively impact their ability to remain in the country. Many of the people interviewed for the research stated that they were living in fear that taking any action to learn about the whereabouts of their loved ones could trigger an investigation by the UK Home Office, which could result in prosecution and deportation due to their irregular immigration status.
They may also be facing economic barriers to even begin their search or might not know where to start to whom to turn to in order to ask for support. Regardless of such challenges, however, the report also found that people with missing migrant relatives living in the UK were in fact the primary actors leading the search for their missing migrant relatives -- in the absence of any government initiative.
At the moment, there is no national legal framework in the UK to respond to the specific needs of missing migrants and their families who are affected by this issue, the document says. "All such processes are directed through generic police procedures, and thus the issue of missing migrants is foremost treated by the Government as a criminal justice issue," the IOM says.
The issue affects the UK in particular as nearly 300 people are known to have drowned trying to make their way to Britain in the past 20 years, according to thew IOM's Missing Migrants Project and the Institute for Race Relations. But the number of missing migrants en route to the United Kingdom is likely to be much higher, the report adds.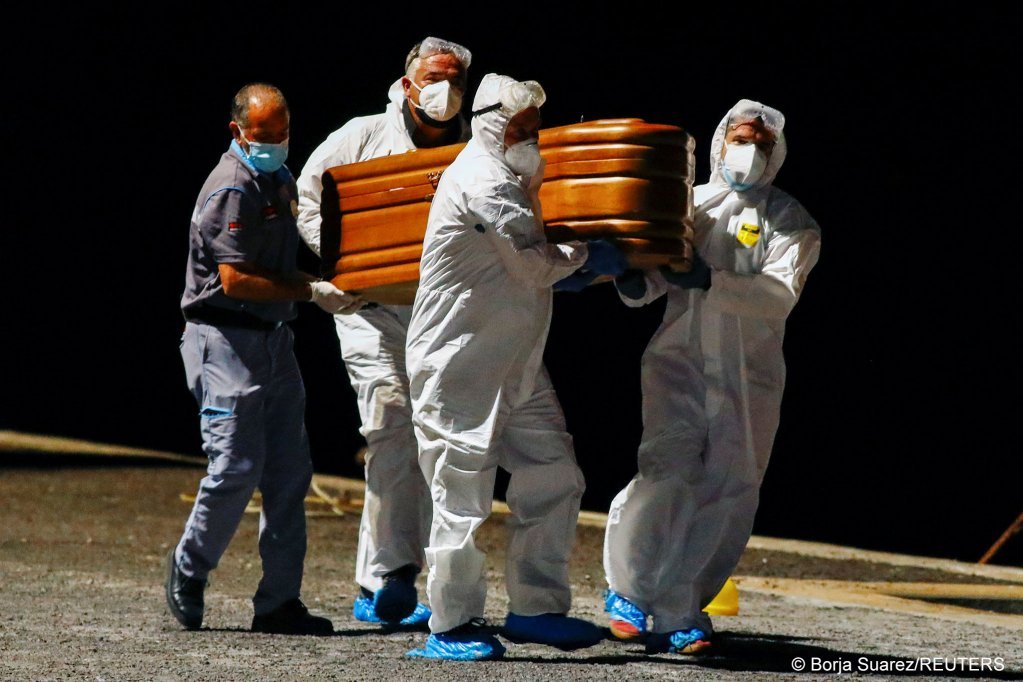 Current status not in line with UN Migration Compact
The IOM has called for action not only in the UK to support families of missing migrants, stating that Objective 8 of the Global Compact on Migration signed in 2018 specifically called on states "to identify those who have died or gone missing, and to facilitate communication with affected families. This is applicable regardless of migration status of the missing person or the situation of their families."
The IOM also stressed in the paper that with the exception of the tracing service offered by the International Committee of the Red Cross (ICRC), there are "no agencies or policies specifically dedicated to help report, locate or identify cases involving migrants who went missing while in transit" to the UK or to other countries. It also criticized the lack of official standards when it comes to the repatriation of remains of people who have died during their migration journey. Decisions on how to handle such cases, it said, were taken on an ad-hoc basis.
As key recommendations, the report urged that systematic, institutional support of migrants with missing family and loved ones needed to be improved, especially in the form of improved social and financial assistance as well as with increased the availability of counselling. It also stressed the importance of fostering collaboration between informal groups and larger institutions -- both in the United Kingdom and in the countries of origin and transit. Finally, the paper also called for the creation of "specific mechanisms that allow for the safe reporting of missing migrants while providing support to their families in the process, alongside improved technology and awareness-raising."
Read more: Deaths at sea a 'humanitarian crisis': IOM report
Heart-breaking testimonials
The IOM shared some insights gained from testimonials shared by migrants who came to the UK. Among those, it highlighted the case of Omar, a Sudanese man living in Nottingham, who has been looking for his childhood friend Ali, who went missing while they were both crossing into Europe.
While interviewees were not asked whether they felt their loved ones might have perished, Omar raised this prospect when he said he witnessed his friend and others falling off the dinghy they were travelling on. But even if his friend was lost at sea, Omar said that while he partly believed that Ali died as he fell of the dinghy they were traveling on, he continued to search for him because he needed closure: 
"Maybe another boat picked them up or maybe they drowned, but how can I be sure if no one has found his body? In Italy, I asked the people there, but they said all the bodies that are found are buried ... After I arrived in the UK, some of my friends told me about Salvation Army and I went there, but they said they don't deal with that. … I will keep searching until I find him."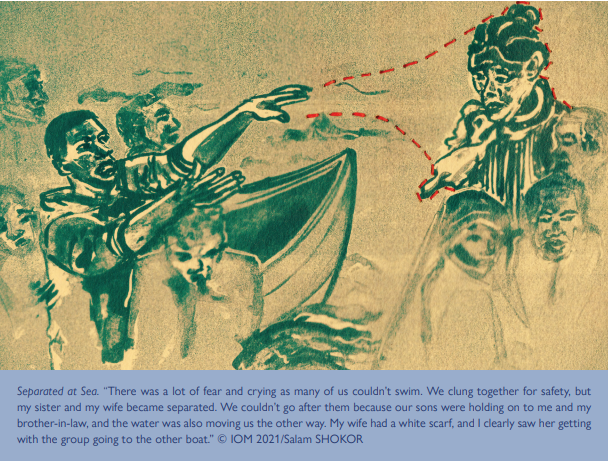 Munir, a Sudanese man in London, meanwhile shared his story of how he has been searching for his wife and sister. They had started their journey as a family, he said, but became separated as they were trying to make the Mediterranean passage from Libya into Europe. His wife and sister were forced onto a different boat than the one he was on.
"There was a lot of fear and crying as many of us couldn't swim. We clung together for safety, but my sister and my wife became separated. We couldn't go after them because our sons were holding on to me and my brother-in-law, and the water was also moving us the other way. My wife had a white scarf, and I clearly saw her getting with the group going to the other boat, so I believe she got on that boat. [I] prayed that we all arrived safely in Italy and would reunite."
Our boat was rescued by an Italian ship after about four days. It took us to Sicily, and they registered my brother-in-law and I, and I asked them about the other boat and the women. A lady there – I think she said she worked with Red Cross or UN or something like that – told us that several boats had been rescued that week and taken to other places like Lampedusa and Sardinia, so she asked us for their names to help us."
After two weeks in Sicily, Munir could get no information about his wife's and sister's whereabouts. He decided to leave and continue his journey all the way to the United Kingdom, from where he continues to search for his family.
"It was very difficult for us to leave Italy. We couldn't eat or drink. My brother-in-law and I felt ashamed that we were unable to protect my wife and [my] sister. In Italy we went to the registration office every day to check. Even after we got to London, we have been calling them, but nobody knows where they are. Even if we heard that they died, we can accept the news a little bit because that's God's wish. 
"But to not know anything is a killer."
Read more: 'A distress call for human rights': European migration policies put migrants' lives at risk