After a blaze in an accommodation center for asylum seekers near Hamburg, a resident was admitted to a psychiatric hospital for suspected arson. It was the second fire in such a facility in northern Germany this year.
The fire in the building started around 10:30 p.m. on Saturday (May 1) in Gudow, a tiny municipality located in Germany's northernmost state of Schleswig-Holstein.
After the suspect was detained Saturday night, he was brought in front of a custodial judge on Sunday due to the urgent suspicion of having committed attempted murder and serious arson. On Monday, police announced that a district court ordered the resident of the facility to be accommodated in a psychiatric hospital.
According to reports, the man was in a "psychic state of emergency" when he apparently lit items in his room on fire, which quickly spread to other inflammable items across the room.
A few minutes before the alleged deed, the man reportedly told the woman in charge of the facility about his intention and spoke of suicide intentions. He then sent her a picture of the fire in his room, whereupon the woman immediately alarmed police and the fire department.
When the rescue forces arrived on the scene, the suspect was armed with a kitchen knife. According to the spokesperson of the regional fire department, he only threatened to harm himself with the knife. Police were eventually able to persuade the suspect to put the knife away, a police press release said.
Building completely destroyed
When the fire broke out Saturday night, 21 asylum seekers were staying in the building. None of them sustained any injuries and were brought to nearby facilities. The accommodation center was severely damaged and is currently uninhabitable. One fireman reportedly suffered a circulatory collapse during the rescue mission.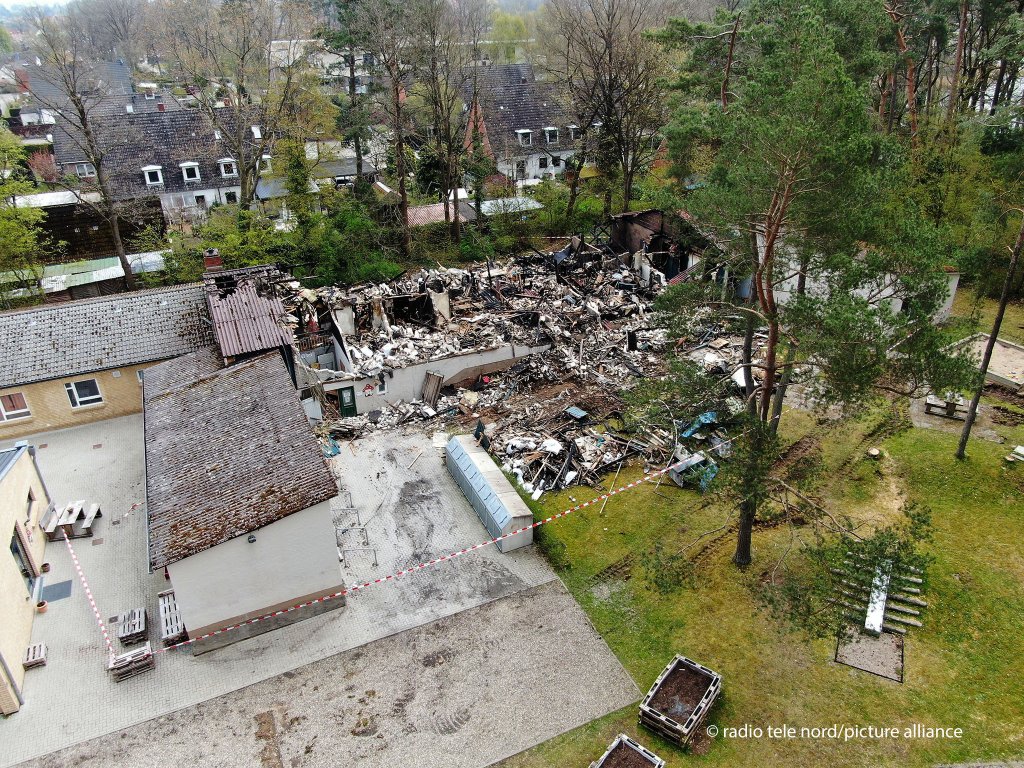 According to Norddeutscher Rundfunk (NDR), a member of Germany's public broadcaster ARD, the fire department brought the 21 residents to safety. Ten of them, who were staying in a side wing of the building, had a COVID-19 infection. They were taken to a fire department facility right across the street, NDR reported.
Saturday's blaze was the second fire in an accommodation center for asylum seekers in northern Germany this year: At the end of January, a 27-year-old man of Afghan origin died when a fire broke out in a similar facility in a suburb of Hamburg.
With epd