A Balkans-based network of human rights groups has released a report on pushbacks against migrants in Greece and Croatia. It claims that systematic violence by Croatian and Greek authorities often amounts to "torture or inhuman and degrading treatment."
"When the police arrived, I was saying to them 'please, peace with us, peace', but they weren't interested in that and pulled guns on us. I heard that they loaded it. One of the officers came to me with his gun and put it directly on my head while he was shouting on me 'who's the leader? I know it's you'."
This statement of a migrant describing a so-called pushback that allegedly took place on March 6, 2020 in Croatia, near the border with Bosnia, is one of close to 300 testimonies the Border Violence Monitoring Network (BVMN) collected last year, mostly in the border regions of EU member states Greece and Croatia.
The migrant also reported being brought back together with his five friends to the border area with Bosnia-Herzegovina, where police beat them with iron rods and threw them into a border river. According to the BVMN, up to 85% of all migrants reported one or more use of "torture, inhuman or degrading treatment."
"BVMN has consistently documented the mass proliferation of torture and inhuman treatment during pushbacks at Europe's borders," UN advocacy officer and editor of the report, Joseph Cripps, told InfoMigrants. "The overwhelming and indisputable evidence shows how forced undressing, inhuman detention conditions and lengthy physical assaults are now so commonplace that it is hard to distinguish it from an official policy."
Pushbacks refers to the practice of preventing people from seeking protection on their territory by forcibly returning them to another country, generally immediately after they crossed it. They are illegal, as they violate international law and human rights, including the principle of non-refoulement and the right of migrants to claim asylum after they cross a border.
BVMN, a network of NGOs and associations mainly based in the Balkans, including No Name Kitchen and Mare Liberum, has been monitoring human rights violations at the EU's external borders since 2017. According to the BVMN, volunteers collected 286 testimonies last year for this report using standard interview questions paired with metadata including the geolocations of pushbacks. The report focuses on violence and torture as defined by Article 3 of the European Convention of Human Rights.
Six types of violence and torture 
"And then it started. It was like war. Seven against one."
On October 16, 2020, four Algerians called a taxi in Zagreb, the capital of Croatia. But the taxi driver called the police and stopped at a nearby parking lot. Next, two Croatian police officers arrived, and brought the men to a nearby police station.
After each man was interrogated for 10 minutes, they were put into a police van and driven towards the Bosnian border. After a furious drive, the van stopped right in front of the border with Bosnia. Next, seven police officers with ski masks made the migrants walk over the border, where they were forced to undress and hand over all their belongings. After each migrant was beaten for several minutes, the police made them walk to nearby Velika Kladusa around 1 a.m.
"It is a nightmare. Maybe it is my fault, because it was me who decided to do this route. I will not complain about it. You know, I only did it for the future of my two daughters, but I am thinking about going back to Algeria. One can not stand it. It is a catastrophe," the respondent said.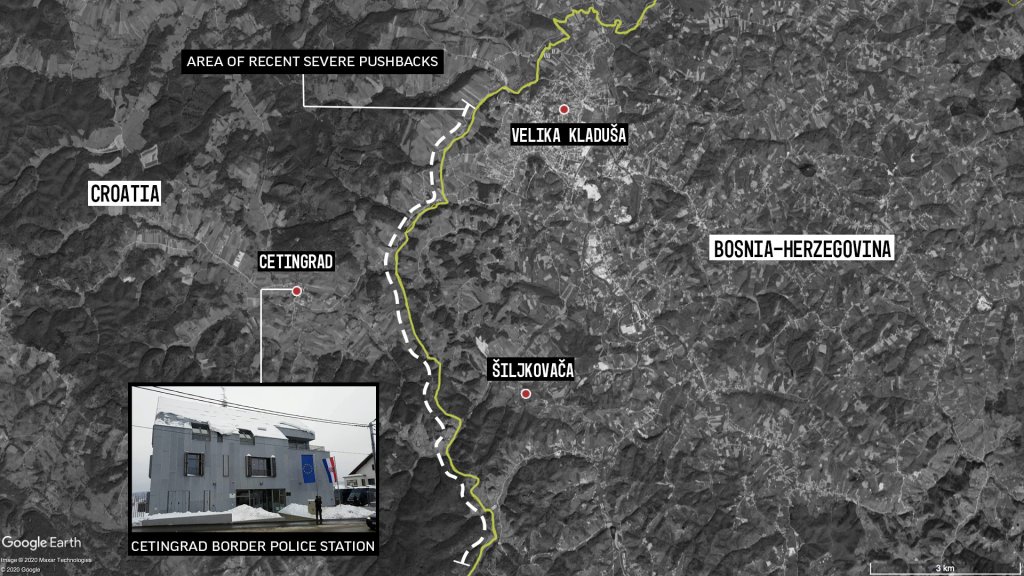 Nearly half of all respondents pushed back from Croatia said they experienced forced undressing. It is one of six types of violence and torture identified in the report:
"Excessive and disproportionate force": Both in Greece and Croatia, nearly nine out of ten respondents said this happened to them, making it the most frequent type of testimony. According to the BVMN, some cases included "assaults lasting up to six hours, attacks by unmuzzled police dogs, and food being rubbed into the open wounds of pushback victims." 
Electric discharge weapons (EDWs) are used as a "punitive and coercive policing tactic," the report said. Documented in 10% of all pushbacks in Greece, EDWs "are being used during lengthy attacks against people-on-the-move whereby victims are routinely denied follow up medical care."
Forced undressing: In some cases, minors were forced to take off their clothes; others involved the burning of clothes and forcing people across international borders naked, thus "exposing them for example to the cold Evros River," according to the BVMN.
Threats with firearms: Up to 15% of all pushbacks from Greece and up to 31% of all pushbacks from Croatia involved the "use of threats or excessive force with a firearm."
"Inhuman treatment" inside detention facilities: In Croatia, nearly half of all respondents said they were detained, two thirds of them without access to food, water or toilets. 
"Inhuman treatment" inside police vehicles: Several testimonies from Greece and Croatia involved prolonged stays in overcrowded vehicles and extreme driving.
More pushbacks with fewer people in Croatia
In Greece and Croatia combined, the report cites 210 pushbacks involving 6,410 people. While Greece saw around 30% fewer pushbacks than Croatia, the number of people involved in Greece was 2.5 times higher. According to Joseph Cripps, the differences "reflect the geographic location and securitization of their individual borders."
"In Greece, BVMN has documented large group pushbacks of up to 200 people including families, women and minors who have been pushed back and stranded on an island in the middle of the Evros river," Cripps told InfoMigrants. "In Croatia, the pushback groups are smaller but still as numerous and violent."
Another aspect of the BVMN report is so-called chain pushbacks, often initiated by European countries like Austria, Italy and Slovenia, where people are pushed back through multiple consecutive countries. According to the report, a key problem is lack of access to medical treatment while being exposed to violence in several countries.
"It's clear that EU states who facilitate or expose people on the move to abuse and torture through the initiation of chain-pushbacks should be held responsible for the abuse they endure," Cripps said.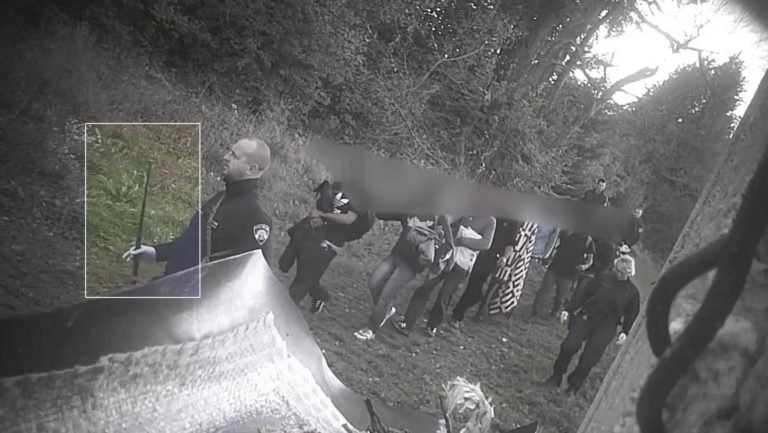 History of forcible rejections
Over the past four years, violent pushbacks have been documented in several reports. In 2018, the Greek Refugee Council and other NGOs published a report containing testimonies from people who said they had been beaten, sometimes by masked men, and sent back to Turkey.
In late 2018, a report by Human Rights Watch (HRW), also based on testimonies of migrants, said "Greek law enforcement officers routinely summarily return asylum seekers and migrants."
In November 2019, German news magazine Der Spiegel reported that Greece illegally deported 60,000 migrants to Turkey between 2017 and 2018. The process involved returning asylum seekers without assessing their status. Greece dismissed the accusations.
Last October, the Danish Refugee Council reported a series of brutal pushbacks on the Bosnian-Croatian border in which dozens of asylum seekers were allegedly victimized.
In February this year, Mare Liberum said the violence against migrants at the hands of European border guards had "reached an entirely" new dimension in a report that documented close to 10,000 pushbacks in 2020. And in March, UN refugee agency UNHCR said it had observed "several hundred cases" of suspected pushbacks in the Aegean Sea since the beginning of 2020.