The Spanish government is hoping some of its mainland regions will agree to take on some of the more than 1,500 unaccompanied minors who arrived in the Spanish enclave of Ceuta, on the African continent, over the last few days.
Reception facilities in Ceuta are full to bursting after around 8,000 migrants crossed from Morocco to Ceuta, and to a lesser extent Melilla, in the last few days. About 1,500 of migrants who crossed are children and teenagers. Some, according to the news agency Reuters, as young as seven or nine, not all of them with family.
Spain's Social Rights Minister Ione Belarre told the Spanish broadcaster TVE that the government was "working to address the issue of children who have come alone." Minister Belarre said that "many of them did not know the consequences of crossing the border. And many of them want to go back. So we are working to make that possible."
Now the Spanish authorities are hoping that some regions in mainland Spain will come forward to help relocate some of the unaccompanied minors to relieve pressure on the authorities in Ceuta.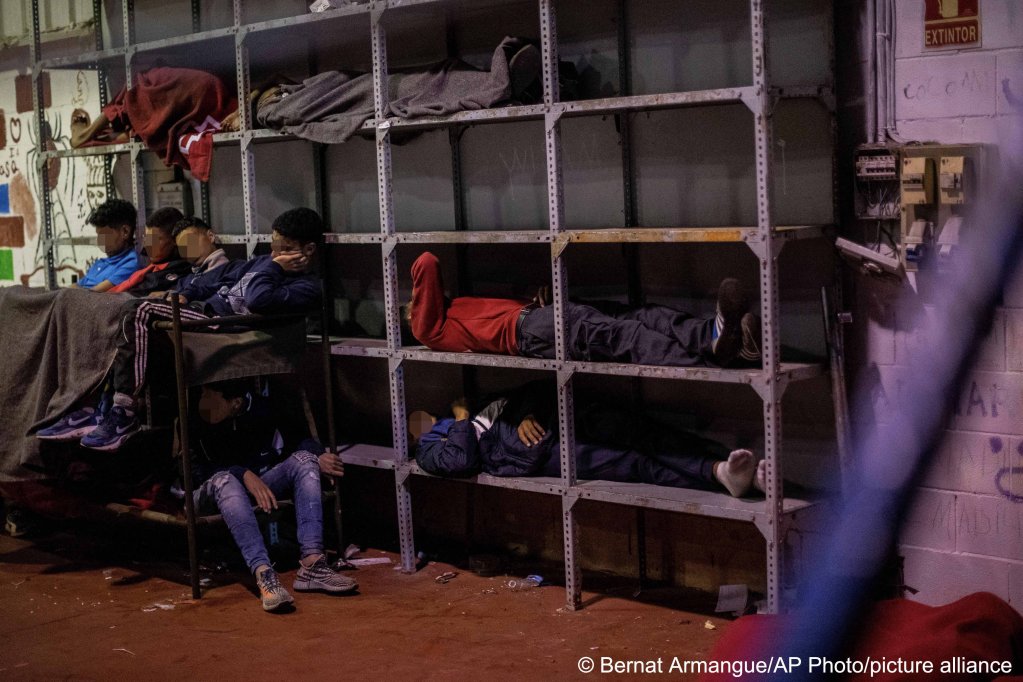 Emergency meeting held
According to the news agency Reuters, a source told them that the Social Rights Ministry had "held an emergency meeting on the issue where it asked regional authorities to accept hundreds of unaccompanied minors who had arrived before the latest surge."
The source added, reported Reuters, that the regions were "positive about the proposal," and wanted to act in solidarity with the enclaves. An agreement was expected "in the coming days," Reuters reported late on Wednesday evening.
It remains to be seen which regions might take some of the young people since, according to Reuters, centers in both the southern mainland Spanish region of Andalusia and the Canary Islands are also "overcrowded."
Warehouses full
Some of the newly arrived teenagers were taken to a warehouse where they were given food and drink by Red Cross volunteers.
Reuters TV also carried footage of what appeared to be a 13-year-old or 14-year-old boy attempting to swim towards Ceuta beach, his body wrapped with plastic bottles to aid flotation. The boy is then seen trying to climb the parapet on the beach before being taken "gently but firmly" by soldiers through the gate to the security zone between Morocco and Spain. Reuters reports it is "not immediately clear what happened later." However, they underline that it is illegal to deport minors from Spain.
The news agency AP also said some of its reporters had seen teenagers "who appeared to be under 18" being ushered "back across the border" by Spanish police. The forced returns were criticized, reported AP, by a Spanish NGO CEAR, which works with asylum seekers and refugees.
Criticism of forced returns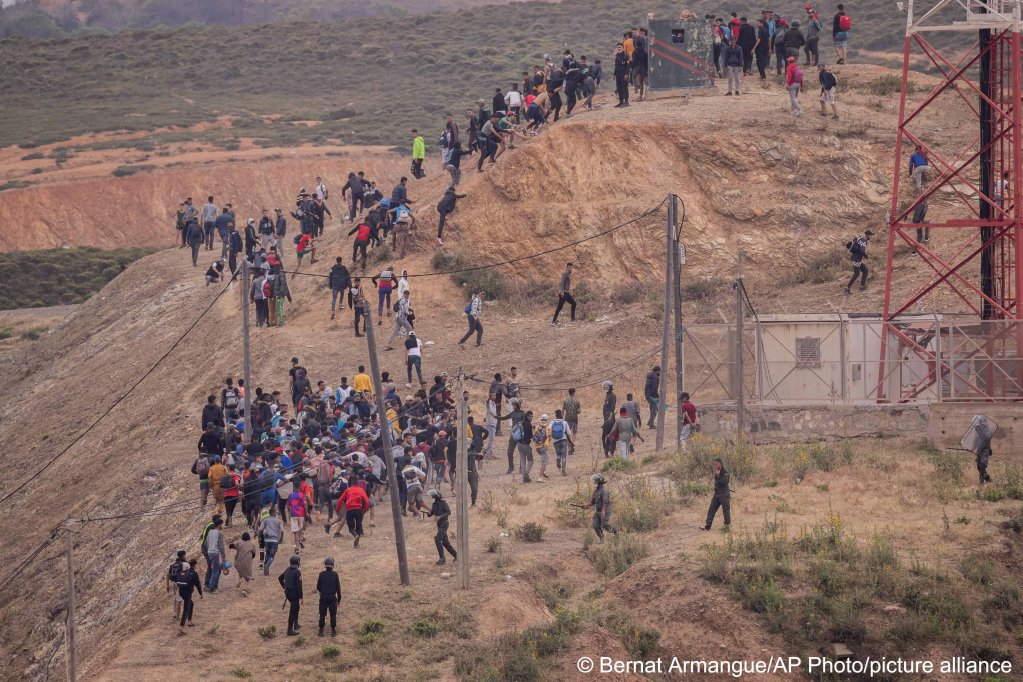 A spokesperson for CEAR, Paloma Favieres, told AP that "these forced returns are not legal." It was a position also questioned by a judge on Spanish TV according to reports on several news agencies. Favieres said that she thought there were also underage children among those being sent back and that "children should be immediately put into custody by the city's child welfare providers."
Spain's Interior Minister stated that it was only "using all the established legal procedures legally corresponding to each case," reported AP.
On Wednesday, the Spanish authorities were claiming they had deported more than half of the roughly 8,000 people who had already arrived. In fact, authorities in Ceuta confirmed on Wednesday afternoon that already 5,600 people had been sent back to Morocco. This didn't stop however some migrants attempting their luck and continuing to swim towards Ceuta on Wednesday.
The anti-migrant far-right Vox party is hoping to make political capital out of the numbers of arrivals. The leader of the party, Santiago Abascal visited Ceuta on Wednesday, and according to Reuters, claimed that Morocco was "launching minors like battering rams" against the Spanish borders.
'We want to work'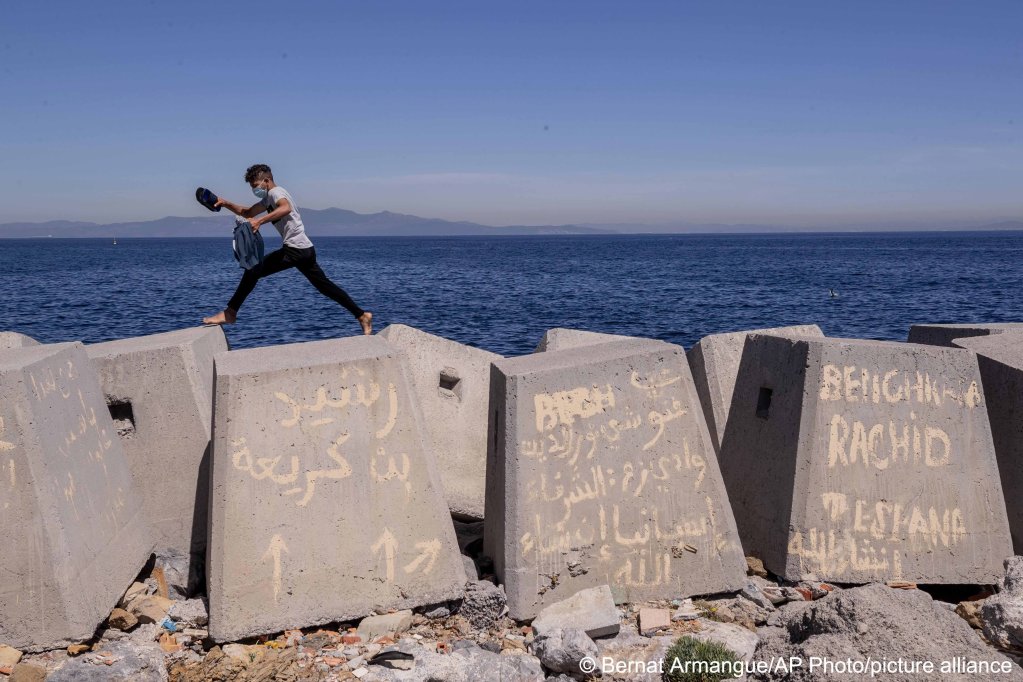 Many of those who have attempted to reach Ceuta in the last few days, are according to reports, those who used to regularly cross the border for work before the COVID-19 pandemic closed things down.
One 24-year-old barber going by the name of Othman told the news agency Agence France Presse (AFP) that he was sure that there was work for him in Spain and that there wasn't enough work for people like him in Morocco.
Another 30-year-old, calling himself Mohamed, was quoted by the BBC after speaking to Spanish Broadcaster RTVE that he had "said goodbye to my family and left with nothing." Mohamed also said that he was hoping to find work in Spain. "I want to work and to help my family. All of my friends, we want to work."
The Spanish news agency EFE reported that Moroccan police have now sealed the border on their side.
'Sleeping in the street last night'
A few hundred kilometers away, the other Spanish enclave on the African continent, Melilla, had fewer attempts but also reported 86 sub-Saharan Africans entering via its southern jetty on Tuesday, reported the BBC. Here, according to the BBC, the Moroccan border guards were cooperating with Spanish guards to block the borders, whereas in Ceuta, at least at the beginning, many said that the Moroccans had been standing by whilst migrants went past the normal barriers.
Back in Ceuta, some of those who recently arrived are already voluntarily heading home. Another 30-year-old, Mokhtar Gonbor, told the BBC that in Ceuta they had "no food, no money and we were sleeping in the street last night."
One man who tried twice to get into Ceuta and is now back in Morocco told AP that the security forces in Spain shot rubber balls at them as they tried to cross. He also said he had slept on the street with many others. Even children and minors who were taken in hand by the authorities, according to AP, ended up sleeping on the floor of a warehouse while there was just no more room for them.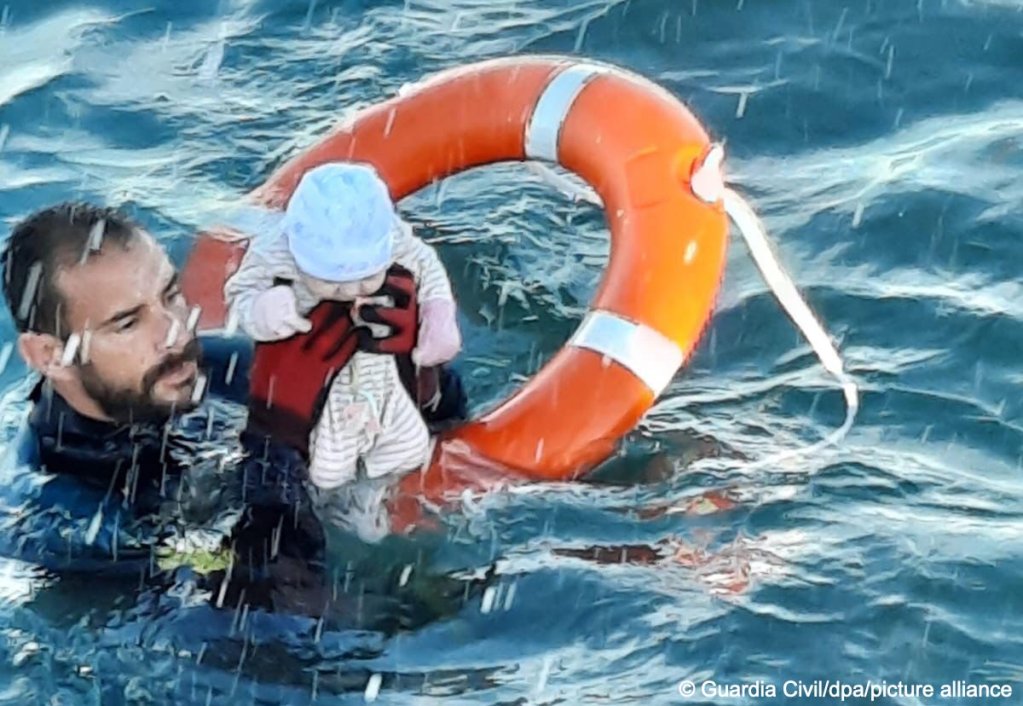 'We have nothing. If we return to Morocco, it is just suffering'
Late on Wednesday, the Spanish government started putting forward their belief that Morocco had loosened the border controls deliberately, in retaliation at Spain having offered medical care to the leader of the Polisario Front recently, which is fighting Morocco in the disputed territory of Western Sahara. The medical care, said the Spanish government, was on humanitarian grounds and shouldn't have been interpreted as a political taking of sides.
According to AP, Spain's Foreign Minister Arancha Gozalez Laya told Spanish public Radio on Wednesday, "it tears our hearts out to see our neighbors sending children, even babies [because] they reject a humanitarian gesture on our part."
One of those who swam with her child is Aisha Diakate. According to AP, the 25-year-old fled conflict in Mali in 2018 after rebels killed her parents. She made it to Morocco but struggled to find work and "had to beg to survive."
Diakate says she walked from Tangiers to the border and then swam with her small child in her arms. She slept outside a warehouse the first night she arrived and was reportedly "crushed" when she was told that she might be deported too. "I swam here with my child, why are they now asking me to go? That's not right," Diakate told AP.
"We have nothing. If we return to Morocco, it is just suffering."