Every evening, dozens of undocumented Moroccans attempt to enter the port of Melilla to board ferries bound for Malaga, Almeria or Motril, in southern Spain. For these young people, the sea is the only way out of the Spanish enclave. They risk being injured by barbed wire, being beaten by the police, or even drowning.
Hassan climbs up the fence, stops, then lets himself fall on the ground. He gets up, tries again. Another failure. The fence is about four meters high. At the top, there is barbed wire. Hassan does not succeed. Standing in front of the metal barrier, he waits a few seconds, then throws in the towel. He runs back.
It is 8:30 pm. Hassan returns, out of breath, sweating. His "risky" did not work. In the language of young Moroccans in Melilla, "risky" refers to attempts to break into the port of Melilla to sneak onto one of the ferries that link Melilla to the peninsula.
Hassan is a "harraga" (literally, a "burner" of borders), ready to take any risk to reach Europe. For him, ferries are the only option. There are only two ways out of Melilla, a Spanish enclave on Moroccan soil: by plane or by boat. The air route is not an option.
'You go in and hide while waiting for the ferry'
"We do risky every day," says the young Moroccan. Sometimes in broad daylight, but more often at nightfall. "Either you manage to get in during the day, you hide and wait for the ferry that enters the port around 9 pm, or you try in the evening, when the boat is there." Paying a ferryman or buying a dinghy is not an option. "With what money?" Hassan asks.
That evening, like every other evening, the Spanish police are on the lookout. In addition to their surveillance cameras, barbed wire and dogs, police patrol the harbor by car. That does not seem to discourage the young people. "I have friends who have managed to cross to Spain. Lots of friends," says Hassan. "The risky, it works."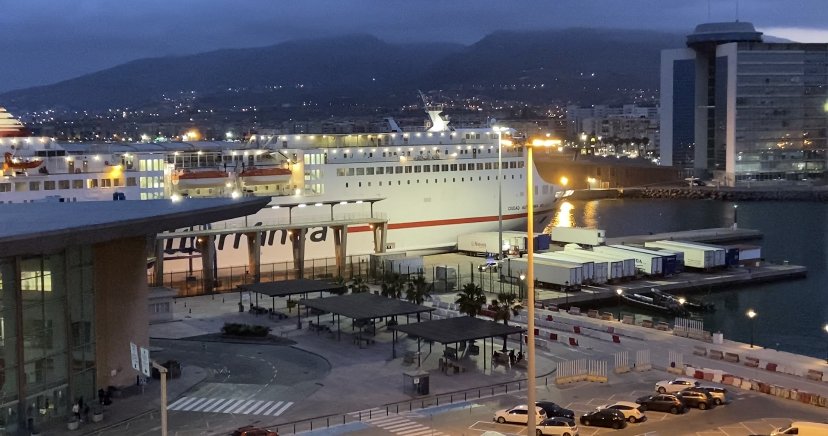 How many have made it across? Organizations struggle to count. "It is quite random. There can be five people in one week, then zero for the next three weeks," says Philomena, a member of the Solidary Wheels organization. "On Easter Sunday, for example, 12 people passed through [and reached the peninsula] in a single day, perhaps because the police were on vacation."
According to non-profit groups, there are between 200 and 300 young Moroccan migrants in Melilla. In accordance with an agreement between Spain and Morocco, these Moroccan nationals, who have reached the age of majority, can be deported as soon as they enter Spanish territory. Very few are eligible for asylum.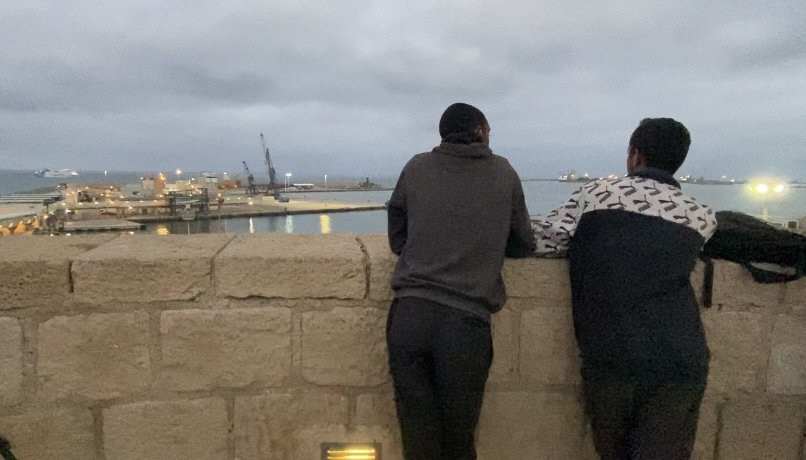 Police violence
The cuts and traces of blood on Hassan's hands suggest that risky remains difficult. "I can't get through the barbed wire, it's hard," he says. At the port, the security guards and the migrants are getting to know each other. "He's nice," says another young migrant, pointing to a man in uniform. "When he spots us, he never hits us. His colleague, on the other hand, is bad."
That evening, Hassan was not the only one to have had a failed risky. His friend Rachid was driven back to the exit of the port, "without violence," he says. Both watch their companions from the heights of the old city. There are shouts of encouragement, and sometimes mockery as well. "Look at him over there, he is under the green truck. Do you see him? He doesn't know how to be discreet...," scoffs a Moroccan. "There are police with dogs. He'll be spotted in two seconds."
Every evening, migrant aid organizations such as Solidary Wheels remain on the outskirts of the port to "keep an eye" on the police. They condemn the police violence. According to them, such abuses are commonplace in Melilla. "We pick up young people who have serious injuries due to the beatings they have received. But there are also techniques of humiliation that are devastating," explains Philomena from Solidary Wheels. "There are policemen who cut the hair of Moroccans, there are policemen who make them undress to leave, there are policemen who throw their shoes in the water."
'I know it will work'
Volunteers also look out for migrants in trouble. When they see injured people, they call ambulances, distribute painkillers, and bandage small and large wounds. This Thursday night, a youngster fell off a fence and dislocated his shoulder. "It'll be fine," says a volunteer. "It's painful but not too serious."
 At 10:30 pm, after having eaten and rested, Hassan announces that he will try another risky. One last attempt before the 11 pm ferry departure. The volunteers listen to him. This time, Hassan talks about swimming in the harbor to get directly to the huge maritime building. It is extremely dangerous: in the dark night, he could be hit by another ship, or die drowning. He knows this.
In his backpack, he carries a white sheet "to hide himself and to be the same color as the boat [if he] succeeds [in his] risky," paper towels "because I need them to clean myself," and his cell phone, which he protects as best he can in plastic. "I will call you from Spain." This latest attempt doesn't work. He will try again the next day, he says. "It's okay, that's how risky are: you try all the time, and one day it's good."
Charlotte Boitiaux, special correspondent in Melilla