The humanitarian rescue ship Geo Barents, run by the organization Doctors without Borders (MSF), is now searching for a safe harbor in which to disembark the 410 migrants it rescued in the central Mediterranean over the last few days.
"In less than 48 hours, seven rescues and 410 persons saved from drowning," tweeted the humanitarian organization Doctors without Borders (MSF) on Saturday, June 12. Among those rescued are women and children.
The Italian news agency ANSA reported that the ship was almost "full to capacity," and needed a place to disembark those rescued as soon as possible.
MSF Sea on Sunday said that it had "contacted the competent maritime authorities to disembark the survivors in a place of safety."
However, in spite of the contact made, MSF said that it had been embroiled in "24 hours of bureaucratic ping-pong and still no solution for the rescued people." The organization implored the authorities to "treat rescued people as dignified humans not as pawns."
Malta refuses help
Four of the rescues were conducted in the Maltese Search and Rescue Region, but Malta had already rejected their requests for a 'Place of Safety' (PoS), claimed MSF Sea. They said the Maltese authorities had stated: "Malta is definitely not in a position to provide you with a place of safety and neither the competent authority of any interception on [the] High Seas."
MSF Sea, however, claimed that "coastal states have the obligation to fulfil their duties to coordinate Search and Rescue activities as per international conventions and to prevent mass loss of lives."
The organization reminded readers of its Twitter feed that the central Mediterranean is "the deadliest sea border" and "at least 675 people have died taking this perilous crossing since the beginning of 2021."
The organization put out a short video message showing how busy, and noisy, the ship is and pointing out that many of those rescued had been through "harrowing journeys and are exhausted." It asked the authorities to "show humanity and allow the immediate disembarkation."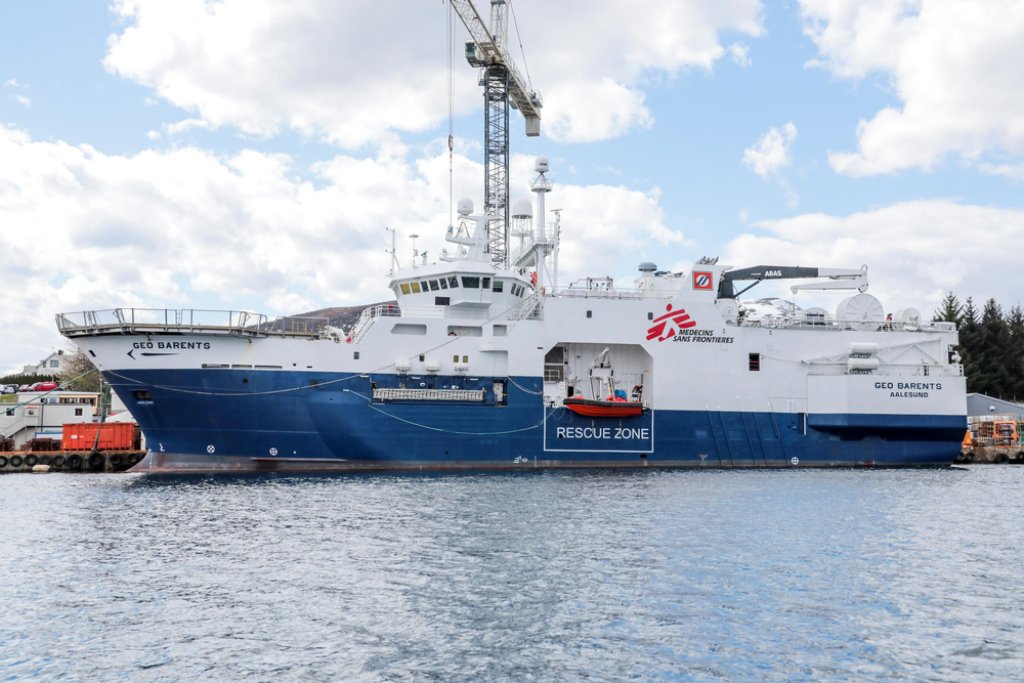 'EU policies [...] condemning people to die'
On May 13 MSF had announced that it was returning to "saving lives at sea in the central Mediterranean." It said its decision had been motivated by the continual drownings that were occuring in the central Mediterranean.
In a press release MSF called what is happening in the central Mediterranean a "man-made disaster," and said that the EU was "supporting the business of suffering," by supporting the Libyan coast guard in their work. It urged EU governments to end their support to the Libyan coast guard and to re-engage in state-led search and rescue.
MSF's operations manager, Ellen van der Velden, said in the statement that MSF's return to sea "is the direct result of Europe's reckless policies of non-assistance at sea which are condemning people to die."
The statement also underlined the fact that many of the migrants returned to Libya are "arbitrarily locked up in dangerous detention centers, where they are exposed to life-threatening risks such as ill-treatment, sexual violence, exploitation and even death."
Van der Velden criticized European governments' policies towards search and rescue NGOs, saying that they had been "deliberately hindered, if not criminalized," when trying to carry out rescue missions.
More than 80,000 helped
Since MSF launched its first search-and-rescue mission in 2015, it has worked on board seven different rescue ships, sometimes operating in partnership with other organizations, like SOS Mediterranee.
MSF has "participated in 682 search and rescue operations and assisted more than 81,000 people," according to a statement on the NGO's website. The Geo Barents is sailing under the Norwegian flag.
Italian hotspots 'close to collapse'
According to the Neapolitan based website Fanpage.it, "more than 1,000 migrants [1215]" arrived in Lampedusa over the weekend on 16 different boats, and "the situation in the hotspots on the island, which have a capacity of 250 people is becoming precarious and are close to collapse."
On Saturday, June 12, 57 people, including women, children and unaccompanied minors, were transferred to the Sicilian mainland and then sent to "various welcome structures" depending on their needs, the website reports.
Moreover, a further 110 migrants were put on board a ship sailing for the Calabrian town of Crotone on Sunday. A quarantine ship is expected on Monday to house some of the other new arrivals, but transfers notwithstanding. Fanpage.it continued to underline that the situation on Lampedusa was "close to explosion."