Police in Calais have recently changed their tactics, making it harder for migrants to anticipate raids on their makeshift camps. Thousands of tents have been confiscated, causing worse humanitarian conditions.
A group of five Sudanese migrants gathers around a campfire near a flooded field in Coquelles, near Calais, trying to get some warmth during a torrential downpour. One of them regularly adds a bit of petrol from a plastic bottle to keep the fire going despite the heavy rain and the wet wood. They sleep nearby but they have no shelter against the rain. Their tents were confiscated by French police three weeks ago. The front porch of the former furniture shop where they used to take shelter, 200 meters away, has been blocked by hundreds of big rocks.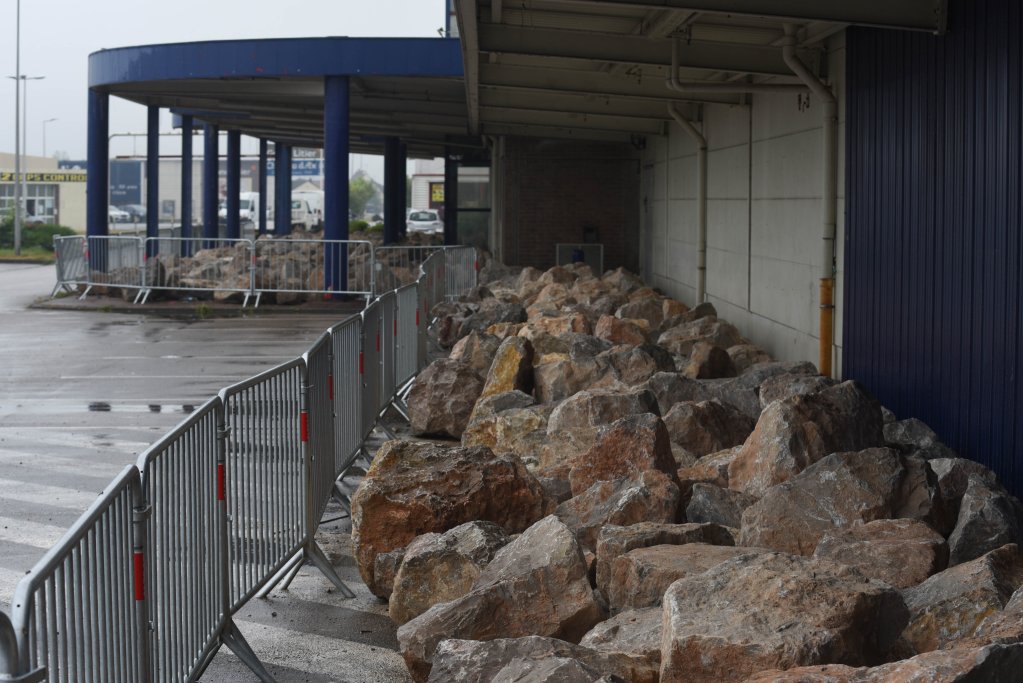 "We don't dare to put up tarps to protect ourselves from the rain because that would attract police attention," Ali Youssef Ahmad told Infomigrants on June 18. The young Sudanese man adds that French police have already spotted this small makeshift camp, where 27 migrants live. "Police regularly come to see if we haven't set up tents. We don't know in advance when they will come, sometimes we've seen them at 3 a.m.," adds Ali Youssef Ahmad.
Weary of police intervention, this group of Sudanese has given up on the idea of getting a proper shelter against the rain. They sleep with their raincoats on and pray that downpours don't last very long. As they hide in small patches of woods further away from Calais, they almost disappear from public view - unwittingly fulfilling the French government's objective.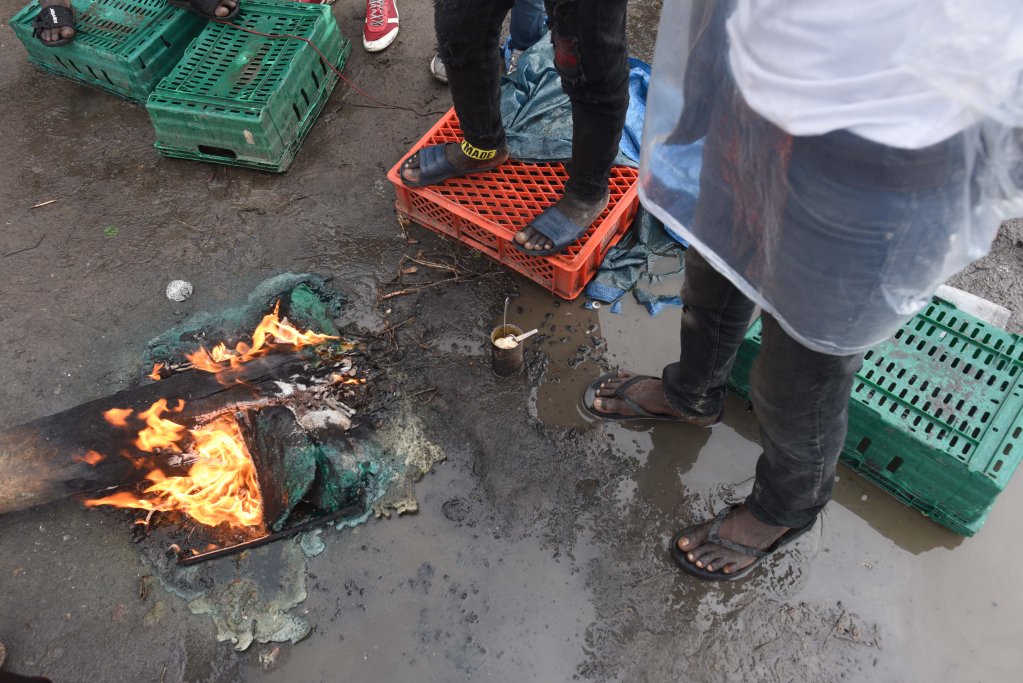 French police have prevented the reconstitution of large makeshift camps by evicting migrants on a predictable rolling 48-hour schedule. A convoy of police vehicles would usually set up a "clearing perimeter" in which any tent or belongings left would be taken away.
Since police always moved in around the same hour in the morning, migrants could anticipate, pack up their belongings in advance and stand a few meters outside the "clearing perimeter". As soon as police left, migrants immediately went back to their spot.
Aid organizations said that this policy amounted to harassment, and its main result was to put psychological pressure on migrants to leave. Since the beginning of June 2021, French police have ramped up the pressure by becoming more unpredictable.
'Psychological pressure'
"Now police launch clearing operations at different moments of the day, sometimes in the morning, sometimes in the afternoon. That means that migrants who left to go grab some food or to get a shower sometimes come back to see that their tent and all their belongings have been taken away," explains François Guénnoc, the head of L'Auberge des Migrants, a migrants' rights group.
"Police raids have become random, one never knows when they will take place. Migrants are more exhausted than ever, both physically and psychologically," adds a researcher for Human Rights Observer, an organization that monitors police evictions in the Calais area.
"It's part of the cruel and mean set of policies whose objective is to put pressure on migrants to leave the region. French authorities offer buses for migrants to get accommodation elsewhere in France. But 90% of migrants in the Calais area are not interested in that, because their objective is to reach the United Kingdom," adds Guénnoc.
French aid organizations blame this strategy of so-called "invisibilization" - making migrants invisible - as a reason for the deterioration of human rights in the area. A series of bans on public food distribution inside the city of Calais and the scattering of migrants due to police raids have made it harder to reach smaller groups of isolated migrants. French authorities fund daily food distributions by La Vie Active, an association contracted by the government, but other NGOs claim that they reach only one third of the estimated 1,500 migrants in the Calais region.
The Sudanese group InfoMigrants met in Coquelles was clearly in a dire humanitarian situation. They said that their main concern was to get water - because they had to stay away from any public water tap. Water is not only necessary for drinking, it's also required for cleaning, cooking, and maintaining safe body hygiene. It's so vital that French law forbids water providers to cut-off service to someone's main residence. When InfoMigrants visited, the Sudanese group in Coquelles relied on a single one cubic-meter water tank, left there by an aid organization. The small box was hidden in a patch of bush, suggesting that French police could try to remove it.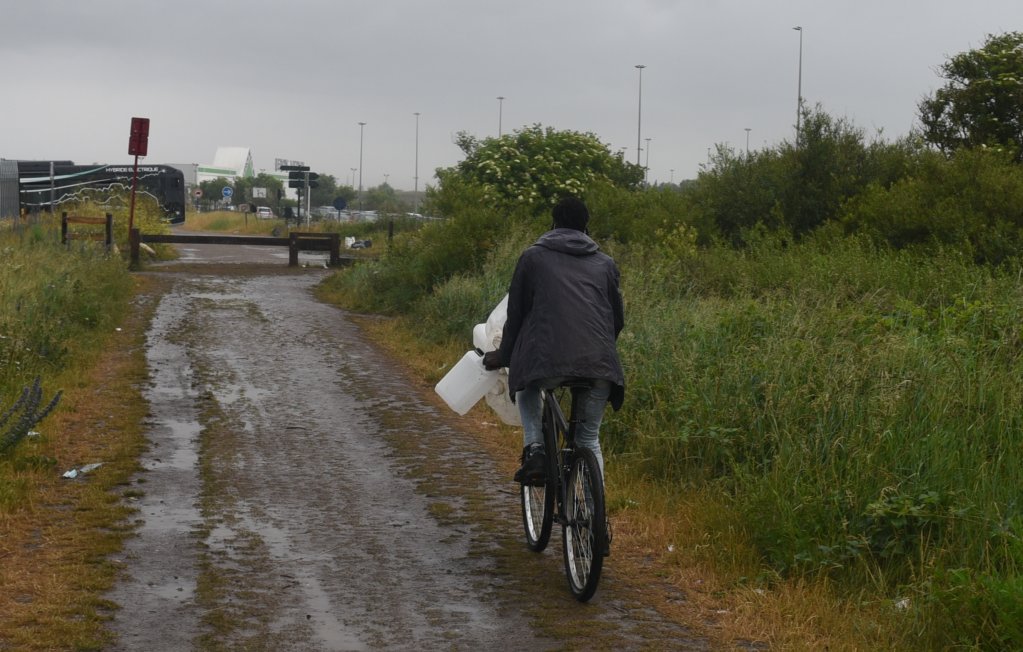 Other groups of migrants have already adapted to the police's more unpredictable clearing operations. The Eritreans who stay near the Calais stadium have managed to keep most of their tents. They told InfoMigrants that they had organized themselves to move quickly away as soon as a "contact person" warns them of approaching police officers.
Afghan migrants who took shelter from the rain in a former warehouse told similar stories of narrow escapes. Ahmad Saidi, who left Afghanistan in 2019, said that to keep your belongings, you needed to develop some sort of automatic reaction.
"As soon as you see police, you don't have time to think twice," he said. "You must immediately take your tent and start running away."