Concerns are growing over a hunger strike by hundreds of undocumented migrants in Belgium's capital. Four men have stitched their lips together in protest against the authorities' refusal to grant them legal status.
More than 400 migrants are occupying two universities and a baroque church in the Belgian capital, Brussels. They stopped eating on May 23 and many are now very weak. Health workers are treating some who have sewn their lips shut and administering fluids with IV drips to many of the hunger strikers who have become emaciated.
The migrants have taken increasingly desperate action. The French-language network RTBF reported that one of the protestors had swallowed a razor blade and another swallowed batteries and a lighter on Sunday. Alexandre Seron, from Doctors of the World, said people were starting to have trouble standing and they were experiencing worsening stomach pain. "Some people are on the verge of a borderline psychiatric condition," she told RTBF. 
'We live like rats'
Most of the migrants are from South Asia and North Africa: some of them have been in Belgium for more than a decade. In the past year, COVID-19 shutdowns and higher unemployment have made it much harder for many of them to survive.
Also read: Belgium: 'During this health crisis, the rights of migrants are not worth much'
Kiran Adhikeri from Nepal worked as a chef until restaurants closed during the pandemic. "I am 37 years old, I love this society, its people, but I have no legal existence," he told the Reuters news agency. "In this city, we live like rats."
"I am begging them (the Belgian authorities), please give us access to work, like others. I want to pay taxes, I want to raise my kid here," said Adhikeri, who has lived in Belgium for 16 years.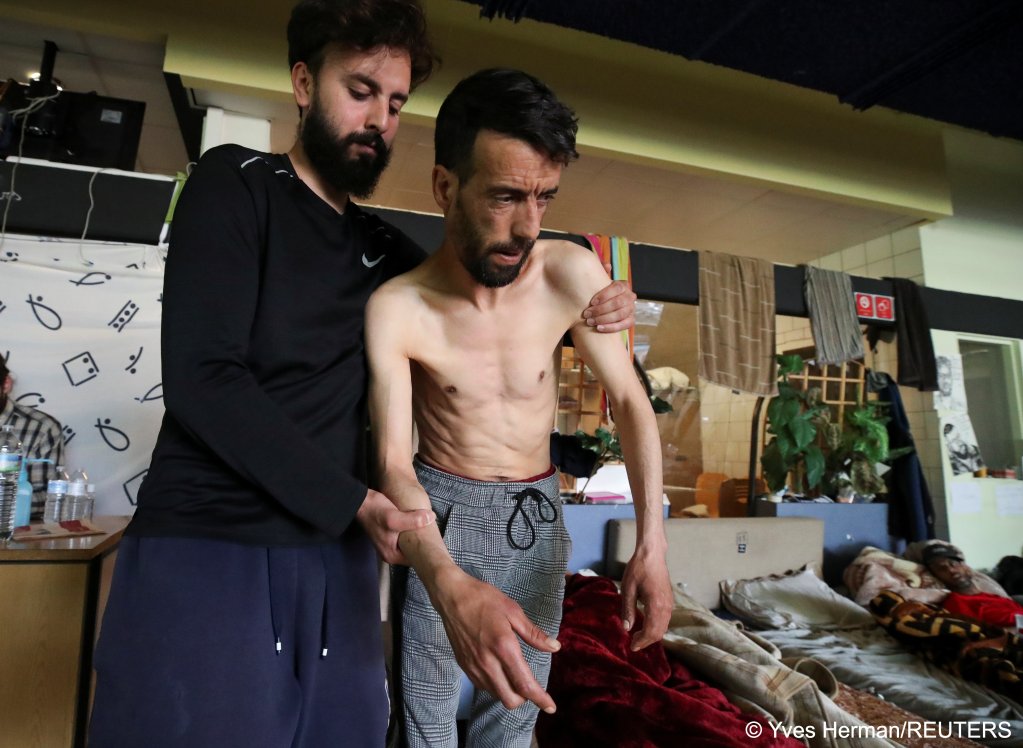 Government refuses demands
The Belgian government has repeatedly said that it will not negotiate with the hunger strikers over their demand to be granted legal residency and has refused to repeat the collective regularizations of 2000 and 2019. There are an estimated 150,000 undocumented migrants in Belgium.
One of the groups behind the strike, Christian Workers' Movement, said Wednesday that it had met with the minister for asylum and migration, Sammy Mahdi, and presented him with a petition calling for the migrants to be given legal status. The #wearebelgiumtoo petition has collected 28,000 signatures, according to Coordination des sans-papieres de Belgique, an undocumented migrants collective.
On Wednesday CIRÉ, a migrants' rights organization, tweeted: "39th day of hunger strike by 430 undocumented migrants. Do we have to die to be heard?"
Sammy Mahdi has insisted that the government would not agree to regularize the migrants' status. "Anyone who gives the hunger strikers hope is adding fuel to the fire. Don't do that, because you're playing with people's lives," he tweeted.
Also read: Undocumented migrants protest in Brussels church