Lithuanian and EU officials have sharply criticized Belarussian President Lukashenko for his alleged intent to loosen border controls in response to sanctions imposed by Europe. The outcry comes after over 600 migrants crossed from Belarus into EU member state Lithuania in only five days.
"We condemn all attempts to instrumentalise illegal migration to exert pressure on EU member states," European Council (EC) President Charles Michel tweeted on Monday (July 5), referring to an alleged decision by Belarus to allow irregular migrants to cross into Lithuania in response to EU sanctions.
"My European Council colleagues are very clear that ... the Belarus authorities are using irregular migration to try and put pressure on the European Union, including Lithuania," EC President Michel on Monday told a joint news conference in the capital Vilnius with Lithuanian President Gitanas Nauseda.
On Tuesday, Lukashenko at a government meeting threatened to send masses of migrants from countries such as Afghanistan, Syria and Iraq into Europe, particularly Germany. "We will not stop anyone," he said. People are on their way from war zones to "warm and comfortable Europe," and Germany needs workers, he said.
He also told ministers he'd to stop allowing goods to transit through Belarus from China and Russia.
Later that day, in response to Lukashenko's remarks, Michel said member states suspect the Belarusian regime of having a hand in the influx of migrants entering Lithuania, adding that the bloc was "not intimidated".
State of emergency
On Friday, the Lithuanian government had "declared a countrywide emergency as the flow of mainly Iraqi migrants arriving from Belarus reached around 150 per day, more than had entered annually in any of the preceding three years," news agency Reuters reported.
Also on Friday, Lithuanian politician Gabrielius Landsbergis, struck a similar tone as Michel. "Lukashenko seeks to weaponize migration to weaken our resolve for sanctions. Emergency or not - it shall not pass!", the minister of foreign affairs wrote on Twitter.
To accommodate the mostly undocumented asylum seekers, the Lithuanian military last month set up a tent village that can house 1,000 people. "The interior ministry says it plans to expand the camp to accommodate "thousands of migrants," news agency AFP reported on Tuesday.
The makeshift camp is located near the border northeast of Vilnius, which itself is situated only 30 kilometers from the border with Belarus. According to Reuters, the government also asked all Lithuanian municipalities to find room to accommodate the arrivals.
Landsbergis on Friday told AFP that he intended to send those migrants with economic motives back. Some of the migrants who arrive in Belarus, however, fled from Belarus, Afghanistan, Iraq and Iran. According to German news magazine Der Spiegel, they might therefore be entitled to receive protection in the EU.
Support from Frontex 
During Michel's visit, which coincided with Lithuania's statehood day on Tuesday (July 6), the European Council president promised more officers from the European Union border and coast guard agency Frontex to help patrol the Lithuania-Belarus border.
Six Frontex officers already began their duty on the border on Friday. By the end of the month, up to 30 Frontex officers are expected to be stationed there. Michel said he will be speaking with Iraq's president next week to discuss repatriation of Iraqi nationals, Reuters reported.
The Baltic country of 2.8 million people, which also borders Poland, Latvia and the Russian Kaliningrad enclave, has been critical of Belarus following the brutal crackdown after a presidential election there last year that President Alexander Lukashenko claimed he won after 26 years of authoritarian rule but the opposition says was rigged.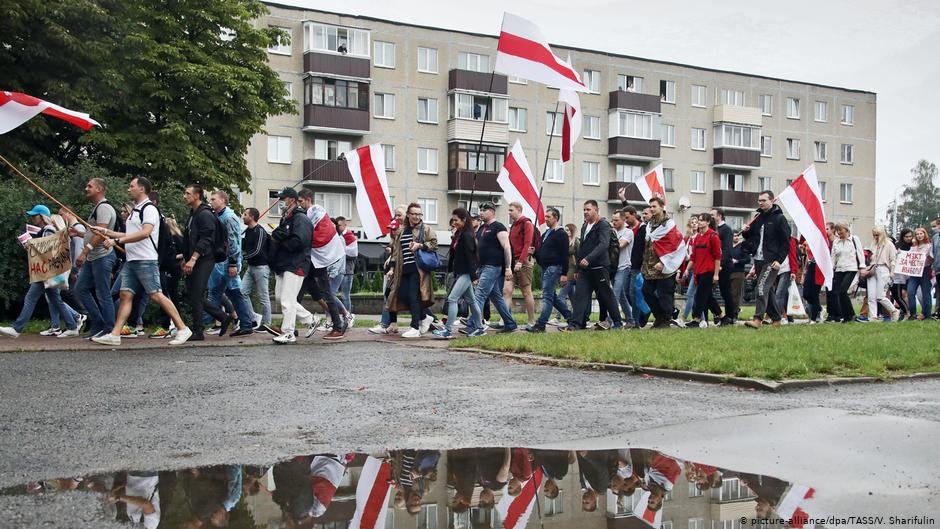 In the months after the election, the EU and NATO member country gave shelter to several members of the Belarussian opposition, including Lukashenko's main challenger Sviatlana Tsikhanouskaya. Both Lithuania and Belarus are former Soviet satellite states.
"It is very complicated to communicate with the regime whose legitimacy we do not recognise, and which is sending the migrants not by mistake or negligence, but on purpose -- as a political tool," Lithuania's President Nauseda said during the aforementioned news conference.
Over 600 crossings in four days
In the four days between Friday and Tuesday, over 600 migrants crossed the 679-kilometer Lithuanian-Belarussian border, which is also the European Union's external border. This latest influx brought this year's total number of arrivals to more than 1,300 -- some 16 times more than in all of 2020, when 81 people arrived.
"The Lithuanian border guard service said that over the past 24 hours alone they had detained 131 migrants, mostly from the Middle East and Africa," news agency AFP reported on Tuesday at midday.
According to Zeit Online, Lithuania wants to expand electronic surveillance with cameras at its border with Belarus from presently around 40% to 100% by the end of next year. On July 1, Frontex announced in an online press release that it will also send border guards to Latvia, which hasn't seen an increase in irregular border crossings.
On May 26, Belarusian President Alexander Lukashenko had indicated that Belarus could retaliate against the latest EU sanctions by loosening border controls for irregular, western-bound migrants as well as drug trafficking. "We used to catch migrants in droves here -- now, forget it, you will be catching them yourselves," he said.
The announcement came after the EU imposed sanctions on the non-EU country following the forced diversion of a passenger jet en route to Vilnius to arrest a Belarusian dissident.
The sanctions, however, do not appear to be deterring Minsk from its crackdown on opponents. On Tuesday, prominent opposition figure Viktor Babariko was sentenced to 14 years in a prison camp in Belarus on charges he said were politically motivated.
On Tuesday, Lukashenko blamed the migrant influx on Lithuanian authorities after Vilnius announced on Monday that it would cut the asylum request process to 10 days.
"If you declare to the whole world that you will register those who make their routes through Belarus even faster, they will keep going. You are opening the door for these migrants even wider," Lukashenko said, according to the local Belta news agency.
With Reuters, AFP, dpa