The Ocean Viking arrived in Sicily on Friday morning to disembark over 500 migrants it has on board. The crew and migrants had been waiting for a week to be assigned a safe port. Food and water were about to run out when they were assigned a port on Thursday evening.
The Ocean Viking arrived in the Sicilian port of Augusta, Italy, on Friday, after a week at sea with 572 migrants onboard. The organization that runs the ship, SOS Mediterranee, said on Twitter that migrants started disembarking from the ship at 11:30am.
Italian health officials were the first on board to conduct tests for COVID-19 and then the young were among the first to disembark and start their identification process.
Italian newspaper La Sicilia noted that of the 572 migrants on board 183 were minors, 159 of those are unaccompanied, reported the German news agency epd. A pregnant woman was also on board.
The European Commission in Brussels stands "ready to coordinate voluntary relocation," of the migrants to various EU member states, reported La Sicilia. The relocation though was described as voluntary, with member states having to come forward if they wanted to participate. A spokesperson in Brussels told La Sicilia that they hadn't yet been asked to coordinate the relocation but they would be ready to do so if asked.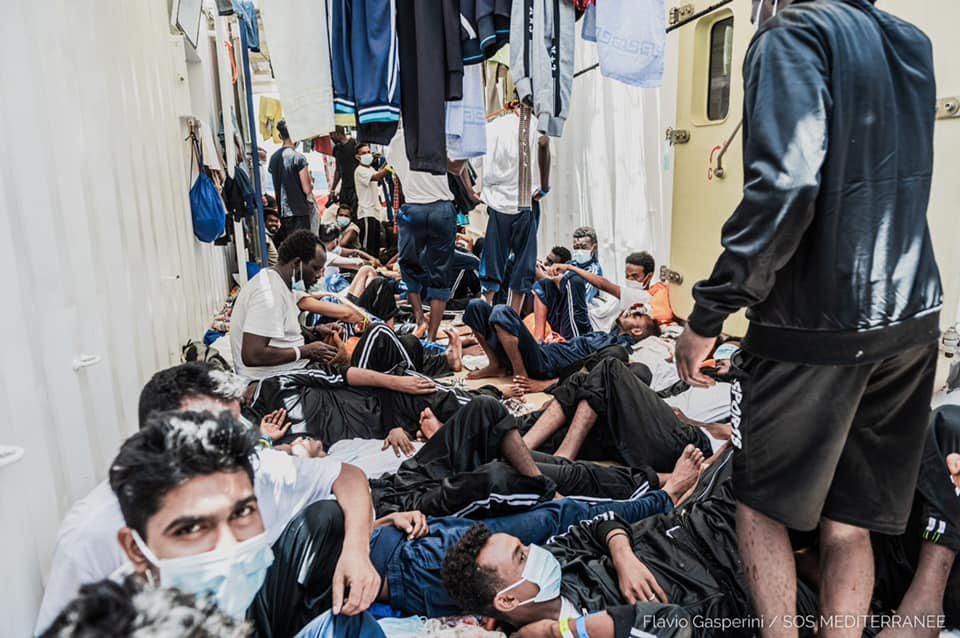 Arrival in Augusta
Before the Ocean Viking was given the green light on Thursday to land in Augusta, the ship had been waiting a week to be assigned a safe port. The ship had, in six separate rescues, taken 572 migrants on board; and food and water were running out, according to the crew. The weather was also expected to start deteriorating on Friday.
"It is an immense relief to know that their plight at sea is almost over and that the six rescues will finally be completed soon," SOS Mediterranee tweeted on Thursday, July 8.
'Tensions and exhaustion onboard'
A picture showed some of the migrants cheering and punching the air with joy. In a statement from SOS Mediterranee, released on July 8, the search and rescue coordinator on board the Ocean Viking, Luisa Albera, said that "tensions and exhaustion are at the upmost onboard."
Prior to the assignation of a safe port, Albera had said that the situation on board was "worsening by the hour." She complained about being "kept in the dark" as to what was going to be done for those on board and said that leaving them in a standoff was "inhumane" and "beyond imagination."
Man overboard
On Wednesday, reported Albera "a man in acute psychological distress jumped overboard." He told the crew that he "could have held on should he have known when the disembarkation would take place, but that he 'could not take the uncertainty anymore.'"
The medical and care teams, said Albera, were also observing "an increase of psychological distress and exhaustion among the women, children and men on board." Two of the minors on board had disabilities and were showing "increasing body stiffness due to the reduction of physical movements and had to be moved to the medical clinic at night."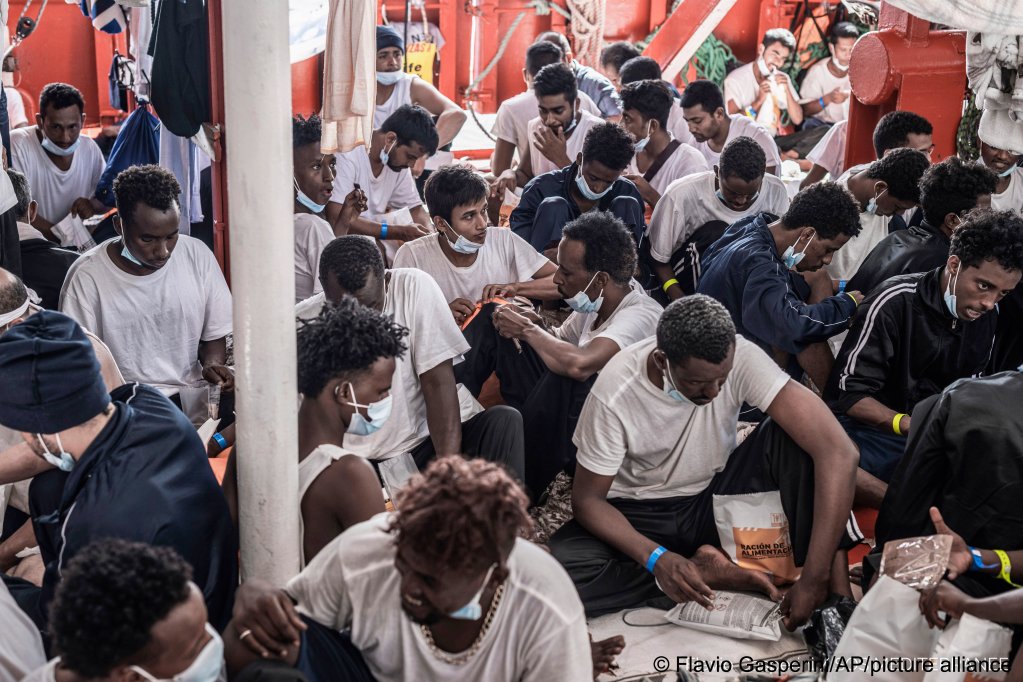 Dangerous route
According to German news broadcast Tagesschau, the rescued migrants come from Bangladesh, Egypt, Eritrea, Sudan and Libya. They were rescued from a variety of different small boats made of wood and rubber. Malta refused to offer a place of safety to those on board.
A mandatory quarantine period for those arriving in Italy is expected, although Tagesschau reported that it was "as yet unclear" where that would take place since there was no quarantine ship currently in the port of Augusta.
The Mediterranean route is one of the most dangerous migrant routes at the moment. According to the IOM Missing Migrants site, at least 898 people have lost their lives attempting to cross the ocean from North Africa towards Europe this year alone, at least 734 of those in the central part of the Mediterranean south of Italy and Malta.