Migrant rights activists staged a protest in Rome because of a vote to renew Italy's cooperation with Libyan authorities. They demanded Italy stop funding and training Libya's coast guard, given that migrants returned to Libya face severe human rights abuses.
Migrant rights activists staged a protest on Wednesday (July 14) in front of the Italian parliament, ahead of a vote on whether to renew international missions, including one in Libya.
Over 100 organizations, including Mediterranea Saving Humans, Amnesty, Arci and Open Arms, had called for people to demonstrate against Italy's cooperation with Libyan authorities.
"Tomorrow the Italian Parliament will vote on the refinancing of the cooperation agreements with Libya. One cannot remain indifferent. Join us in the square [in front of the Rome parliament]," Mediterranea Saving Humans said on Twitter ahead of the protest. The organization also added the hashtagged slogans 'I don't agree' and 'No agreement with Libya."
The goal of the protest was to "denounce the responsibility of Italian authorities ... in the cycle of violence, exploitation and violation of human rights systematically endured by migrants and refugees in Libya," organizers said.
Protesters demand state-run migrant rescues in Mediterranean
They asked the Italian government to "stop the renewal of the mission in Libya and the cooperation with Libyan authorities without concrete guarantees on the protection of human rights of migrants and refugees." They also called for "a plan providing for the immediate evacuation of people held in Libyan detention centers and the extension of regular entry channels for migrant people and refugees."
Protesters demanded Italian and European authorities reinstate a migrant search and rescue system in the central Mediterranean -- at the moment, rescues are carried out primarily by private rescue organizations, and Libyan coast guards who return the migrants to Libya where they often face severe abuse.
Human rights and UN organizations have repeatedly decried human rights violations against migrants in Libya. On Thursday, Amnesty International said it found new evidence of "harrowing violations, including sexual violence, against men, women and children" in Libyan detention camps.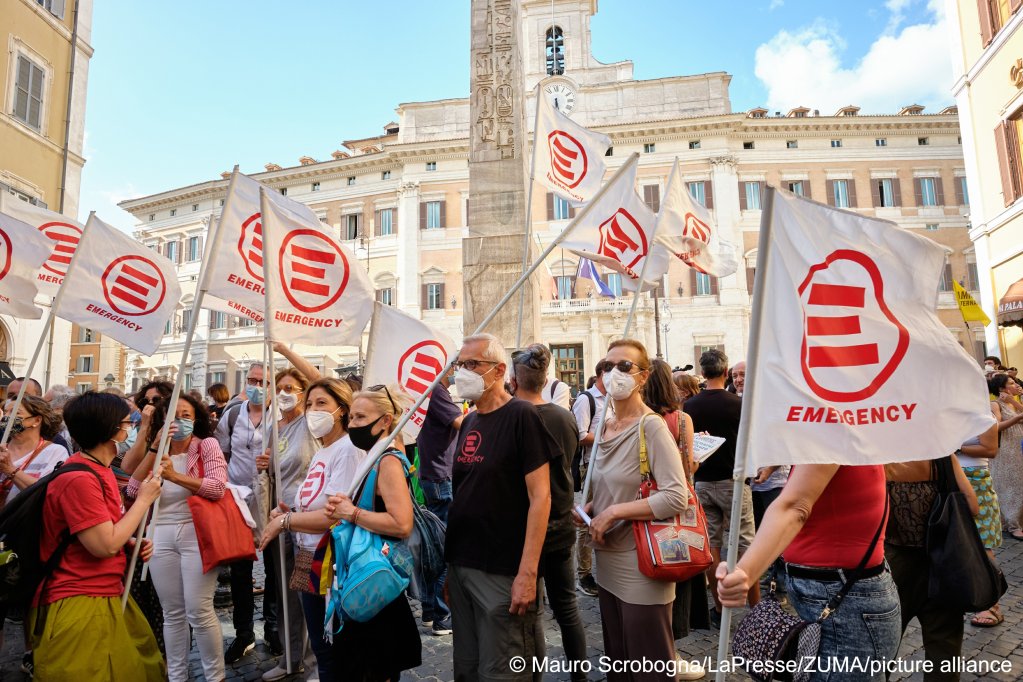 'Libyan coast guard tortures, rapes, kills'
Laura Boldrini, a lawmaker with the center-left Democratic Party (PD), voiced her opposition to Italy's cooperation with Libyan authorities ahead of the vote. She said she hoped that "Parliament is not deaf and blind regarding the unscrupulous methods used by the Libyan coast guard." She mentioned a recent incident captured on video by rescue group Sea-Watch on June 30 -- a Libyan coast guard firing live ammunition at a migrant boat in an apparent attempt to stop it from crossing the Mediterranean to reach Europe
"The so-called Libyan coast guard systematically carries out criminal acts. It tortures, rapes, kills," Boldrini said. "Collaborating with [them] means becoming co-responsible for those crimes."
'Italy cannot abstain from collaborating with Libya'
The Five Star Movement (M5S) argued in favor of working with Libyan authorities -- at least for now. "Until all operations are carried out under the sponsorship of Europe, however, Italy cannot abstain from collaborating with Libyan authorities," several M5S representatives said in a statement published on Tuesday ahead of the vote. "If we suddenly decided not to fund the mission of support to the Libyan coast guard, we would create the conditions for a situation that is even more chaotic than the current one."
With ANSA