Morocco's navy says it has rescued 344 migrants, including women and children, after their boats ran into difficulty in the Mediterranean and Atlantic. Migrant arrivals to Spain are on track to match last year's numbers.
The Moroccan MAP news agency reported on Thursday (July 15) that the migrants, most of whom hailed from sub-Saharan Africa, were rescued in several operations between Saturday (July 10) and Wednesday (July 14).
"They were given first aid on board units of the Royal Navy, before being transported to the nearest ports in the kingdom and handed over to the Royal Gendarmerie," according to MAP, which cited a military source.
Morocco has some 1,800 kilometers of coastline, the majority of which borders on the Atlantic Ocean. Many migrants hoping to reach EU country Spain depart from Morocco in rubber dinghies or small wooden boats. They either try reach the Canary islands from the southwestern coast of Morocco by crossing the Atlantic Ocean, or the coast of mainland Spain from northeastern Morocco, by crossing the Mediterranean.
Also read: Each boat is in danger' – the rescue of migrants trying to reach the Canary Islands
Canaries get half of all migrant arrivals
Spanish interior ministry figures show that between January 1 and June 30, a total of 12,622 migrants arrived in Spain by sea, up from 7,256 a year earlier. According to UNHCR data, around half of them landed on the Canary Islands. Last year, some 23,000 migrants made it to the Atlantic archipelago by boat, most of them in the second half of the year.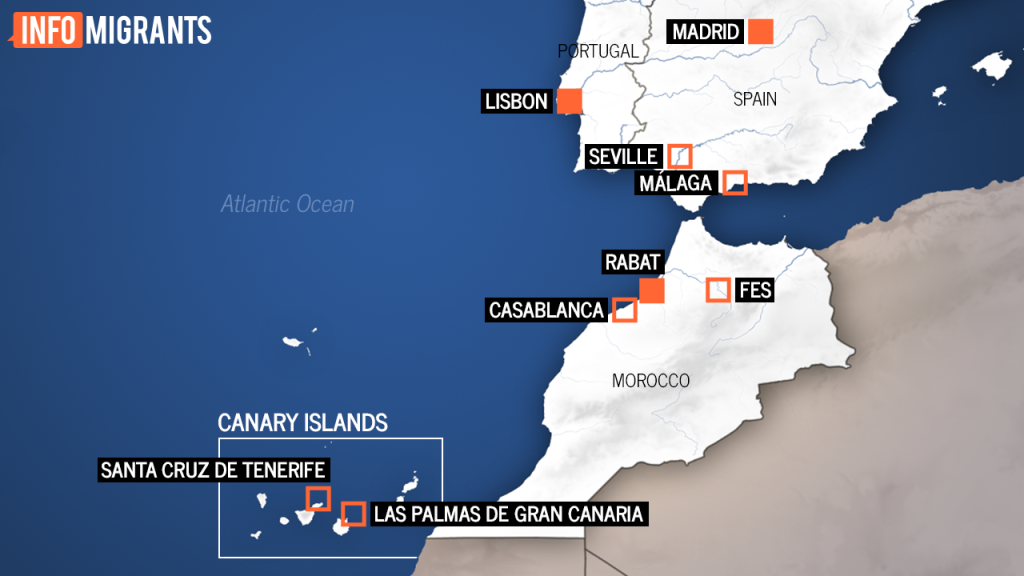 Earlier this month, a young girl died during a rescue operation to save migrants trying to reach the Canary Islands in a small boat. The boat, which carried 36 migrants, drifted for more than two weeks before it was found by a merchant tanker.
Late last month, more than 40 migrants reportedly died in several shipwrecks, while around 400 others landed on Canarian shores.
The non-governmental organization Caminando Fronteras estimates that almost 2,100 migrants have died trying to reach Spain by sea during the first half of 2021. According to figures from the International Organization for Migration (IOM), some 420 people have lost their lives at sea trying to reach Spain so far this year, 250 of them enroute to the Canaries.
With AFP, dpa