The Belgian government announced a breakthrough on Wednesday, as hundreds of migrants stopped their hunger strike in Brussels after authorities signalled their willingness to renegotiate the situation. However, it is not clear if they will ultimately gain the right to remain in the country.
Meetings between Belgian government representatives and those representing the migrants on hunger strike resulted in a breakthrough on Wednesday, when authorities suggested that all the cases would be reassessed without prejudice and that at least some migrants would be able to claim "exceptional circumstances" to remain. 
The drastic two-month protest was suspended in response to that, said the strike organizing committee. Each person will quickly be informed about his or her respective options regarding a residence permit in Belgium, according to reports.
Belgian Prime Minister Alexander De Croo welcomed the decision to stop the hunger strike as "the only right decision." Some partners of his governing coalition had threatened days earlier to withdraw their ministers if any of the hunger strikers died, which put the government at risk of falling.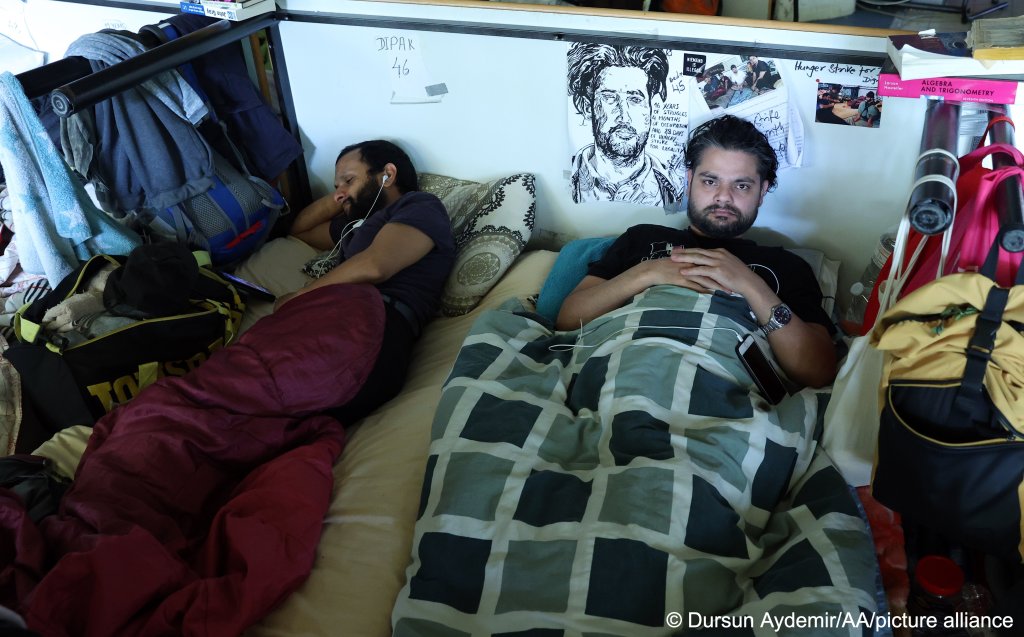 On the brink of death
More than 450 undocumented migrants had spent nearly two months on a hunger strike since May 23, demanding to gain legal status in Belgium. They had camped out for weeks at several locations in Brussels, including in a church and a university canteen. 
"Despite all our skills and the fact that we are here to work, not to just collect money, the answer remains the same, to 'go home,'" one 42-year-old Algerian protester by the name Abdeslam had told the AFP news agency earlier. Some of the protestors had even stitched their lips together earlier this months in an act of defiance against government inaction.
About 300 of the strikers had also announced earlier that they had also begun to refuse water, with the aid organization Doctors of the World warning in a statement that a death was possible "at any moment."
Months of talks with immigration authorities eventually broke down, as most of the migrants come from Morocco and Algeria, which are recognized in the EU as safe countries of origin.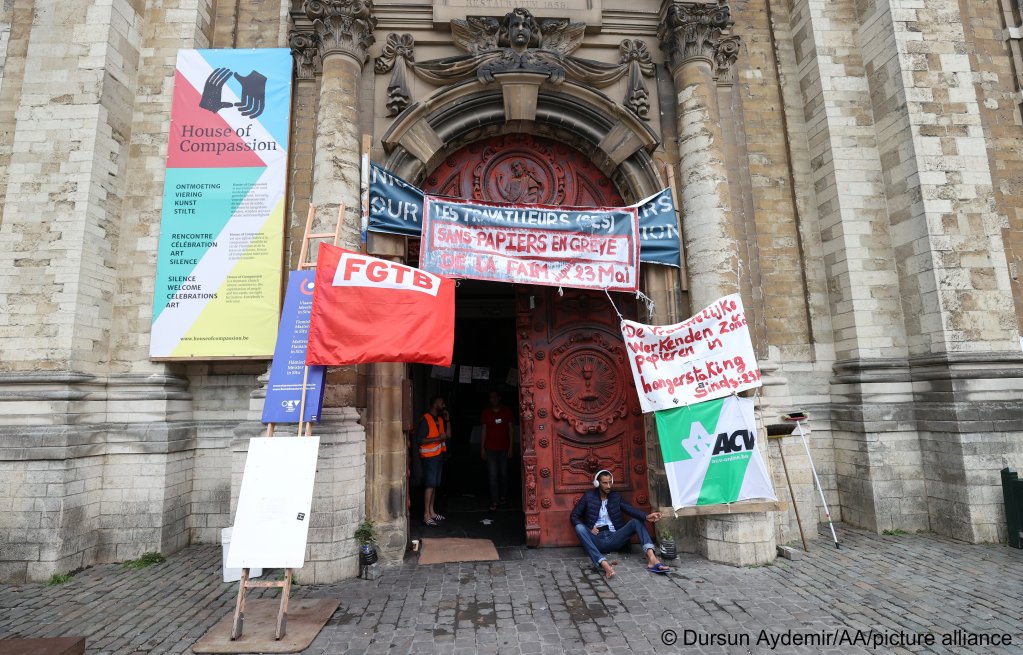 State of health uncertain
It was still unclear whether all the people who had been on hunger strike were actually going to be able to immediately eat again, the Belga news agency said. Some had to be wheeled out of the places they had been occupying such as the Church of St. John the Baptist at the Beguinage after the deal was announced. They received first aid and were taken to hospital.
According to the United Nations, some 150,000 undocumented migrants live in Belgium -- a nation with a total population of 11.5 million. That is roughly equal to one undocumented migrant per 75 legal residents. They often face exploitative conditions in the labor and housing market, the UN added.
People wanting to have their status legalized are, however, are often deterred from applying as they fear they will be deported if they apply. Many spend years keeping a low profile and often falling under the radar of authorities.
With AFP, dpa, AP