Two weeks after the flood disaster in western Germany, the region is struggling to come to terms with what has happened. Refugees and migrants who once came to the Ahr Valley to build a new life are now facing difficult decisions again.
Ali Hamsat (38) came to Germany six years ago as a war refugee from Syria. As it was no longer safe for him to stay in his hometown of Damascus, he fled via Lebanon, Turkey, and Austria, and eventually found a new home in Ahrweiler -- a small, picture-perfect town on the Ahr River.
Over time, he managed to rebuild his life there, only to find himself at the center of yet another catastrophe soon afterwards. "It's like a war," he says, reflecting on the consequences of the worst flooding Europe has seen in decades.
"During the war, maybe one or two houses (in your neighborhood) would be destroyed, but now the whole city has suffered."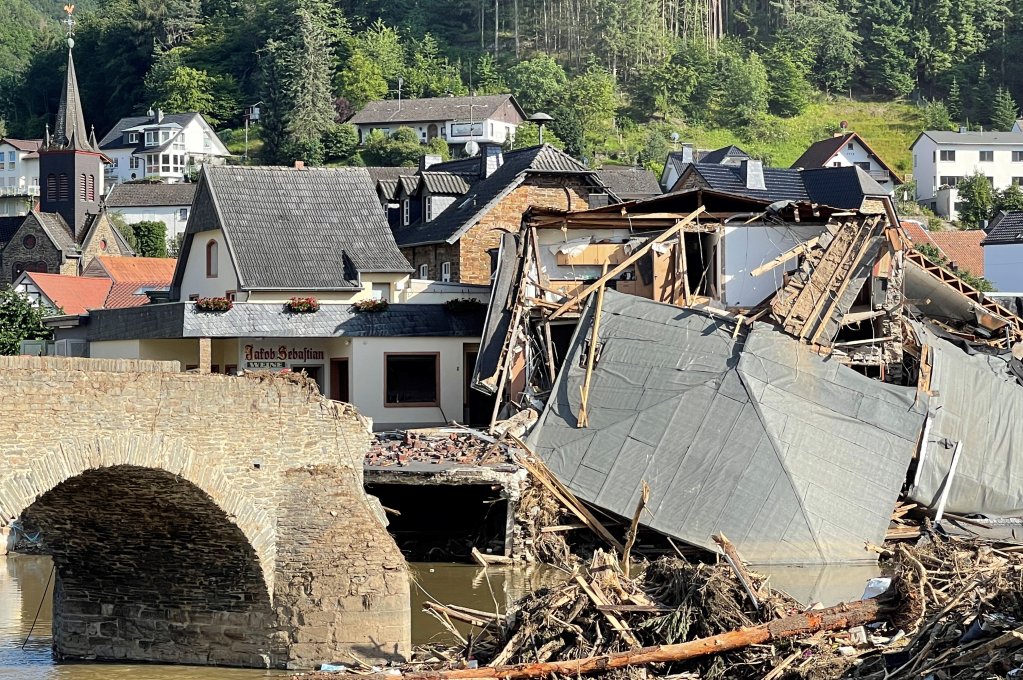 Billions in damage
According to the German Insurance Association (GDV), the economic losses that the industry will have to pay for after the catastrophe are estimated to amount to 4.5 to 5.5 billion euros. This means that the storm system Bernd, which caused the destruction, and its consequences amount to the most expensive natural disaster of this millennium in Germany.
For refugees and migrants, many of whom were employed in the catering, hotel and wine-growing industries in the popular tourist resorts of Ahrweiler, Bad Neuenahr, Walporzheim, and Altenahr in western Germany, the financial burden is immense -- however, the immaterial damage could be even greater.
Since Ali Hamsat was employed by the Hotel Rodderhof in Ahrweiler, which has been badly affected by the floods, he no longer knows if he will be allowed to continue working there. His future is once again at risk. Many of his personal belongings and all of his room furnishings have been damaged.
"I have nothing left at home. I sleep on the bare floor."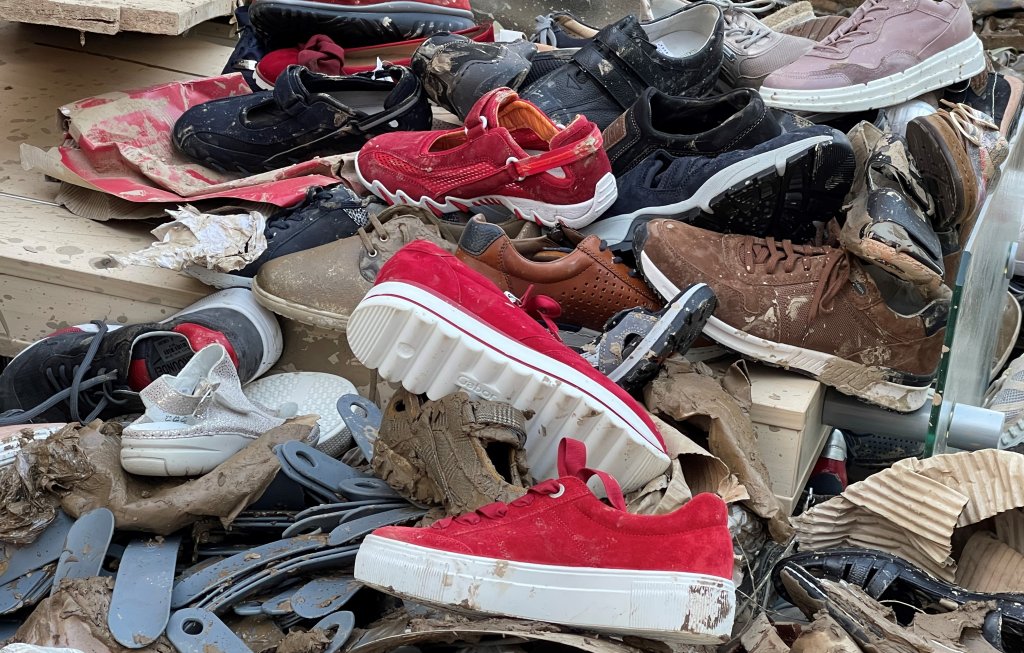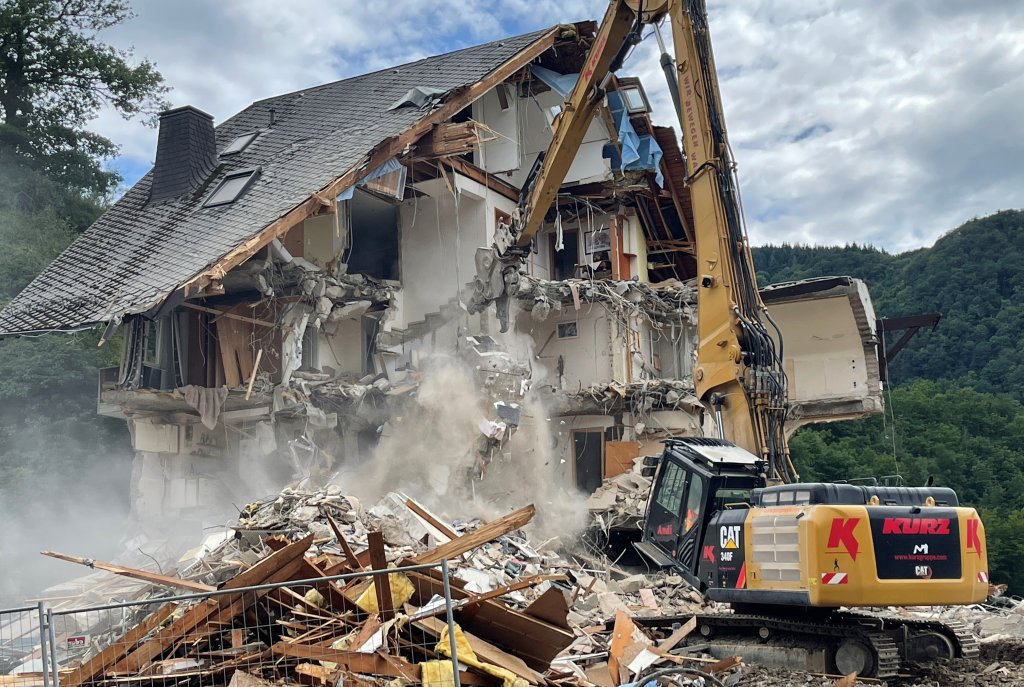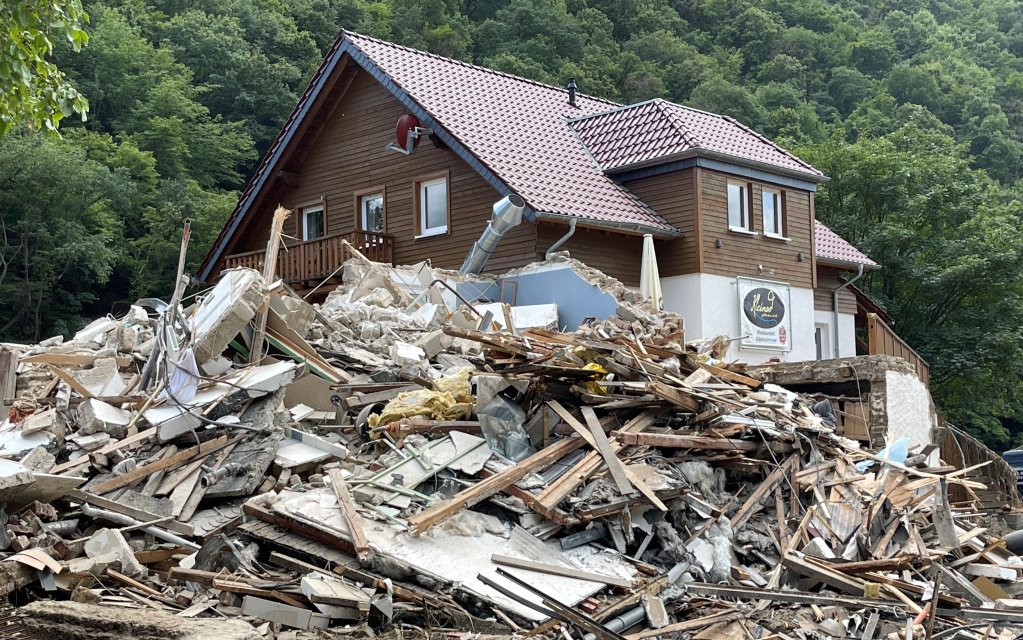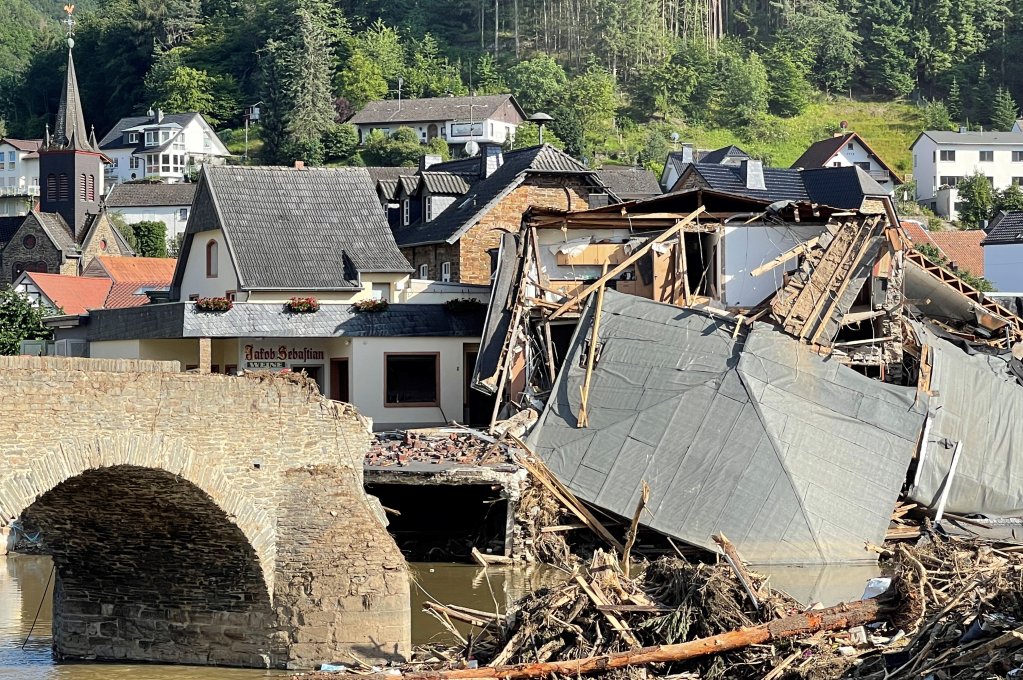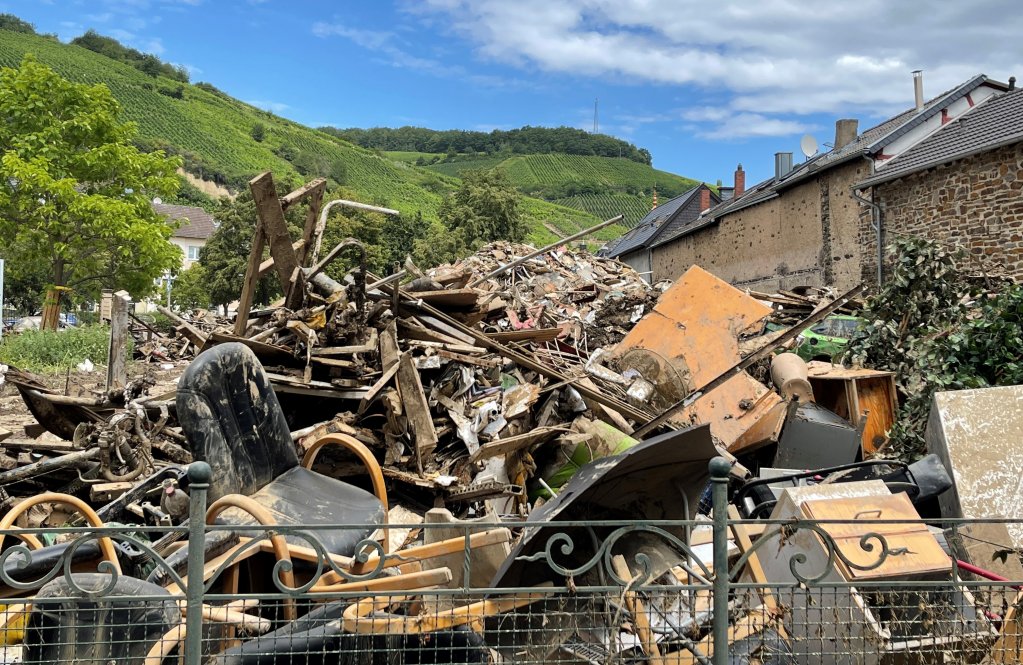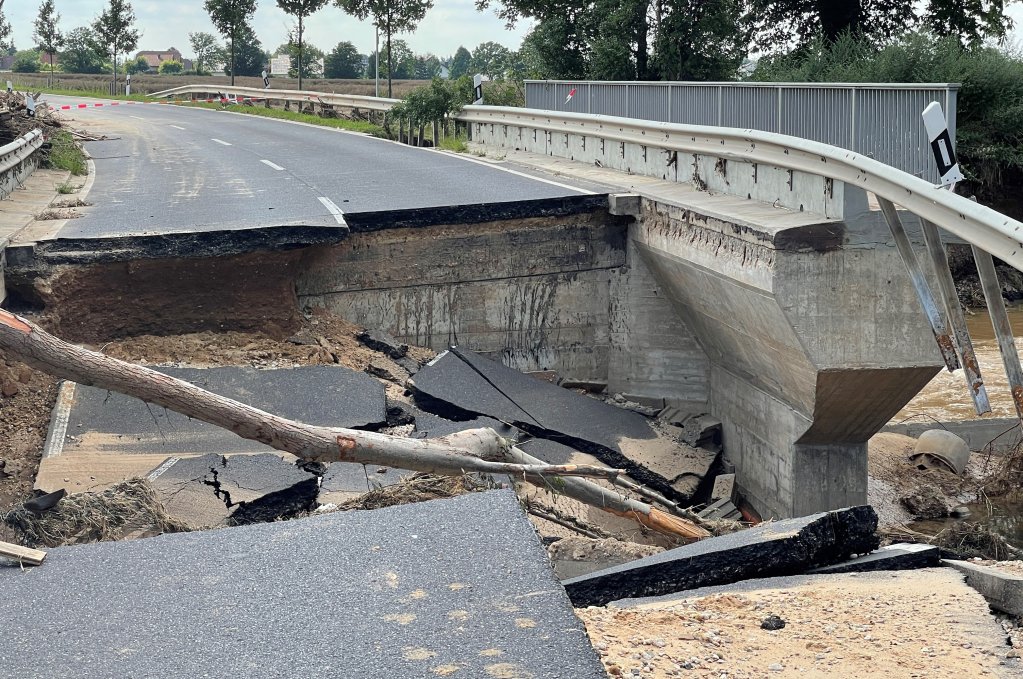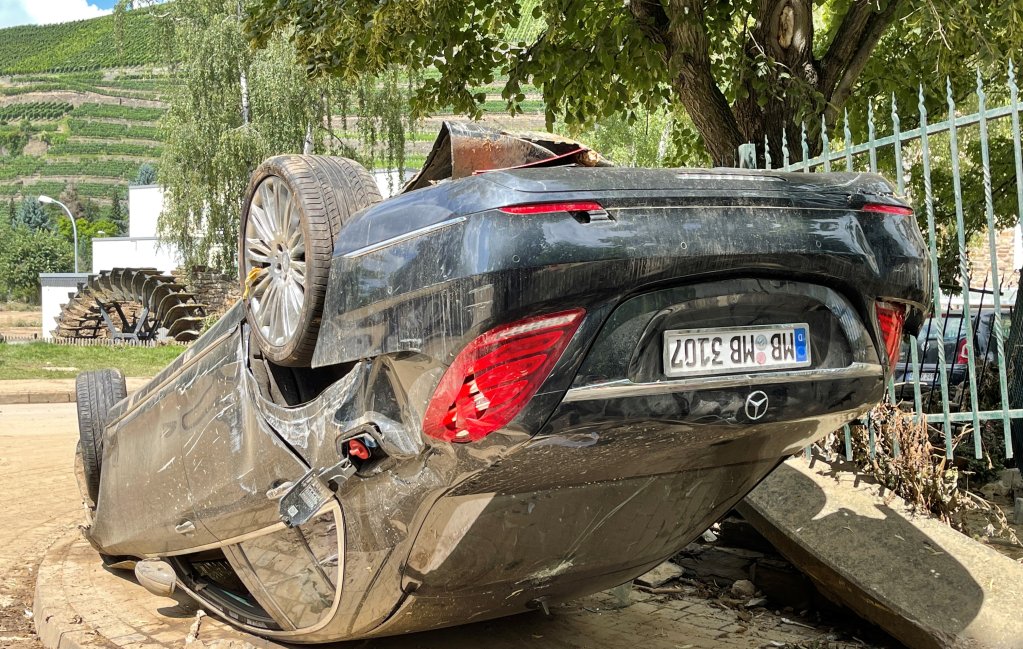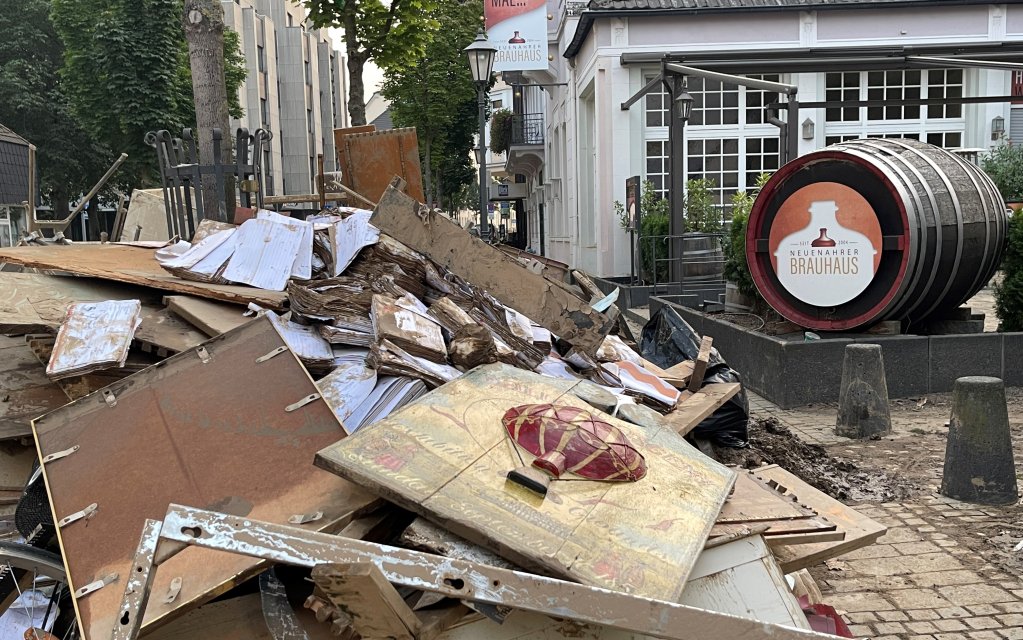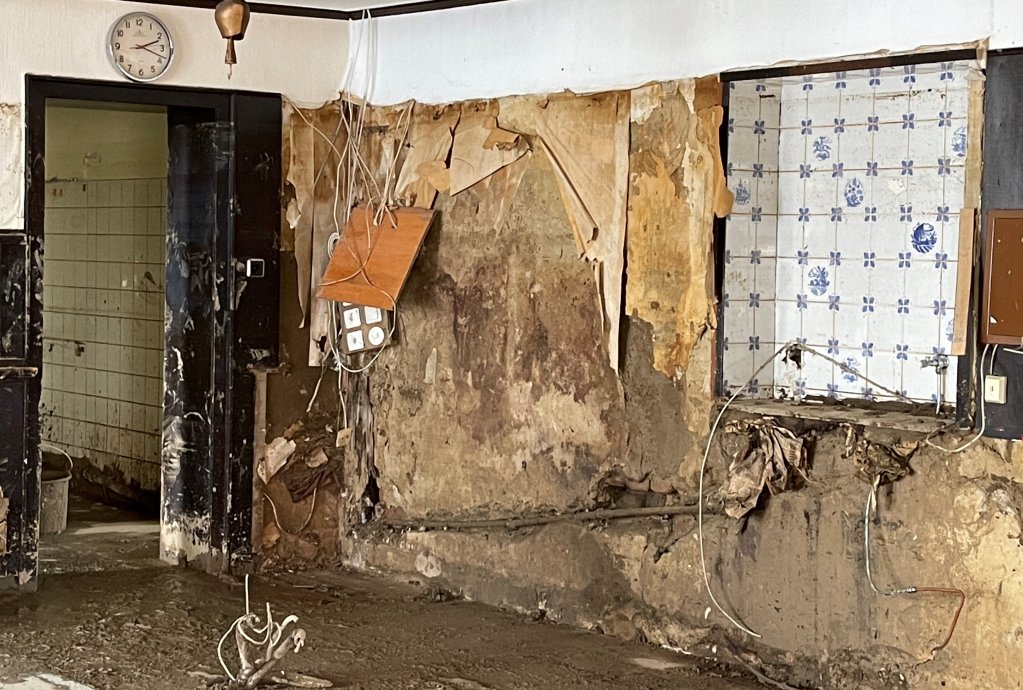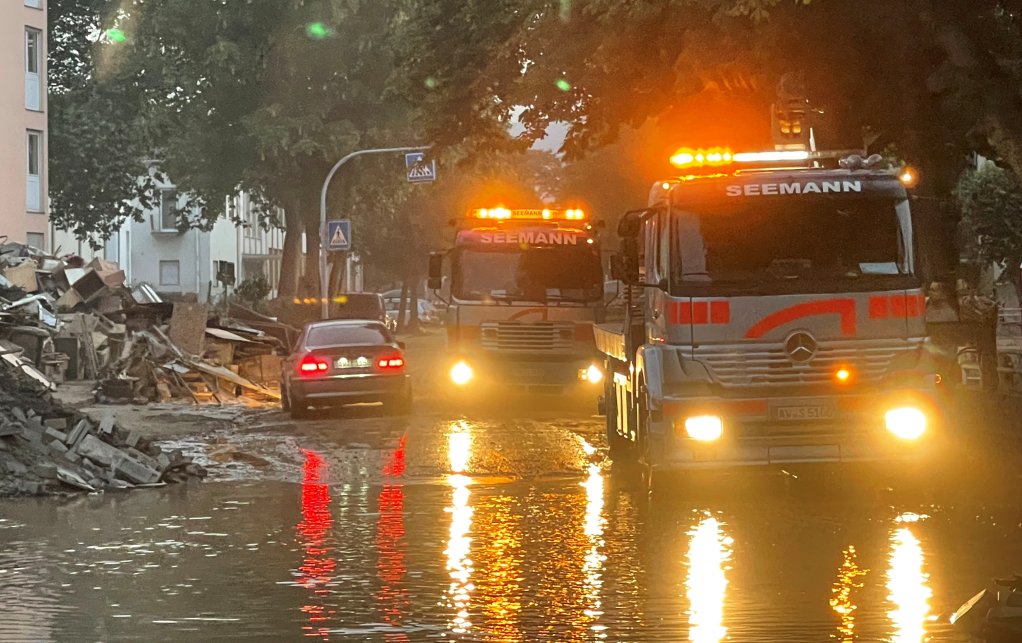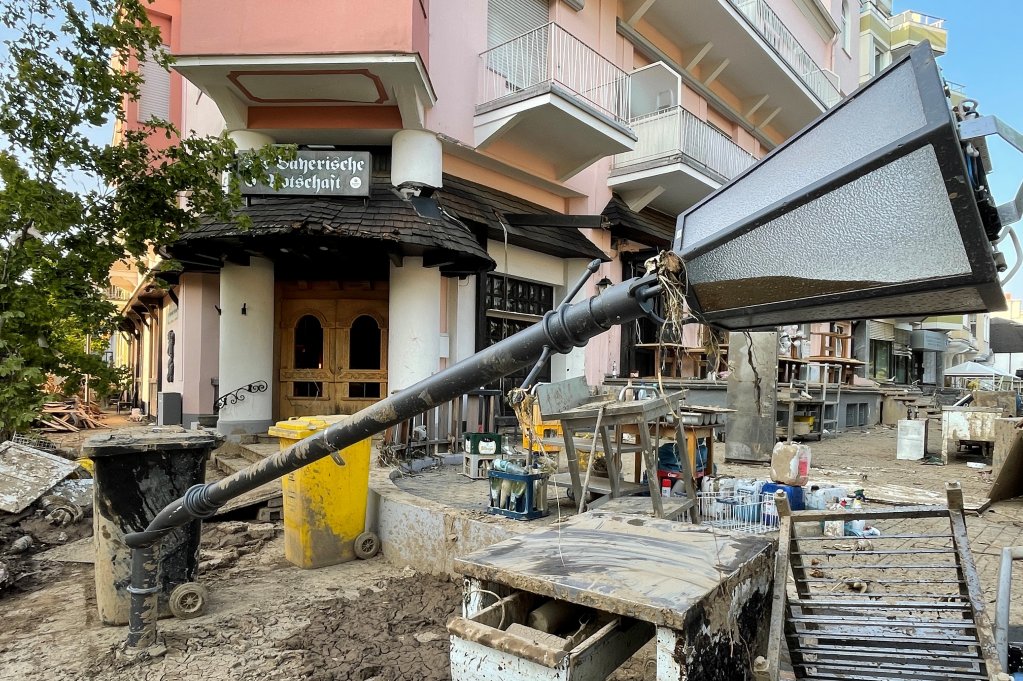 (click right to view slideshow)
In fear of death
Mohammad Ebtekar*, a 34-year-old refugee from Iran, gets goose bumps when he talks about the flood in Bad Neuenahr. Looking somewhat unshaven, he hasn't slept properly for several nights in a row now: first there was the disaster, then came the clean-up, then the hasty move to Bonn, some 30 kilometers to the north, where he found temporary accommodation for two months through the Protestant community.
With his mobile phone, he meticulously documented every hour of the interminably long night of July 15, during which he thought he was going to "lose his life."
From his room on the second floor, which he rented from an elderly couple in their 80s, the banks of the Ahr River are only a stone's throw away. It used to be an idyllic, picture-perfect spot with a conservatory in the backyard, the beautiful Rosengarten (rose garden) park nearby and the Amseltal footbridge over the river right next to it.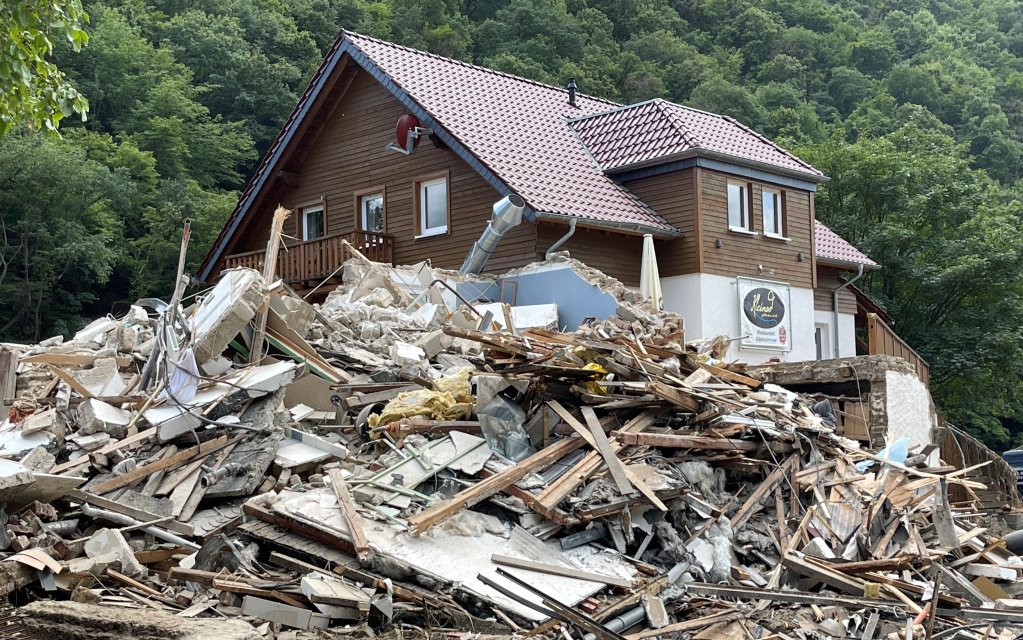 'I texted my sister and prayed to God'
Hour by hour, Mohammad Ebtekar recalls the events of that night:
11:17 p.m.
Firefighters secured the entrances to the buildings with sandbags. They did not issue warnings to evacuate. Some residents rushed to rescue their cars from underground garages. Mohammad Ebtekar watched the street from his balcony as the water began to rise steadily below him.
01:29 a.m.
The sound of the roaring flood appeared. It was like being by the sea. The stream of water opened the unlocked front door with a bang. Windows got smashed. The basement and the first floor soon went under.
01:40 a.m.
Mohammad Ebtekar changed from his bathrobe to his sportswear. The water level rose to the first set of stairs in the first floor. He and his landlord moved one floor higher. He called his German friend and told he that the situation looked dire.
Between 01.40 a.m. and 04.30 a.m.
The power went out. Mohammad Ebtekar turned on his portable bicycle lamp. It felt like being on a ship in the middle of the open sea. He texted his sister: "Hi, dear Laaya*, are you still awake? I don't have much time left. The town is flooded. I'm on the roof right now." The message was not delivered. This is when he started to pray.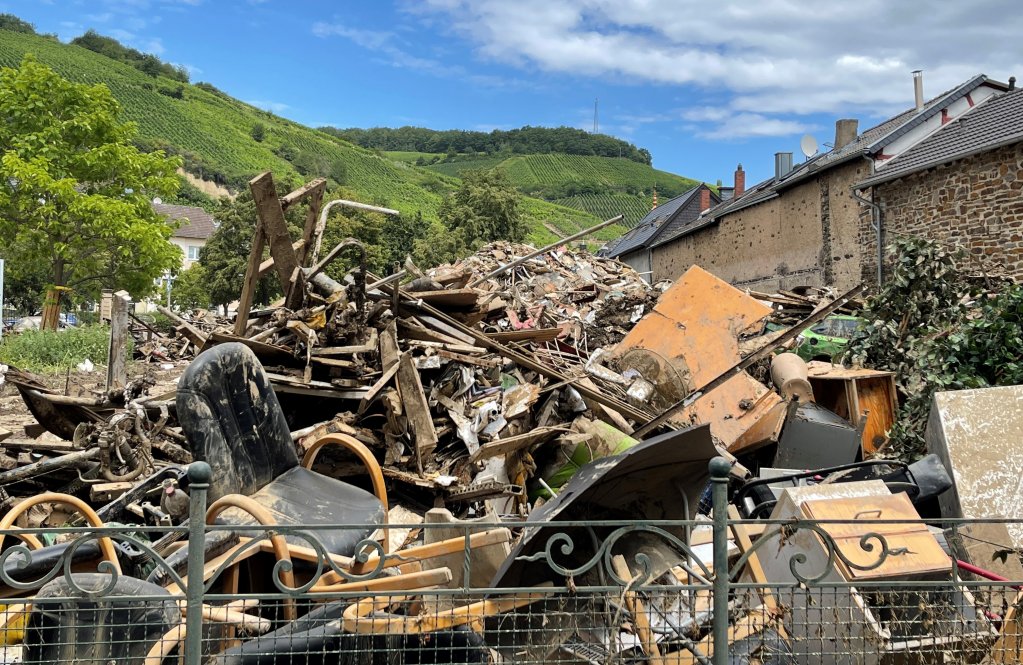 Around 04:30 a.m.
The water began to subside. By this time, the conservatory in the backyard had been completely destroyed, the Rosengarten park had been turned into a mess, branches lay scattered all over the place, and the local children's playground was littered with debris. Some house fronts were bent and crushed. The Amseltal bridge was gone.
Mohammad Ebtekar and his landlady and landlord survived the flood physically unharmed. His current job is not under threat since he works in a dental clinic in Bonn. Nevertheless, he has decided not to return to Bad Neuenahr, where he had lived since 2017. The psychological strain has taken a major toll on him.
The nightmare he witnessed that night, followed by hours of cleaning up, carrying off buckets of mud while standing in thick, oozy sludge up to his ankles drained all his energy.
As of July 27, the official death toll from the floods in Rhineland-Palatinate stood at 133, with another 73 people still missing. Mohammad Ebtekar knew at least three of them personally.
"God has a plan for me," he says, adding "after this flood, it's as if I were reborn."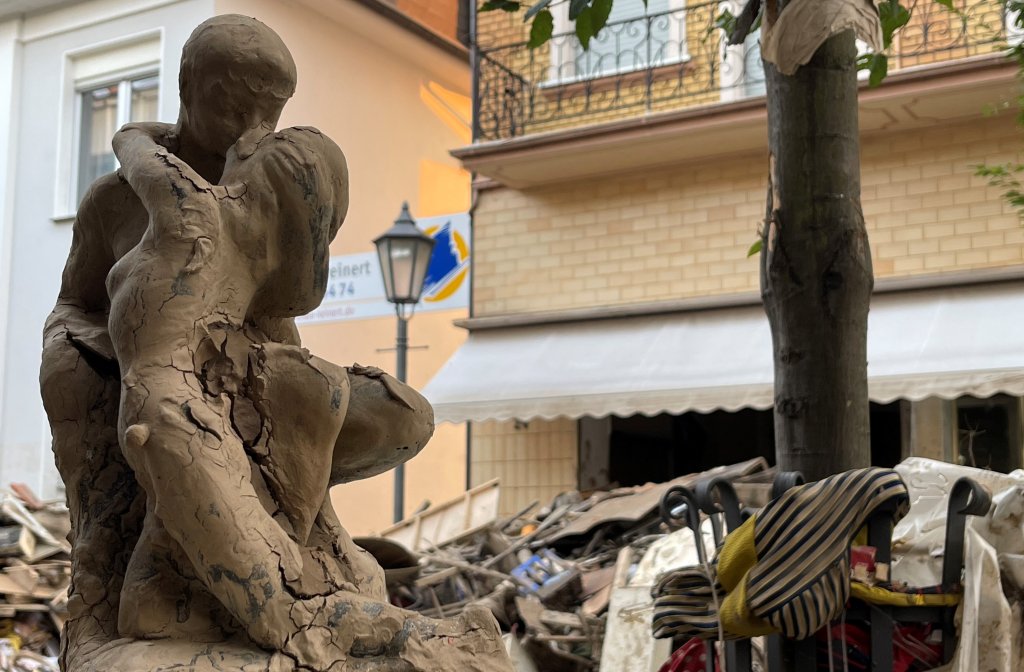 'It's like being on a devastated island'
A few hours before the floodwaters inundated the city, Gazmend Kelmendi had a strong feeling that "something terrible was going to happen." The 46-year-old native of Kosovo is the owner of two hotels, the Neuenahrer Hof and the Union Hotel Felten, as well as a restaurant serving Mediterranean cuisine called Ambiente.
Having come to Germany at the age of 17, he built his fortune here from scratch, and has now lost a large part of it in less than one night. Kelmendi left Bad Neuenahr with his wife, three children and two dogs, who were feeling "restless" that evening around 10:30 p.m. -- shortly after the warning sirens rang in his part of town on July 14.
When he returned two days later, he found that his properties had been partially submerged under 3.5-meter high floodwaters. The losses were immense. To make matters worse, this came right after his business had been almost completely shut down for nine months because of the COVID-19 pandemic.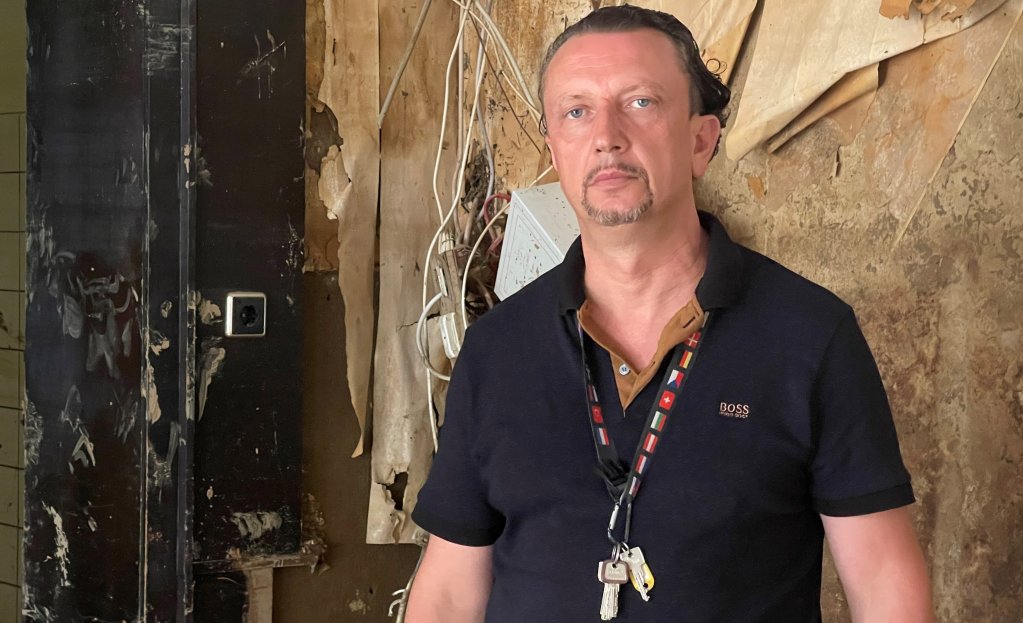 Recovery to take years
One of his hotels did not have an insurance policy to cover natural disasters. For the Neuenahrer Hof, the damage may add up to close to 1 million euros. Gazmend Kelmendi had eight permanent employees in his team: people with a migration background coming from Albania, Italy and Kosovo.
There is no running water and no electricity. It will take several months to rebuild the infrastructure. "My estimation is that we can't expect tourists here for at least three years," he said, adding that some of his employees had therefore quit their jobs, realizing that things won't return to normal for a long time.
The hospitality industry and hotels, which provides approximately 11,000 beds in the Ahr Valley, are among the hardest hit sectors. For retailers, hoteliers and restaurateurs, this catastrophe is "devastating," says Arne Rössel, general manager of the Koblenz Chamber of Industry and Commerce (IHK).
Their finances had already been depleted by COVID-19. The government is making emergency aid of 5,000 euros available to affected companies, which might be a first important step on the road to recovery, Rössel adds.
But Gazmend Kelmendi is ready to take on the challenge and rebuild whatever he can. However, he can't help but notice that outside the affected areas, life simply goes on as usual. The Ahr Valley has turned into a surreal parallel dimension to the 'outside' world, he says.
"It's like being on a devastated island."
*First and last names have been changed. The interviewee did not want his face to be shown for security reasons.