Cyrille Tchatchet II is about to make history at the Tokyo Olympics: The weightlifter was selected for the International Olympic Committee's refugee team, making him the first UK-based refugee Olympian. But he never forgets the difficult journey he suffered to get there.
Cyrille Tchatchet II will compete in the 96kg weight class at the Tokyo Olympics on July 31, representing the International Olympic Committee's refugee team. He is part of the 29-strong contingent of displaced athletes competing at the Olympics. But the talented Cameroonian athlete actually also holds a degree in mental health nursing and has worked on the frontline during Britain's first coronavirus lockdown last March.
"I feel very excited not just to represent myself but about 80 million displaced people around the world. To represent refugees and the under-privileged will be a big responsibility," he told the AFP news agency. 
"I'm proud -- it sends a big message of hope and solidarity."
Descent into depression
His story is one of overcoming multiple layers of obstacles. Born in the Cameroonian capital Yaounde, Tchatchet II started his career as an athlete competing at the 2014 Commonwealth Games in Glasgow. He says that while he was there, he learned that it was not safe for him to return home to Cameroon -- without elaborating on the nature of the threat he faced.
He fled his team base with just his backpack, some clothes and his weightlifting gear, and ended up being homeless for two months initially in the coastal town of Brighton in southern England.
"It was a very difficult experience. I had to escape. I was very young, very scared. I didn't think much about the future," he recalls. Tchatchet II slept mainly under a bridge with no money, food or water. He adds he suffered from severe depression and was haunted by suicidal thoughts at that time.
Read more: Syrian swimmer Yusra Mardini provides message of hope at Olympics
Bouncing back through exercise
With the help of the Samaritans charity, which supports people in emotional distress, Cyrille Tchatchet II eventually bounced bank. He eventually submitted his asylum application in the UK and began to get his life together again.
But his mental health continued to be challenged as his asylum application remained in limbo for two years: "When you're waiting for an asylum application, it's a very stressful experience," he told AFP. "You always think, 'What are they doing? Are they going to deport me?'"
That's when he focused on his weightlifting career as a way to cope with the pressure. In no time, he scored five English titles, three British titles and five national records across two weight classes. He says that the exercise helped him take his mind off his problems.
One life, two careers
In 2016, Tchatchet II received leave to remain in the UK in 2016, which is the same thing a permanent residence. He decided after all the years of mental health issues he had suffered to study mental health nursing at Middlesex University.
"In Cameroon, depression isn't even a thing. If you have schizophrenia, they'll probably say you have witchcraft, got into a sect, or paying for a bad thing you've done," he said.
He decided to dive into his new career, working 12-hour shifts three to four times per week especially at the height of the COVID-19 pandemic. Still, he managed to dedicate his spare hours to training for his athletic goals, and was eventually rewarded with a scholarship by the International Olympic Committee (IOC), which eventually led to him competing at the Olympics in Tokyo.
Read more: Refugees aim for Olympic squad
The importance of visibility
Tchatchet II hopes to continue his studies upon his return from Japan and wants to pursue a postgraduate degree to become an advanced clinical practitioner. And he also hopes to continue his weightlifting career, planning to compete at the 2022 Commonwealth Games in Birmingham.
Not having British citizenship prevented him from competing at the 2018 Commonwealth Games in Australia, but right now, he and other refugee athletes now represent much more than their country of birth: "Being a refugee at the Olympics or a nurse sends a strong message to people thinking refugees are coming to take other people's jobs, criminals running away from things."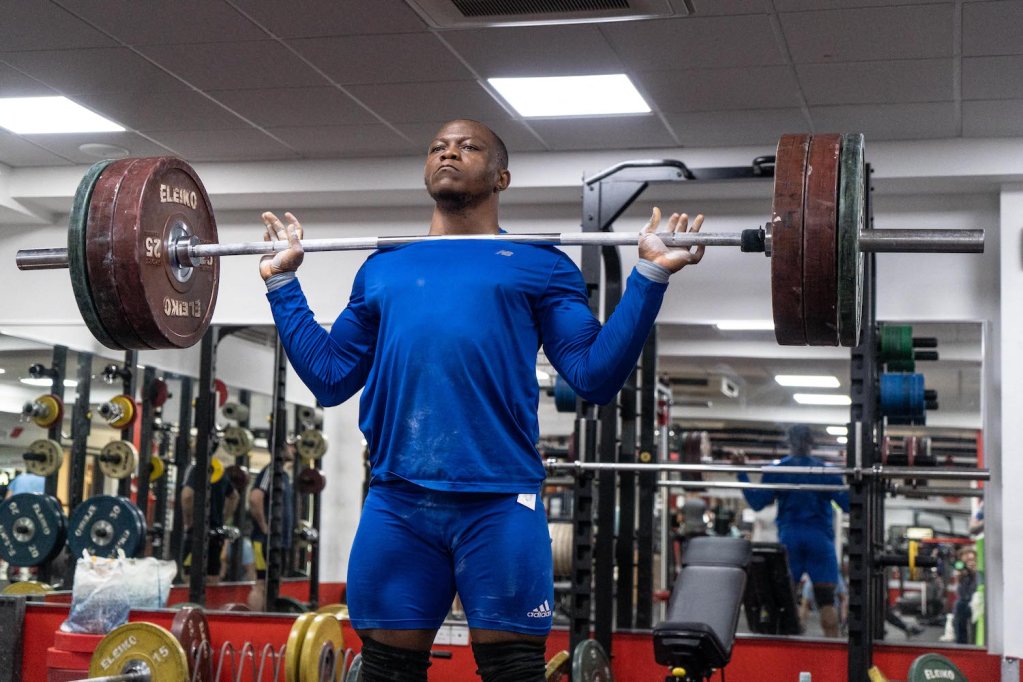 A new way of competing
The IOC Refugee Olympic Team first appeared in 2016 during the Rio Olympic Games as a way to allow people fleeing their countries to still compete at the sporting event. But the IOC recognizes that there is still a long way to go, and that refugee athletes need to be given more chances to compete and earn money in international sports.
The IOC has faced criticism lately after a number of runners who had originally fled South Sudan reported a controlling management style as well as being denied chances to earn money from races and sponsors. An International Olympic Committee official overseeing the refugee team said "we are learning through this process."
James Macleod, the IOC's director of team relations, also stressed that the IOC had only created the team program with the United Nations' refugee agency only months before 10 athletes were sent to the 2016 Rio de Janeiro Olympics, and that this way of competing is new to all involved.
The IOC meanwhile confirmed on Tuesday that a refugee team will also be sent to the 2024 Paris Games.
With AP, AFP