European Union officials have pledged millions of euros to help member state Lithuania tackle an ongoing spike in migrant arrivals. Lithuanian officials blame the spike on the government of neighboring Belarus and its authoritarian president, Alexander Lukashenko.
On Sunday (August 1), the day EU Commissioner for Home Affairs Ylva Johansson arrived in Lithuania, a record 287 people crossed into the country from Belarus -- more than three times as many as in all of last year.
"This is primarily an act of aggression from the Lukashenko regime and not a migration crisis," Johansson said a day later at a press conference.
"Lithuania, the EU, the Schengen states must prevent illegal access to this area. That is why we, the whole EU, support Lithuania to defend our common external border with Belarus," Johansson told reporters.
So far this year, 3,832 migrants have been detained in Lithuania. That compares with 81 in 2020. The Associated Press (AP) news agency reported that more than two out of three arrivals are Iraqi citizens. Moreover, "Iraqi airlines have increased flights from Baghdad to Minsk from two to four a week and are also starting flights from Basra, Irbil and Sulaymaniyah," according to the AP.
Since the number of arrivals started spiking in early June, Lithuania has repeatedly accused President Alexander Lukashenko and Belarusian authorities of encouraging migration into Lithuania and even organizing the irregular border crossings as an act of retaliation.
Last month, the Lithuanian foreign minister accused Belarus of using migrants as a "hybrid weapon against the European Union" to force the bloc to change its policy toward Belarus.
Overburdened border guards
On Monday, Lithuania's border guard service said it could no longer accommodate additional arrivals. It also urged the government to relocate people to other facilities. "We have managed this until now, but I must admit we have reached the limit of our possibilities,'' said Rustamas Liubajevas, director of the border guard service.
"In many places, the two countries are separated merely by low wooden fencing or narrow ditches. Overcoming these obstacles to cross into EU territory is child's play," DW reporter Alexandra von Nahmen wrote last week.
At the aforementioned press conference, Lithuanian Prime Minister Ingrida Simonyte expressed hope the European Commission would be able to handle the rapidly deteriorating situation.
"The first task is to reduce the potential of the flow itself. The biggest expectation here is for the EU to be able to use its negotiating position with the Iraqi government,'' Simonyte told reporters. At a meeting with his Lithuanian counterpart last month, Iraq's foreign minister said his government would investigate smuggling networks believed to be responsible for bringing hundreds of Iraqis into Europe, with a focus on the route via Belarus to Lithuania.
Johansson, meanwhile, promised Lithuania would not be left alone. "I will send a delegation that will spend a few days here to discuss in detail the possibility of funding a good border protection system that includes monitoring and protection against illegal migrants,'' she said, adding that €20-30 million will be allocated to this by 2022.
Fellow EU member state Greece last month said it was planning to provide Lithuania with expertise and technical support.
Planned border barrier
Lithuania wants to build a physical barrier along the 680-kilometer border with Belarus, which is also the European Union's external border. The government in Vilnius estimates it will cost more than €100 million, at least five times as much as the promised EU funds, which are not usually permitted to finance the building of border barriers.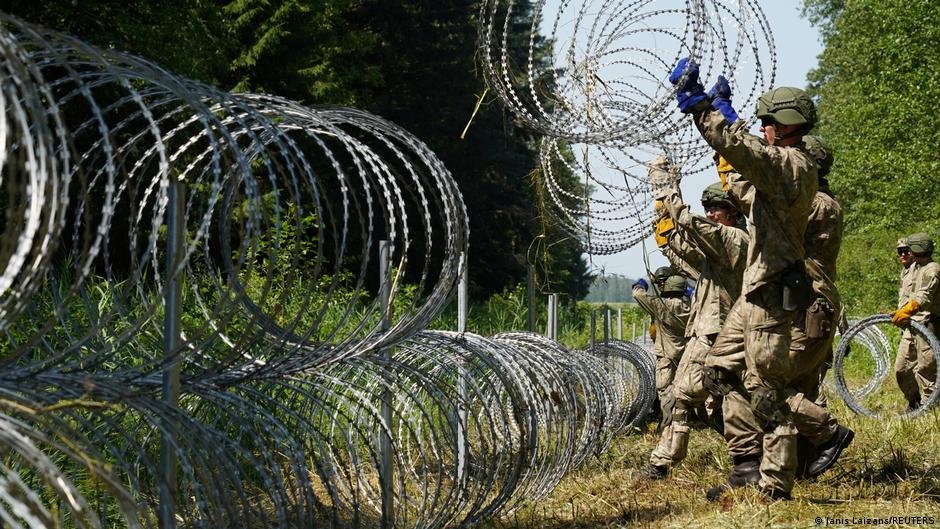 "We will eventually build it, no matter how much aid is sent by the EU. The border must be protected,'' Prime Minister Simonyte said. German news website Zeit Online has reported that Lithuania wants to expand electronic surveillance with cameras at the border from presently around 40% to 100% by the end of next year.
"Later Monday, police used a water cannon and tear gas to disperse a crowd of immigrants who were rioting over the crowded living conditions at Rudininkai detention center and a tent that failed in the rain. Several young Iraqis were removed from the center for questioning, police said,'' the Associated Press reported.
Protest against migrant camp
To accommodate the mostly undocumented asylum seekers, the Lithuanian military in June set up a tent village that can house 1,000 people, with plans to expand the camp. In July, the Rudininkai military training ground near Vilnius was converted into one of the country's many migrant detention centers.
Last week, residents of the village of Rudnininkai, located just 15 kilometers from the outskirts of Vilnius, protested against the government's plan to set up another camp that's supposed to accommodate up to 1,500 migrants. Several dozen people tried to block the road to prevent trucks carrying items for the tent camp from passing through. Although riot police dispersed the protesters, no one was reported injured.
Leva Cicelyte, who has worked with refugees and migrants in the border region for five years for the Catholic charity Caritas, says public sentiment in Lithuania is turning sour, or even downright xenophobic.
Tensions between Lithuania and Belarus
On May 26, Belarusian President Alexander Lukashenko had indicated that Belarus could retaliate against the latest EU sanctions by loosening border controls for irregular, western-bound migrants as well as drug trafficking. "We used to catch migrants in droves here -- now, forget it, you will be catching them yourselves," he said.
The announcement came after the EU imposed sanctions on the non-EU country following the forced diversion of a passenger jet en route to Vilnius to arrest a Belarusian dissident.
The Baltic country of 2.8 million people, which also borders Poland, Latvia and the Russian Kaliningrad enclave, has been critical of Belarus following the brutal crackdown after a presidential election there last year. In that election, President Alexander Lukashenko claimed he won after 26 years of authoritarian rule but the opposition insists the results were rigged.
with AP