A record number of migrants have crossed the English Channel from France on a single day, pushing annual figures beyond last year's numbers. At least 482 people made the trip across the Channel in the latest instance.
In 2020, the increase in migrants crossing the Channel by small boat was significant, but numbers for this year have already surpassed last year's figures, and it is only the beginning of August. Charities in France report that more and more migrants appear to be arriving in Calais and along the northern coast in the hope of crossing too.
The British government announced it had to address 21 "events" involving 482 people on Wednesday, while 246 migrants were successfully prevented from reaching the English coast with the help of the French authorities. This new record on a single day surpasses the previous record set only weeks earlier as migrants have been taking advantage of the clement summer weather to attempt crossings.
According to the UK's Press Association news agency, a total of more than 10,000 migrants and refugees have now crossed the English Channel so far this year — far more than the roughly 8,500 people the government said arrived in all of 2020.
'Unacceptable and dangerous'
The growing number of journeys across the Channel is becoming an embarrassment for the British government, as it has vowed to fight irregular migrant arrivals for years. Taking control over the country's border was a key campaign issue during the UK plebiscite on leaving the European Union in 2016.
The British government's Clandestine Channel Threat Commander Dan O'Mahoney blamed criminal gangs for the increase in crossings, calling the situation "unacceptable" and "dangerous."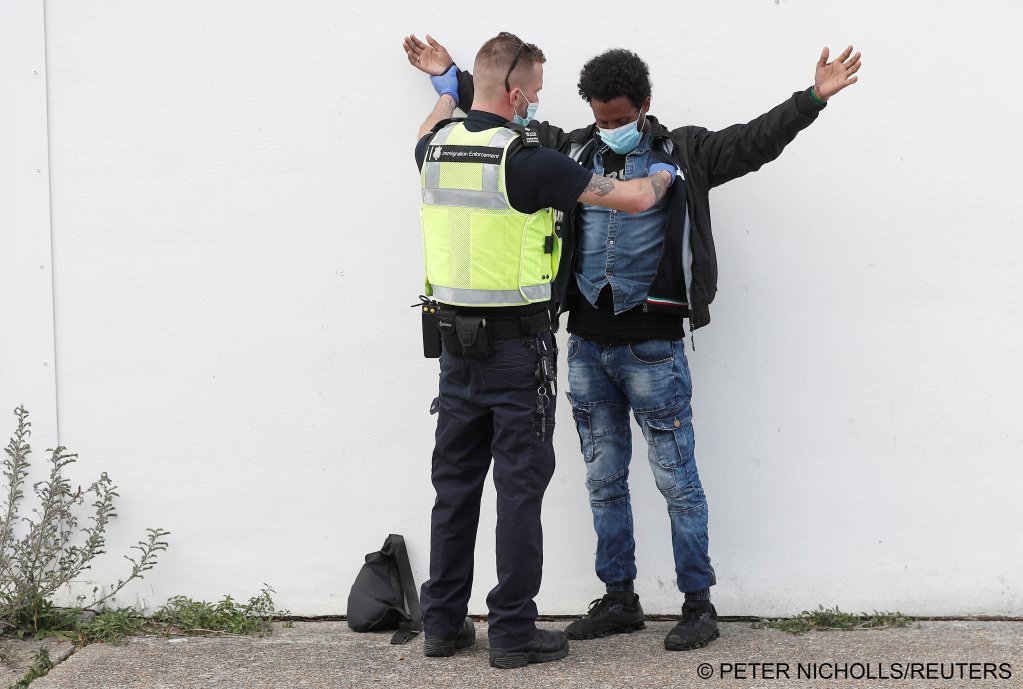 Read more: UK to digitalize border to 'count people entering and leaving'
Patel's clampdown on migration
In July, UK Home Secretary Priti Patel and her French counterpart, French Interior Minister Gerald Darmanin, announced plans to more than double the number of police patrolling French beaches for migrants trying to cross the Channel. The UK has pledged 62.7 million euros in 2021 - 2022 to help France in stemming the flow of irregular migration.
Charities working with migrants in Calais report an increase in the number of spot checks and clearances that the police are carrying out on informal migrant camps around Calais. The evacuations are aimed at breaking up the camps and deterring people from gathering in order to cross. Their visits though do not seem to be having the desired effect on the migrants who still hope to make it by boat or lorry across the Channel.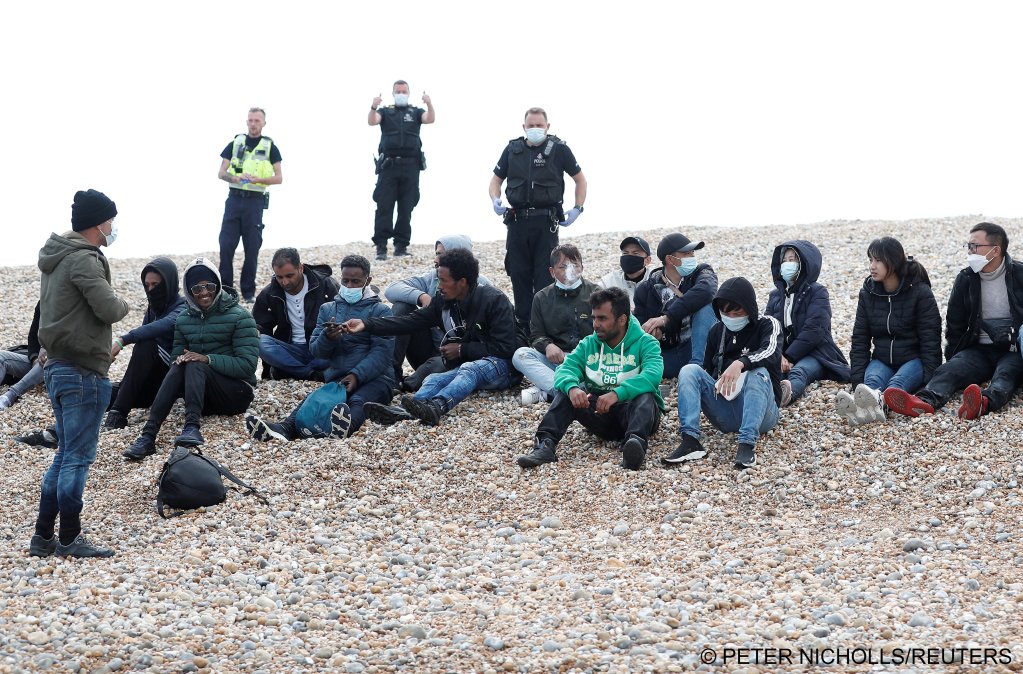 French police teams also patrol the beaches at night, armed with night-vision surveillance equipment in order to try and spot migrants launching their boats. Once they are in the water though, they can only notify the relevant coastguard and watch their progress towards the sea border.
Read more: France, Britain vow to crack down on irregular migration following record arrivals
Greek exchange
Patel also met with officials in Greece earlier this week to discuss the issue of migration. During the two-day visit, she took part in a patrol with the Greek coastguard to learn more about methods used to prevent small boat crossings there. It is expected that the British government will do more to support Greek efforts to intercept migrant boats at sea.
A rights organization defending refugees, Refugee Rights Europe (RRE), took to Twitter on Thursday to say they were "extremely concerned" by Ms Patel's visit to Greece.
They accused the Greek and British governments of pursuing policies which "helped to create" the "immigration crisis" they were now trying to solve with ever-stringent methods. RRE tweeted an article from The Independent newspaper, which said that the British government was hoping to learn from the Greek model of closed detention centers.
RRE said that these closed detention centers "did not work," but instead caused "great damage" to those who were interred as well as to the reputatin on the world stage of the countries which hosted them.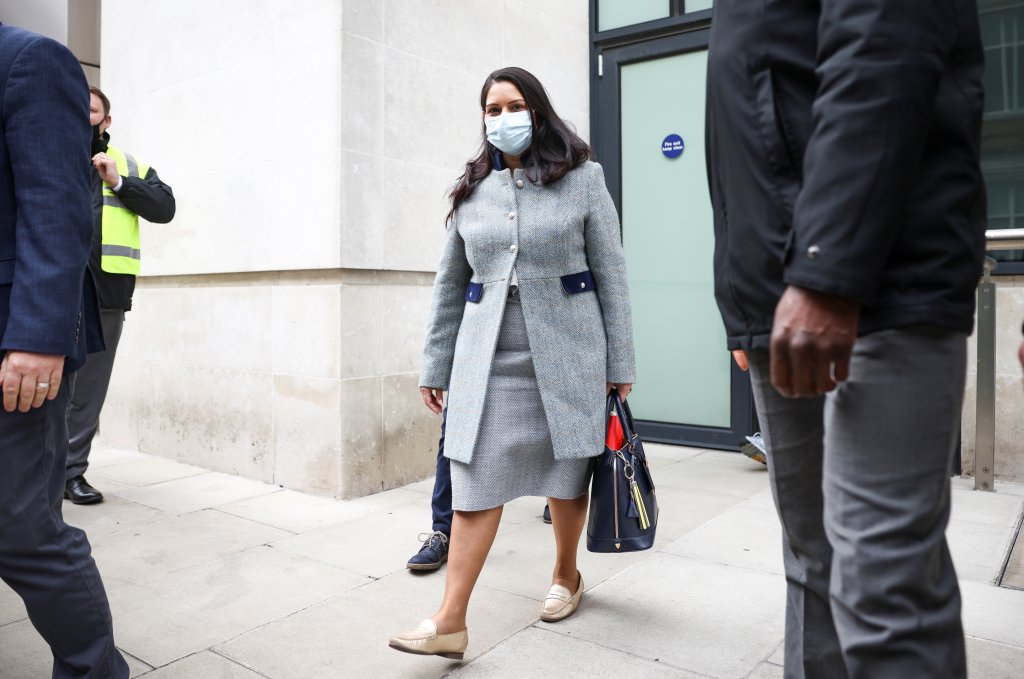 Closer to home, Patel has also promised to make crossings on the English Channel, one of the world's busiest shipping lanes "unviable" and to that end, has proposed the introduction of legislation to change the country's asylum rules. Under those new rules, people applying for asylum in the UK would face greater hurdles if they arrived in the country using irregular means — even if their asylum claim is later accepted as legitimate. The plans have prompted criticism from human rights organizations as well as the political opposition.
The bill to enact these rules however is still making its way through parliament. Patel's draft legislation plans also include heftier prison sentences on human traffickers.
Read more: UK: New law would keep asylum seekers offshore
COVID risk at migrant facility
British lawmakers who have visited a migrant reception center meanwhile have said that they encountered "shocking conditions" there.
The UK Parliament's Home Affairs Committee said in a letter released to the press that its members found 56 people crammed into a waiting room at the Kent Intake Unit in the port town of Dover when they visited this week. Babies and small children were reportedly among dozens of people packed into the small room.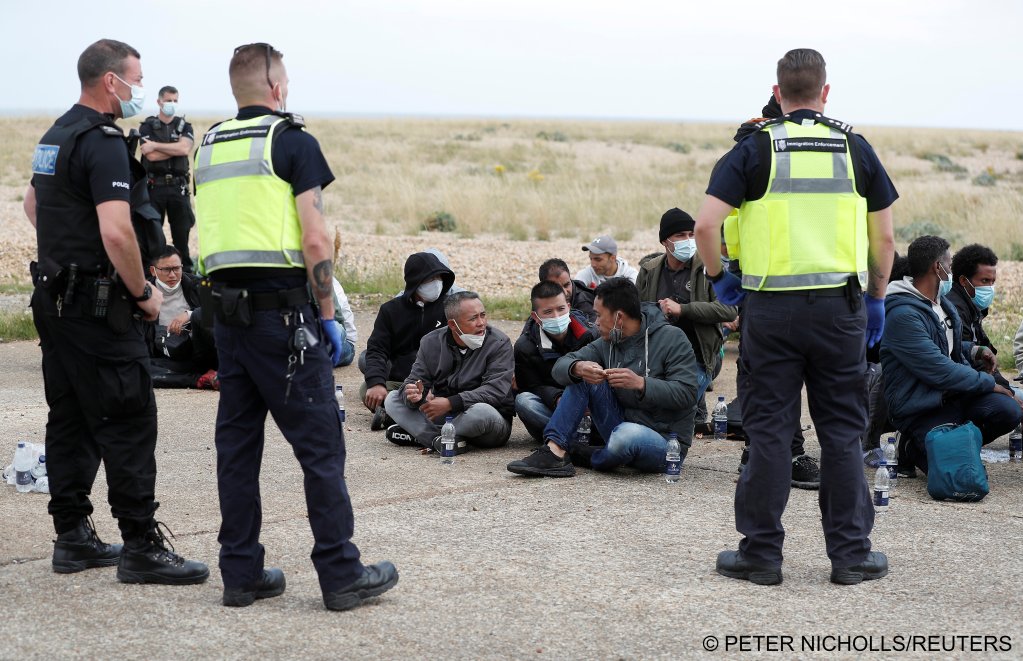 Chairwoman Yvette Cooper, an opposition Labour Party politician, said the crowded conditions amounted to a "clear risk" of a potential COVID-19 outbreak: "The space is clearly unfit for holding this many people," she said.
In a letter to Home Secretary Patel, Cooper added that most people she saw "were sitting or lying on a thin mattress and those covered almost the entirety of the floor including the aisles between seats," adding that some of the migrants were being kept in the room for up to 48 hours before being sent to proper accommodation. 
According to UK law, migrants are not supposed to spend more than a day at a waiting facility like that. The report also said that there was another area at the facility, which basically was an unused office space, that migrants might spend up to 10 days in while awaiting onward travel.
Read more: UK minister: Social media posts 'glamorize' migrant crossings
Allegations of child negligence
Another opposition party lawmaker meanwhile criticized the government's treatment of migrants in the daily Guardian newspaper. Veteran Labour politician Diane Abbott wrote that "having whipped up public hostility to these people, the government seems to think that if they do reach the UK they can be detained at Dover in quite shocking conditions."
Abbott highlighted the plight of child migrants at the Dover facility in particular, saying, "Anyone who saw children sleeping on the floor in crammed rooms in this Dover facility could only conclude that the Home Office had completely ignored" its "legal duty to safeguard children."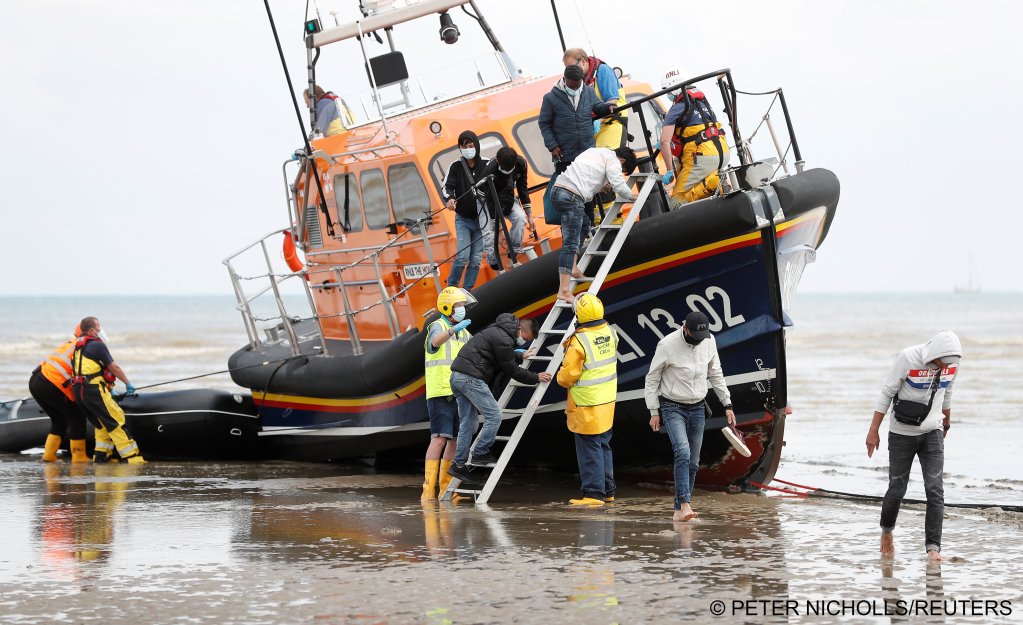 Support for saving lives at sea
Meanwhile, nearly 1,000 people have died trying to reach the UK. The Royal National Lifeboat Institution (RNLI), Britain's official sea-rescue service, has ramped up its efforts to save lives at sea — but not without also encountering criticism.
Former Brexit Party leader and anti-immigration figurehead Nigel Farage has publicly attacked the RNLI for picking up migrants from boats in the Channel and bringing them ashore.
The RNLI meanwhile defended its humanitarian work and said that, in response to the comments, charitable donations to the RNLI had risen from a daily average of 7,000 GBP to 200,000 GBP in just one day following Farage's remarks.
with AFP, AP