Italy has called for the introduction of a redistribution mechanism of migrants among EU member states once more. For weeks, hundreds of migrants have been arriving in the country daily.
Italian Interior Minister Luciana Lamorgese said she spoke with EU Commissioner for Home Affairs Ylva Johansson on Wednesday, August 4. During the phone conversation, she reportedly highlighted details about the current situation in Italy and suggested that a special meeting of EU interior ministers should be held to discuss the redistribution of migrants.
Italy's Interior Ministry registered more than 30,200 migrants reaching Italy in boats so far this year. In the same period last year, there were only around 14,800 arrivals.
The current arrivals are mostly fueled by the current political and economic crises in Tunisia, with many migrants setting out in smugglers' boats from Tunisia and from neighboring Libya.
Read more: Hundreds more migrants arrive in Lampedusa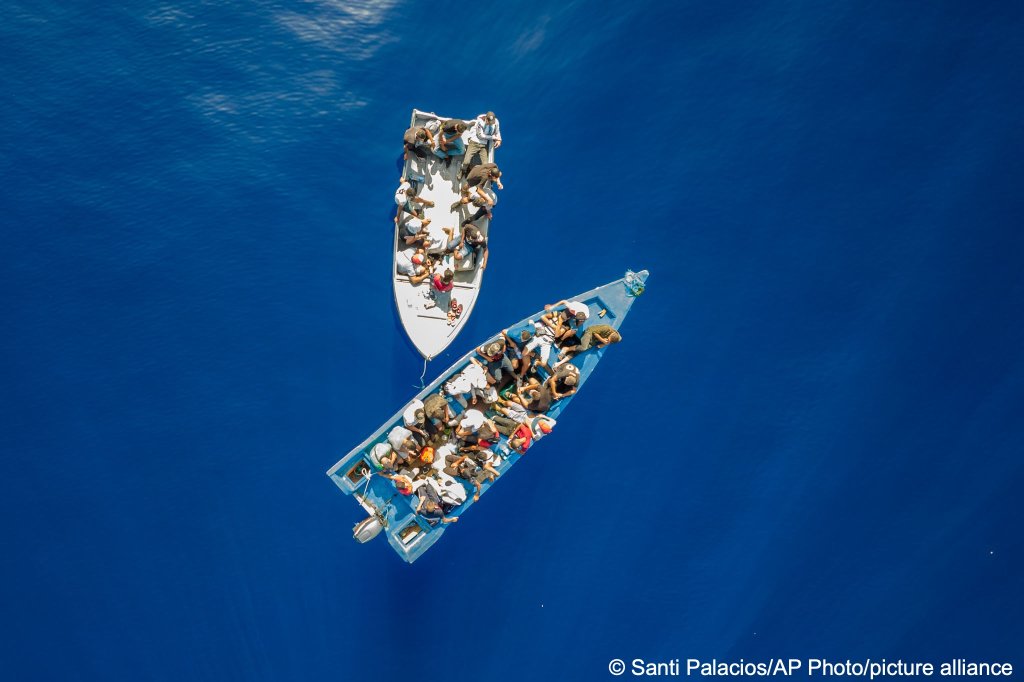 Dealing with NGO ships
Lamorgese also asked the EU to open their own ports to migrants rescued by humanitarian ships run by charities, as Italy's governing coalition is coming under fire over the sharply rising number of migrant arrivals this summer. 
To that end, Italy officially requested "immediate, even temporary, activation of a mechanism that involves the member states to allow for docking that is safe and compatible with anti-COVID-19 measures, to NGO ships flying European banners." A tweet from the Interior Ministry confirmed the submission of the request.
There are several NGOs operating rescue missions in the Mediterranean at the moment, working at capacity around the clock. The crews of the Ocean Viking, operated by SOS Mediterranee, and the Sea-Watch 3, operated by Sea-Watch, have both reported that the conditions on their ships have deteriorated significantly with more than 800 migrants aboard; many of the rescuees are reportedly suffering from seasickness and exhaustion. The ships are urgently seeking safe harbor.
The Geo Barents operated by Doctors without Borders, MSF, recently joined them and rescued 25 migrants on Thursday, among them 10 unaccompanied minors. Those rescued told the MSF team "we have escaped from hell."
Disagreement on redistribution
Due to fundamental differences on how to redistribute migrants, the negotiations on reforms to the EU's migration and asylum system have remained stalled for months now, after an agreement in principle was reached in late 2019.
The EU argues that Germany and France both receive significantly more asylum applications per month than Italy does, and think that strengthening Europe's external borders should be the primary strategy in mitigating migrant flows.
Read more: Salvini attacks migrant policy of Italian government
with dpa, AP