The disembarkation of more than 800 migrants from the rescue ships Ocean Viking and Sea-Watch 3 began at the weekend. Ocean Viking is hoping to complete the process on Monday, August 9. The migrants were on board the ships since the end of July.
The disembarkation of more than 500 migrants from the Ocean Viking in the Sicilian port of Pozzallo, which started at the weekend, resumed on Monday (August 9), according to the ship's operating charity, SOS Mediterranee.
At the end of July, the Ocean Viking had taken on board 555 people in three rescue operations. A few were evacuated early due to medical emergencies, but for the rest, a period of nine days of waiting to be assigned a safe port began. On August 8, the ship docked in Pozzallo and by Monday morning, 97 people had been disembarked.
Health checks and quarantine
According to the Italian regional newspaper La Sicilia, at least 30 migrants on board tested positive for COVID-19. The first persons to disembark on Sunday were three pregnant women, a seven-year-old child with a suspected scabies case and a man who needed medical attention for his abdomen.
Those who didn't need urgent medical attention were taken for their period of quarantine on board the GNV Azzurra. The ferry which had already drawn up alongside as the disembarkation began, according to La Sicilia.
'The heat and uncertainty are exhausting for survivors'
While waiting for a port for disembarkation, SOS Mediterranee made several videos and posts on social media to remind the world of the state of mind and health of those on board. "The heat an uncertainty were exhausting for survivors," they tweeted on Sunday, August 8.
On board another rescue ship, the Sea-Watch 3, it was a similar situation. The vessel was carrying 257 migrants after carrying out five rescues and two medical evacuations of seven people and their relatives, according to Sea-Watch.
From August 3, the crew of Sea-Watch 3 began a series of video posts updating the situation on board, saying that the migrants rescued were "exhausted, many of them are injured and traumatized." As the stand-off progressed and no port of disembarkation was assigned, Sea-Watch said that the "health condition of their guests was deteriorating."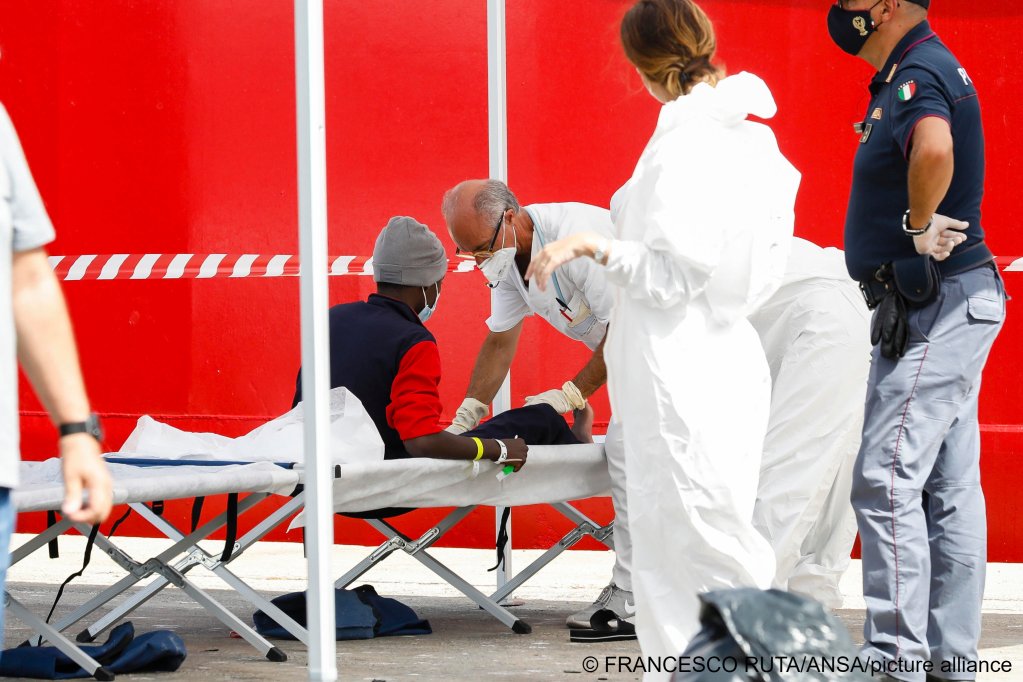 'More than 70 minors on board'
There are "over 70 minors, on board," stated a tweet from Sea-Watch, about which the crew had informed the Catania Tribunal of Minors [the authority which deals with the health and welfare of those in state care and also with unaccompanied migrant children who arrive in Sicily].
On August 6, Sea-Watch 3 was assigned the Port of Trapani in which to disembark. They arrived there on August 7 and began the process later that day. All those on board were tested for COVID-19 and on August 8 there were still 17 people waiting to disembark, tweeted Sea-Watch on its Twitter feed.
Late on August 8, the remaining 16 people were also allowed to disembark, to begin a period of quarantine on board a new ship in Sicily or in special centers designed to accommodate unaccompanied minors.
With the disembarkation of these migrants, Italy has registered just over 30,000 migrant arrivals in 2021 so far, according to data published by the UN Refugee Agency UNHCR and the Italian government.