The IOM is warning migrants of the dangers posed by landmines, as well as other risks such as drowning, abuse, exploitation and gender-based violence along the Balkan route.
There are many dangers that migrants face as they attempt to follow the so-called "Balkan route" from Turkey through south-eastern Europe towards the European Union. Many of them know about the border closures and allegations that border guards in some of the countries along the way might beat them or confiscate their mobile phones and other possessions.
Now the UN Migration Agency (IOM) is working together with the Bosnia and Herzegovina Mine Action Centre to warn migrants of the dangers of land mines along the way. The center estimates that there are "180,000 unexploded mines left over from the wars which tore the region apart in the 1990s."
A migrant died in March and four more were injured
According to the IOM, 130,000 mines have already been removed but along the way, 617 people have already died after stepping on the mines. Earlier this year, in March, a migrant "died in a land mine explosion over the border in Croatia. Four migrants near him were injured too, one with life-threatening injuries." This death, the UN agency says, "illustrated the need for outreach on the dangers of the mines."
According to the annual monitoring report on landmines and cluster weapons for 2020 from the International Campaign to Ban Landmines ICBL, Bosnia and Herzegovina have still not fully mapped all the areas of landmine contamination in their country, although they have been working on it since 2018 with the help of funding from ICBL.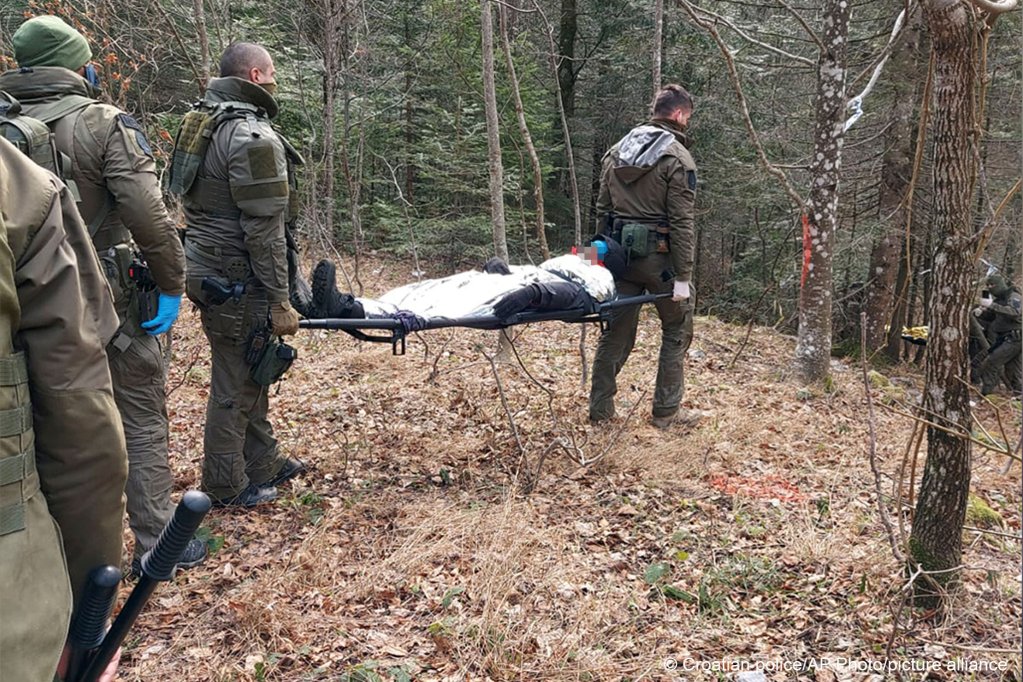 More than 100 square meters contaminated
In 2020, BiH and Croatia both told the Monitor that they estimated they had "more than 100 square kilometers of contamination from landmines and cluster weapons still to clear. Turkey had the same estimate, with experts saying its border with Syria is also heavily mined and some reports suggest that more mines have been laid since the conflict in Syria broke out in 2011.
In fact, in Turkey, Monitor says that its borders with Iran, Armenia, Syria and Iraq all have mine contamination. There are also still mines in Turkish-controlled Northern Cyprus, along the border with the Greek-speaking Republic of Cyprus, part of the EU and a border which is frequently crossed by migrants who fly in to northern Cyprus via Turkey and then hope to cross into the southern part of the island and so make it to the EU.
In 2019, the latest available figures from Monitor, 5,554 people died or were injured by landmines worldwide. More than 1,000 of those casualties were recorded in Syria, says Monitor, but Kosovo also reported some casualties, although it was not clear if they related to migrants or not.
Mine education takes place at reception centers
In Bosnia there are currently around 3,400 migrants split between five different temporary reception centers. About 1,700 migrants stay outside the centers, say the IOM in their latest IOM Displacement Tracking Matrix Report. The migrants present in the Balkan country come mainly from Pakistan, Bangladesh, Syria, Afghanistan, Iran, Iraq, as well as some from sub-Saharan and North African countries.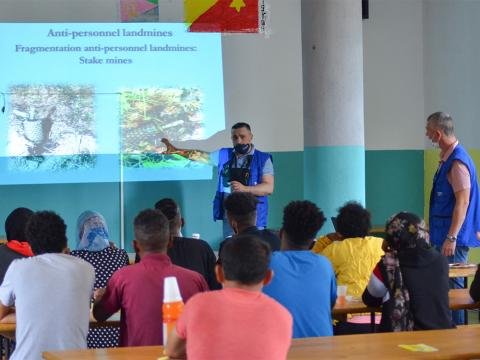 Recently, the IOM has put on a series of training sessions at the centers to train migrants in how to spot a landmine and how to avoid treading on one.
"Very few migrants know that there are land mines in Bosnia and Herzegovina and, even if they are aware, they don't know what to look for," explained one of the trainers Rajko Zivak. "We have warned them to be extra careful when they pass through remote or abandoned areas," he told the IOM.
'Mines are a permanent danger'
Another trainer colleague, Sladan Panic, said he had tried to show migrants what mines look like and "how well hidden and sneaky they can be. Most importantly, we've stressed that mines are a permanent danger even years after they have long been forgotten about."
The training sessions have been translated into several languages, including Arabic, Urdu, Farsi, Dari and Bengali, states the IOM.
Back in 2015, the Balkan Insight regional online news magazine wrote about the dangers of landmines in Croatia. At the time, around six kilometers of land along the border was "still dotted with mines," the report said, estimating that the danger area covered about "300,000 square meters of Croatian territory."
For the most part, the dangerous areas are marked with signs, but with migrants pushing further and further into forests and deserted land in an effort to avoid border guards, accidents can still happen. Signs warning of the dangers are generally in the local language only, but migrants can recognize them because of a red triangle pointing downwards, with the word "Mine" written across the base of the triangle (which is at the top,) and underneath a white skull and crossbones fitting into the point of the triangle.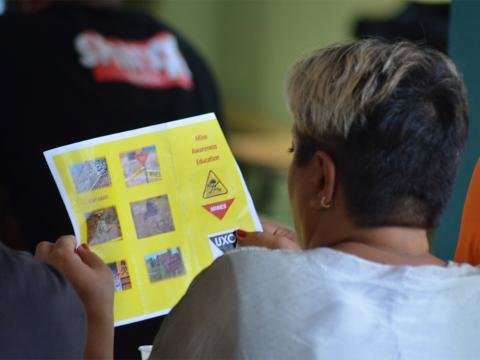 Thousands of leaflets warning of danger
In 2015, Balkan Insight reported that the Serbian Mine Action Centre had also "prepared thousands of leaflets warning about the threat of mines" which were also published in Arabic, Serbian and Albanian. Locals who tried to warn migrants of the dangers have also been trying to map the mines on Facebook pages, warning migrants to "tread carefully and stick to clearly visible roads."
It is not just border areas where migrants need to be careful. In southern Serbia there is a big mountainous region and in 2015, the Serbian Mine Action Center admitted that there could be more mines there that they hadn't yet mapped or even started to clear.
Middle East Eye in 2015 also reported that some of the potential minefields in southern Serbia, on the border with Kosovo had never been mapped because Serbian paramilitaries left them as they began fighting ethnic Albanians and they didn't keep records of the locations of the mines.
NATO also dropped cluster munitions on Serbia to try and stem the fighting of Serbian troops in Kosovo and some of these are also unexploded and dot the landscape.
According to the 2020 Monitor report, in 2019, Bosnia and Herzegovina (BiH), and Turkey both cleared under one square kilometer in 2019. However, despite clearing only 0.67 square kilometers, Turkey cleared and destroyed 25,959 landmines, appearing to demonstrate that it has a high density of mines in some areas of its territory.