According to the EU border agency Frontex, the number of irregular border crossings to the European Union via the so-called 'Balkan route' is up 90% on last year. The majority of those arriving are from Syria and Afghanistan.
On Thursday, August 12, the EU border agency Frontex released new figures about arrivals of migrants without papers at various points into Europe. On some routes, including the Balkan and Central Mediterranean, the numbers of those making "illegal border crossings" was up 90% or more on last year.
"The number of illegal border crossings at Europe's external borders in the first seven months of 2021 reached over 82,000," wrote Frontex in a press release on their website. According to preliminary calculations that was 59% more than the total from a year ago.
In July alone, Frontex registered 17,300 "illegal border crossings, 33% more than in the same month last year and slightly more than in the previous month."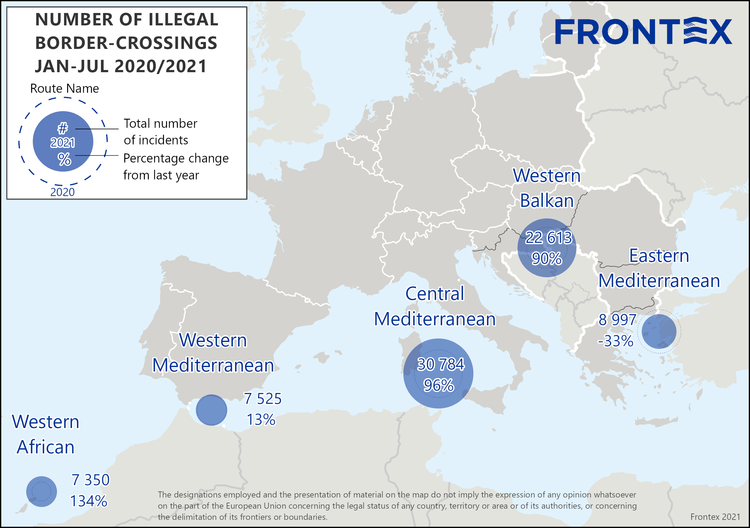 Instability increases
The European Union is nervous that migrant arrivals are set to rise again, perhaps returning to levels seen in 2015 and 2016 when more than one million people entered the EU. The security situation in Afghanistan is causing more and more people to flee or become internally displaced.
Moreover, fighting and reports of rape in the conflict-ridden northern Ethiopian province of Tigray are also threatening to destabilize an already fragile Horn of Africa region and economic and social problems still beset several states in West and Central Africa with localized fighting and terrorist attacks prompting more and more people to flee their countries in search of a better life and safety.
A crisis meeting has been organized by EU home affairs ministers for Wednesday, August 18, to discuss some of these issues.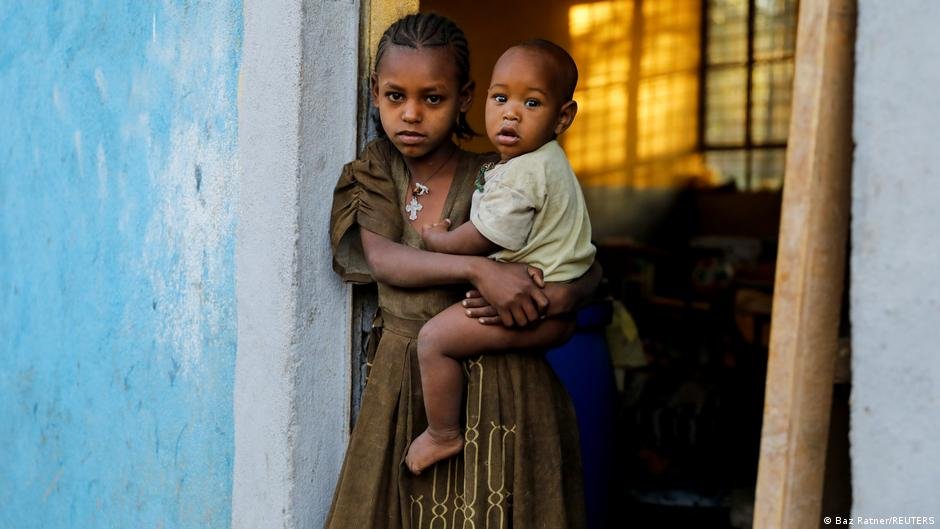 Focus: Baltic route
Three main crossing points are in focus. The Central Mediterranean, from North Africa to Italy and Malta, still resulted in the route with the highest tally of migrant traffic. The Western Balkan route was not far behind. Frontex and the EU's eyes have also been focused on a new crossing point from Belarus into the Baltic States and Poland, but particularly Lithuania.
In July, Frontex registered 3,000 irregular arrivals in Lithuania since the beginning of the year -- the number has surpassed the mark of 4,000 by the time of writing (August 13). The country has already vowed to build a barrier along its border. On Thursday, Ukraine announced it was sending 38 tonnes of barbed wire to Lithuania to help as "humanitarian aid" to reinforce the new barrier.
According to the news agency Associated Press (AP), Ukrainian officials said this was the first of such shipments and "more were expected in September."
Frontex noted that although the total number of crossings in 2021 seems relatively low, it was a "significant increase" on the normal numbers of people attempting to make it into the EU by that route. Twenty-two people apparently tried to cross the border without papers in January, and 14 in February.
According to Frontex, two thirds of all detected migrants were of Iraqi origin, "followed by nationals of Congo (Brazzaville) and Cameroon. Frontex said that it was supporting Lithuania with "more than 100 standing corps officers, along with patrol cars and helicopters."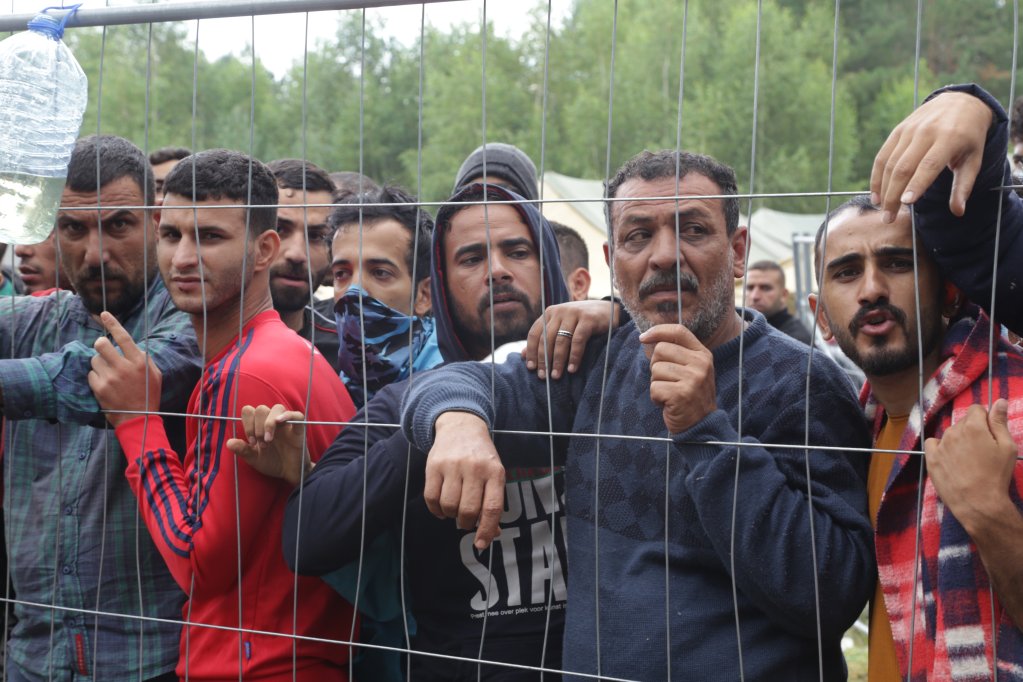 More than 90% increase on last year
The Central Mediterranean in July registerd "7,600 illegal border crossings," which was "roughly in line with the same month last year. "So far, in 2021, 30,800 people have used the central Mediterranean route which is a "96% increase on last year." Most migrants here hail originally from Tunisia, Bangladesh and Egypt.
The popularity of the Balkan route has also increased according to Frontex compared to figures for last year. In July, 3,600 migrants were detected while attempting to cross one of the borders into an EU country like Romania, Hungary or Croatia. The totals for this year so far amount to "22,600" which Frontex said is a 90% rise on last year. The migrants crossing this route tend to come from Syria, Afghanistan and Morocco.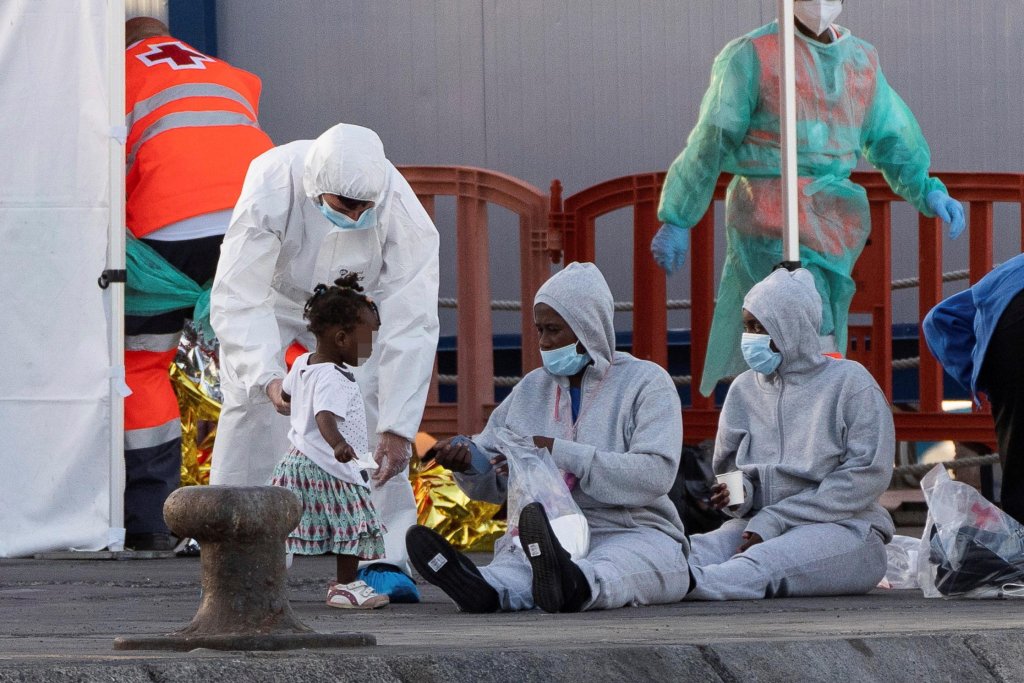 The Atlantic route
On the Atlantic route from the coast of West Africa, namely Senegal, Gambia, Mauritania and Morocco, the numbers of migrants who have arrived in the Canary Islands this year have reached 7,350 so far. That, said Frontex is a 134% increase on last year.
In contrast, those arriving from Turkey to Greece, either across the Aegean Sea or over the land border of the two countries along the Evros river, have decreased, by 33%. In fact, this year 8,997 people have been registered arriving in the EU by this route.
In Spain too on the so-called Western Mediterranean route from Morocco and Algeria towards Spain and the Spanish enclaves in North Africa, the numbers are relatively contained, at 7,525 people this year, or an increase of 13% on last year.
With Reuters and AP