An uptick in migrant arrivals into Lithuania from neighboring Belarus appears to have slowed down significantly. But with a pile of asylum applications to process and local communities angry about nearby migrant camps, the Lithuanian government faces an unfamiliar challenge.
On Friday (August 13), the UN refugee agency's representative for the Baltic region said that while the "emergency phase'' of the mass arrivals appears to be over, "Lithuania must now focus on the wellbeing of the people held in immigration detention centers and on assessing their claims for international protection," The Associated Press (AP) news agency reported.
So far this year, more than 4,000 mostly Iraqi asylum seekers from 40 countries have crossed from Belarus into Lithuania irregularly. That's 50 times more than during all of last year.
UNHCR representative Henrik M. Nordentoft called the flow of migrants a "completely unique situation'' for Lithuania, a European Union member state with a population of just under three million.
"In a way, there were no standby capacities to quickly mobilize,'' Nordentoft told AP. He nonetheless seemed confident that Lithuanian authorities could handle the situation. "I sense a drive, a declaration, a will.''
"It is a bit of a race against time in terms of [the coming] winter and the cold months,'' he said. Also on Friday, Lithuania's Interior Minister Agne Bilotaite said that around 1,500 asylum requests are currently being processed. She also said that "a few people" have accepted returning to their home countries voluntarily, AP reported.
Evidence of Belarus involvement?
Lithuanian officials, like those of fellow EU members Latvia, Estonia and Poland, blame the spike, which started in early June, on the government of neighboring Belarus and its authoritarian president, Alexander Lukashenko.
Late last week, German news agency dpa reported that Latvian border guards allegedly have video evidence that shows the "direct involvement of the authorities in neighboring Belarus in the transportation of migrants to the country's border with Latvia." According to the Baltic News Service, the footage, which couldn't be independently verified straight away, allegedly shows "five migrants walking along railway tracks to Latvia -- accompanied by three armed men in military uniforms," dpa reported.
Last week, after Latvia and Lithuania announced measures to counter an increase in irregular migration across both countries' border with Belarus, Latvia became the latest Baltic state to start pushing back migrants. Dozens were turned back the night of August 10 under a new state of emergency declared by the Latvian government.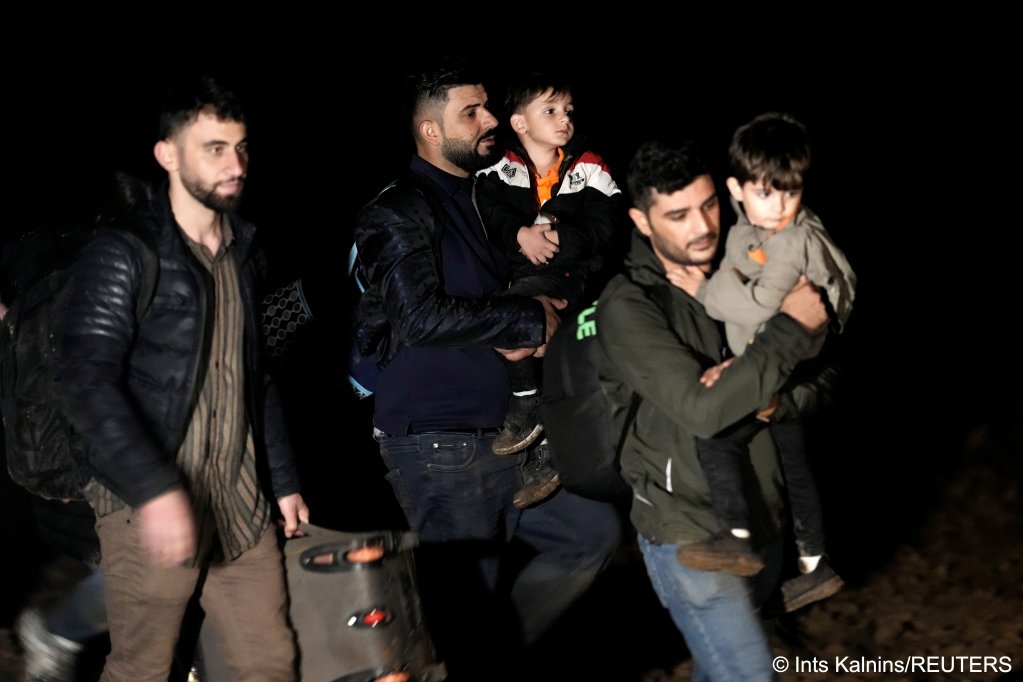 On May 26, Belarussian President Alexander Lukashenko had indicated that Belarus could retaliate against the latest EU sanctions by loosening border controls for irregular, western-bound migrants as well as drug trafficking. "We used to catch migrants in droves here -- now, forget it, you will be catching them yourselves," he said.
The announcement came after the EU imposed sanctions on the non-EU country following the forced diversion of a passenger jet en route to Vilnius to arrest a Belarussian dissident.
Lithuania, which also borders Poland, Latvia and the Russian Kaliningrad enclave, has been critical of Belarus following the brutal crackdown after a presidential election there last year which President Alexander Lukashenko claimed he won after 26 years of authoritarian rule but the opposition insists was rigged. In the months after the election, the EU and NATO member country gave shelter to several members of the Belarussian opposition, including Lukashenko's main challenger Sviatlana Tsikhanouskaya. Both Lithuania and Belarus are former Soviet satellite states.
Read more: Iraq flies 280 'stranded' migrants back from Belarus
'More of a migrant than a refugee profile'
AP interviews with people in Lithuania's migrant camps over several weeks highlight their diverse backgrounds and reasons for attempting to enter the EU.
Juel Fomejuel came from Cameroon, where conflict has killed thousands and displaced at least 700,000 people. "I just pray that EU give me a protection,'' he told AP, saying that going back home "is like going back inside the fire.''
Tamar Heidar, a 22-year-old Iraqi, said he sought a better life in the EU by transiting through Belarus. "Belarus not using me, I don't not care about Belarus,'' he said. "All these people here, they are doing this to get a better life. It's not because Belarus is using me. I'm using Belarus.''
The recent border-crossers in Lithuania "include certain people [who] may have more of a migrant profile than a refugee profile," UNHCR's Nordentoft said.
Lithuania wants to build a physical barrier along the 680-kilometer border with Belarus, which is also the European Union's external border. Last week, Ukraine announced it was sending 38 tons of barbed wire to Lithuania to help as "humanitarian aid" to reinforce the new barrier. German news website Zeit Online has reported that Lithuania wants to expand electronic surveillance with cameras at the border from presently around 40% to 100% by the end of next year.
Read more: African students in Lithuania stuck after crossing from Belarus
Poland also increases border control
According to the Associated Press, "Poland says its border is also under control following reports of Iraqis and Afghans seeking to enter from Belarus. Border guards have detained nearly 900 people this year trying to slip in from the neighboring country, according to Polish media -- up from 122 last year."
Similar to the Lithuanian foreign minister, who last month accused Belarus of using migrants as a "hybrid weapon against the European Union" to force the bloc to change its policy toward Belarus, Poland and other countries bordering Belarus have also denounced the crossings as a "hybrid war".'
To Nordentoft, this kind of lingo is a reason for concern. "Hybrid war involves the thoughts of soldiers, weapons,'' he said. "It was very important for the population not to see the persons [as] threats, but also in a way as victims.''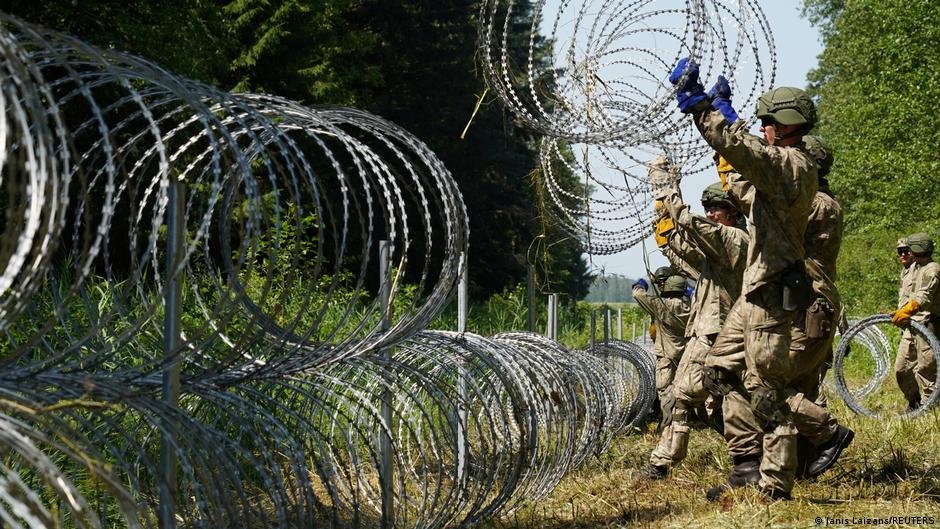 Xenophobia on the rise
Nevertheless, tensions have increased in recent weeks among communities near migrant camps, resulting in sometimes violent protests.
In late July, for instance, residents of the village of Rudnininkai, located just 15 kilometers from the outskirts of Vilnius, protested against the government's plan to set up another camp that's supposed to accommodate up to 1,500 migrants. Several dozen people tried to block the road to prevent trucks carrying items for the tent camp from passing through. Although riot police dispersed the protesters, no one was reported injured.
AP reported it was following a small group of villagers on Wednesday evening from Rudninkai "as they patrolled the streets in high visibility jackets in search of escaped camp residents. Earlier, 20 migrants who had fled were detained by police the same night. Another 28 escaped another camp, police said Friday," according to the AP.
"Two weeks ago, Rudninkai was very quiet. But when a huge amount of migrants arrived, this calm was disturbed. These people have a completely different culture,'' local resident Kristina Slovenska said. "We are worried about our safety.''
Read more: Belarus launches probe into death of Iraqi on Lithuania border
With AP, dpa