Amid chaotic scenes of Afghans desperate to flee their country, the international community has said those who wish to leave must be able to do so. But so far, those without ties to foreign forces have few options.
There have been chaotic scenes at Kabul airport as social media posts continue to show thousands of Afghans crowded onto the tarmac in the hope of catching any flight out after the Taliban took over the capital at the weekend.
On Monday, US troops fired shots into the air to try to restore order as all commercial flights were cancelled. People climbed onto overcrowded stairs in an effort to board a parked passenger plane, those who managed to climb the stairs helping others up while some hung from the railing by their hands. Other videos posted on social media overnight showed people fighting to cram into the back of a cargo plane.
The US embassy in Kabul was advising American nationals and Afghans "not to travel to the airport." The US has evacuated its entire embassy staff to the airport but they have been kept separate from those without permission to travel. But thousands of Afghans, including people not linked to the US-led coalition, turned up without tickets or visas.
One 25-year-old man who asked to be identified as Ahmed told AFP that he was afraid to live in Kabul and was trying to leave. "I read on Facebook that Canada is accepting asylum from Afghanistan," he said. "Since I served in the army, there is danger. The Taliban would definitely target me."
Shafi Arifi, a 24-year-old who had a ticket to travel to Uzbekistan on Sunday, was unable to board her plane because it was packed with people who had raced across the tarmac and climbed aboard. "Children were crying, women were shouting, young and old men were so angry and upset, no one could hear each other," she told the Associated Press (AP). "There was no oxygen to breathe." Arifi eventually gave up and went home.
'The world needs to help'
Amid widespread international criticism of the withdrawal of NATO forces from Afghanistan, the British defence secretary, Ben Wallace, on Monday described the West's intervention in the country as a job only half-done. "It's an unfinished problem for the world and the world needs to help it," he told BBC Television.
Wallace also warned that significant migrant flows across the world were to be expected due to the situation in Afghanistan. The UK Parliament is being recalled on Wednesday to discuss the crisis, including asylum and support for Afghans who have fled the country.
The EU Commissioner and vice-president of the European Commission, Margaritas Schinas, said Sunday that the crisis in Afghanistan showed that the clock is running out for the EU to complete an overhaul of migration and asylum rules.
A day later, the European Union published a joint statement of more than 40 countries calling on all parties to "respect and facilitate the safe and orderly departure of foreign nationals and Afghans who wish to leave the country."
"Afghans and international citizens who wish to depart must be allowed to do so; roads, airports and border crossings must remain open," the statement said. EU foreign ministers are due to hold emergency talks on videolink on Tuesday.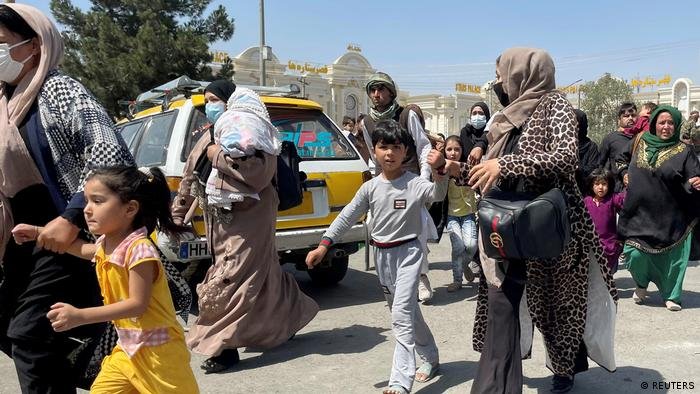 European fears of refugee influx
Europe's approach to the crisis remains unclear, partly due to fears of a repeat of the large numbers of asylum seekers arriving in Europe in 2015/2016.
Last Thursday, France became the latest of several EU member states to suspend deportations to Afghanistan due to the security situation, including Denmark, Sweden, Finland, Norway, Germany, and the Netherlands. But earlier this month, six countries, including Greece, France and the Netherlands, wrote to the European Commission calling for forced deportations to Afghanistan to continue, despite the Taliban's gains. They said halting returns "sends the wrong signal and is likely to motivate even more Afghan citizens to leave their home for the EU."
On Friday, the Czech Republic said it was not changing its policy on deportations of rejected asylum seekers. "The Czech Republic is treating each asylum application indidvidually … We won't make any blanket exceptions," the interior minister, Jan Hamacek, was quoted as saying.
Afghanistan had urged Europe in July to stop deportations for at least three months.
Foreigners, Afghan supporters evacuated
International efforts are being scaled up to try to evacuate foreign military personnel and some local staff who worked with foreign troops in Afghanistan. The German defence ministry announced Monday that the first A400M military transport plane was heading for Kabul "to bring those in need of protection from Afghanistan to safety."
The plane – the first of several planned flights – aimed to bring back German embassy staff, German citizens and some Afghan staff. According to security sources, evacuation flights would operate between Kabul and Tashkent in neighboring Uzbekistan.
Also read: Chaos at Kabul airport as Afghans try to flee
France and Turkey had also arranged evacuation flights to arrive Monday evening, while Portugal's defence minister Joao Gomes Cravinho said his country is prepared to take in 243 Afghans and their families who assisted Portuguese forces stationed in Afghanistan.
Slovakia's Prime Minister Eduard Heger also announced that his country would give asylum to 10 Afghans who cooperated with EU member states in recent years.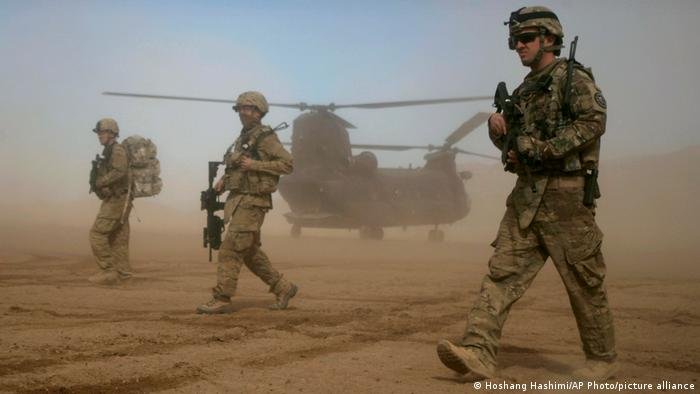 Limited offers for asylum seekers
Despite the evacuations, however, there have been few public announcements about plans to provide asylum to Afghan civilians. InfoMigrants understands the most significant offer to have come from Canada. Last Friday, Canada's immigration minister, Marco Mendicino, announced that the country would take up to 20,000 Afghan refugees, including women leaders, government workers and others facing threats from the Taliban. "Canada will not stand idly by," Mendicino said. The refugees would include "particularly vulnerable" Afghans still in the country or who have already fled to neighboring countries. The first plane-load of asylum seekers landed in Toronto on Friday, the immigration ministry said.
Australia, which provided more than 39,000 military personnel to Afghanistan since 2001, has said that it is working to evacuate an undisclosed number of refugees in addition to those who worked with Australian troops.
On Sunday, nearly 20 years after the US-led invasion of Afghanistan, Taliban fighters entered the presidential palace in Kabul. The Taliban have taken over many cities and districts of the country in recent days, their advances coinciding with the withdrawal of NATO troops.
With AFP, AP, Reuters