In Lithuania, some migrants have been detained for more than a month in camps hastily established by local authorities. They are exposed to harsh conditions and are isolated without access to information. The Lithuanian authorities say they don't have the capacity to examine each individual claim for protection.
At the end of a bumpy dirt road, the Rudninkai camp seems to have had to fight for space in the forest – the camp and surrounding area are thick with trees. Originally a training center for the interior ministry, the location is surrounded by fences and watched over by several police vans as well as a drone, which buzzes unpleasantly.
Though it is situated just 30 kilometers from Vilnius, the camp seems remote from everything. In the middle of all this greenery, the migrants have the feeling that they have been hidden away, even forgotten.
"What are they saying about us? What's going to happen to us?" asks Safaa, a 33-year-old Iraqi, speaking to us through the fence.
Rudninkai is surrounded by a double enclosure. Journalists are only allowed through the first fence, and have no access to the migrants' living area behind the second fence.
"Everyone asks us questions but no one answers ours," complains Safaa, who has been detained in Rudninkai for over a week. In Lithuania, all migrants are held in camps for six months after their arrival in the country, under a law that came into effect on July 13.
Flights increase from Baghdad to Minsk
Like the other 2,800 Iraqis to have arrived in Lithuania this year, this young mechanical engineer from Baghdad knew nothing about Belarus or Lithuania before leaving Iraq. When reports of an apparent border opening spread in the Iraqi capital, he bought a plane ticket to Minsk. From there, he took a cab to the border and finished the journey on foot. Lithuanian border guards arrested him and brought him to Rudninkai.
The number of arrivals from Iraq exploded after flights from Baghdad to Minsk were increased in early summer to four flights a week. Upon arrival in Minsk, Iraqis are given tourist visas and can continue on to the border.
On August 6, following European pressure, the Iraqi authorities announced the temporary suspension of flights to Belarus. Iraqis are also being sent back. According to Ahmed al-Sahaf, an Iraqi foreign ministry spokesperson interviewed by AFP, a plane arrived in Baghdad on August 10 from Minsk "with 240 Iraqi citizens on board, while 130 Iraqis [had] been brought back on a first flight" the day before.
'We just wanted to be safe'
Another Iraqi – a frail 22-year-old named Kadhim – has a similar story to Safaa. "We just wanted to be safe," Kadhim explains. "In Baghdad I was an architecture student, but nothing was going well there and I had no money to continue paying for my studies."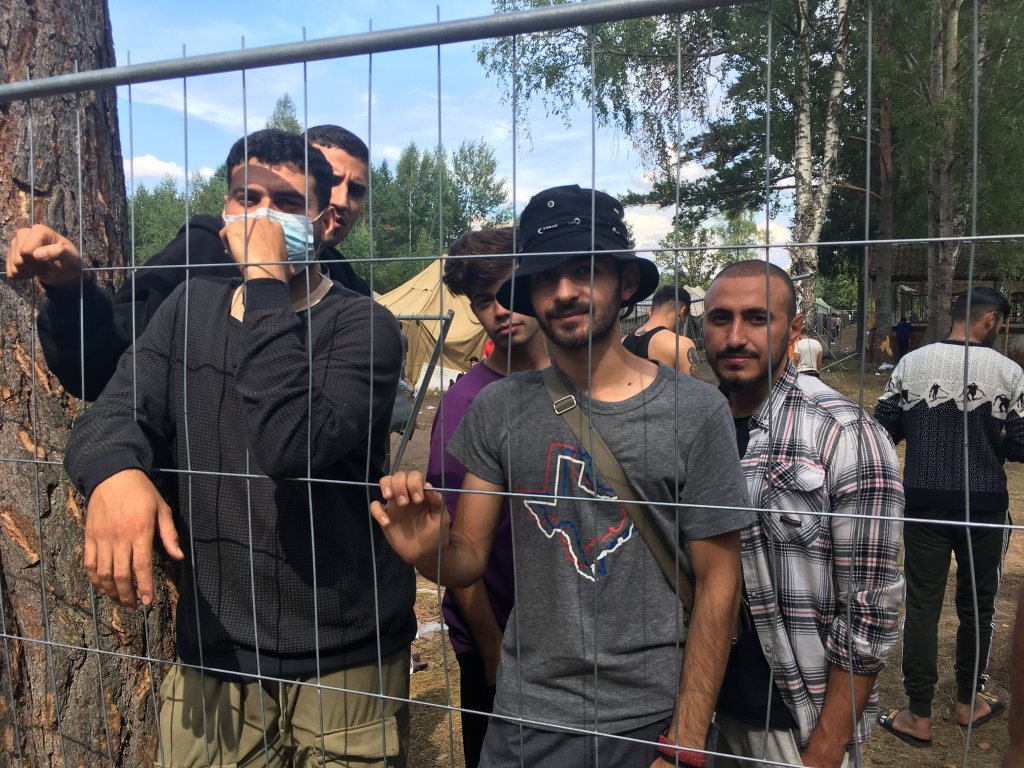 The young man arrived in Lithuania on August 1, having left Baghdad two days earlier. Like the 350 other men detained in Rudninkai, he complains about living conditions in the camp. The migrants sleep 15 or 20 to a tent which, on rainy days, collapses under the weight of water. The cramped conditions have led to fears of infection with skin and respiratory diseases.
Safaa says some people have COVID-19, although all the migrants are tested and quarantined when they arrive in the country. Kadhim tells us that they receive only one meal per day.
The migrants who thought they could reach Western Europe in a few days are mostly worried about their uncertain future.
In Rudninkai, anxiety is even greater because of the very limited access to electricity – as a result, the migrants find it extremely difficult to charge their phones regularly, making their isolation even harder to bear.
Fear of expulsion
In the center of Vydeniai, about 80 kilomters from Vilnius, it is easier to get access to electricity. This former school accommodates 146 people, all from African countries. The rooms on the ground floor are reserved for women, while the men are on the first floor. Each person has a stretcher bed and a sleeping bag.
But while their living conditions may be better than in Rudninkai, the migrants here ask the same questions – "What are they saying about us outside?" – and have the same fears – that they will be sent back to their countries of origin: Congo, DRC, Cameroon, Guinea, or Eritrea.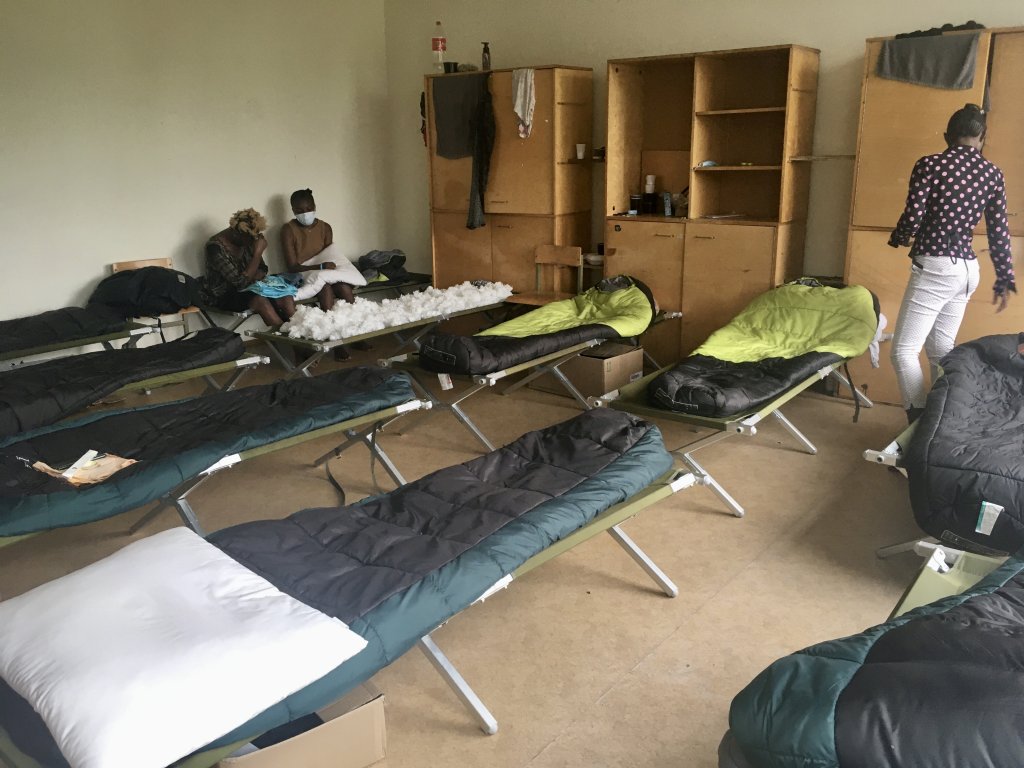 While there has been a great deal of media coverage of the arrival of hundreds of Iraqis in Lithuania by plane, the arrival of young Africans has gone unnoticed. Yet according to figures obtained by InfoMigrants from the office of the Deputy Minister of the Interior, nationals of Congo-Brazzaville and Cameroon are the second- and third- most represented nationalities among migrants in Lithuania, after Iraqis. The two countries accounted for 200 and 131 arrivals respectively in 2021.
'Too much to tell'
Unlike the Iraqis, the Africans here did not leave their country overnight to come to Lithuania. Most spent several weeks or even months in Belarus on student or tourist visas. Many, like Christian and Laurenne, went to Belarus because they had to flee the DRC – where they say they were threatened – as quickly as possible.
Also read: 'I don't know what to do now': African students in Lithuania stuck after crossing from Belarus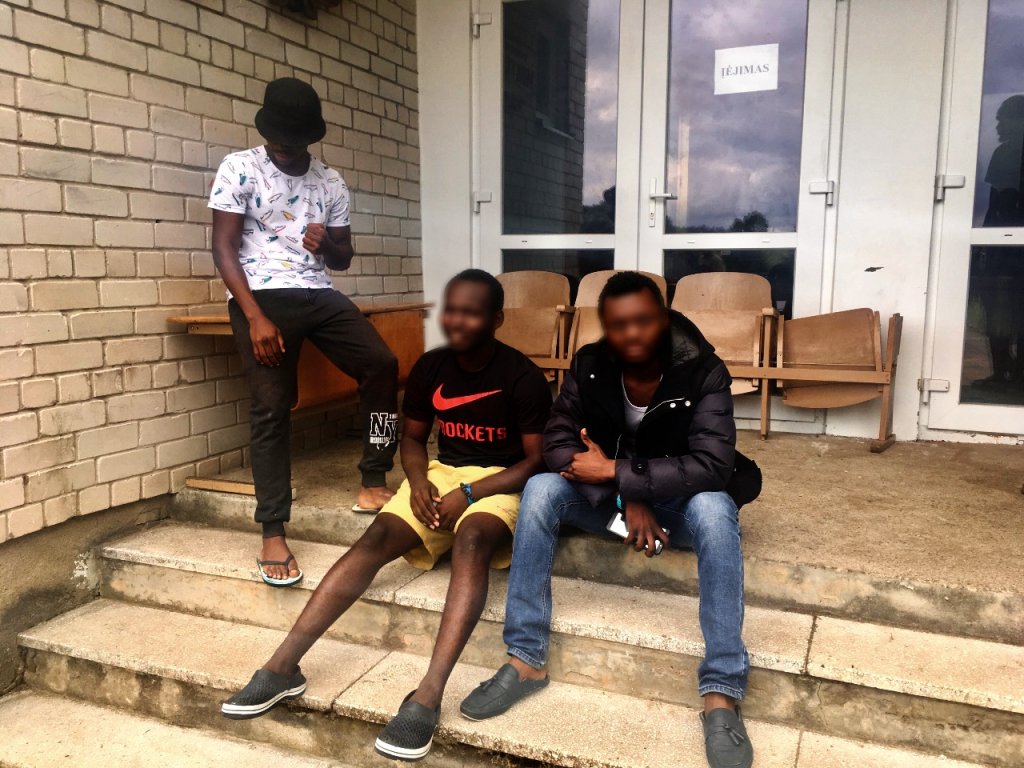 Laurenne appears suddenly terrified when she is asked why she decided to leave the DRC. "You want me to tell you my story? No, I can't. It's too much," she says apologetically, before mentioning that she was "threatened with death by policemen." Disappointed by Belarus, where she says she suffered racism, Laurenne explains that she wanted to go to Lithuania "to be safe."
Lack of translators
Like most migrants who have arrived in the Baltic country, Laurenne aims to ask for international protection. But she has little chance of getting it. Lithuania's foreign minister, Gabrielius Landsbergis, said on July 19 in a Facebook post addressed to migrants in English and Arabic: "Almost none of you will get asylum, nor will you be recognized as refugees."
InfoMigrants wrote to the deputy interior minister, Arnoldas Abramavičius, who replied saying that "all people in need of protection can apply for asylum" in Lithuania and that "each application [will be] examined individually."
But in this small country of barely 3 million people, which only had to deal with 37 irregular arrivals in 2019 and 74 in 2020, "mainly from Russia and Belarus," the arrival of more than 4,100 asylum seekers has created a logistical challenge.
"We have problems with translation, because migrants speak different languages and we lack translators who are able to work face-to-face with migrants, so the process is quite slow," Arnoldas Abramavičius says.
The pace is expected to increase gradually in the coming weeks. The deputy minister insists that the authorities are "constantly looking for translators." The Migration Department is also "recruiting more experts who can work on asylum applications so that the process is faster," Abramavičius says.
The Lithuanian government is also counting on possible voluntary returns to the countries of origin to reduce the number of asylum applications. Migrants who volunteer to do so "will receive a free plane ticket and €300 in cash," Abramavičius explains.
On August 13 the interior minister, Agne Bilotaite, said that some 1,500 asylum applications were being examined but that few people had applied for voluntary return.
The original article by Julia Dumont was published in French on August 17. It was adapted into English by Marion MacGregor.