The Council of Europe's Commissioner for Human Rights has called on Poland to protect the human rights of Afghan migrants stuck at its border with Belarus. The migrants have been camped out in the open for the past two weeks.
Poland should take immediate action over the fate of around 25 people stranded at the EU's eastern border, the Council of Europe's Commissioner for Human Rights Dunja Mijatović said in a statement on Wednesday, August 25.
The migrants from Afghanistan have been trapped at the border for more than two weeks. They are among thousands of people – mostly from the Middle East – who have crossed from Belarus into the EU states of Latvia, Lithuania and Poland in recent months.
The Afghans are camped out in the open and are refusing to be sent back to Belarus. They have little protection from the weather, and there are no toilets, reports DW's Monika Sieradzka.
"The dire humanitarian situation … is alarming," Mijatović said in the statement. While she condemned the actions of Belarus, which she said had left the migrants in a vulnerable position, she urged Poland to abide by its humanitarian obligations. The commissioner has already sent a similar letter to Lithuania, she said.
"Pushing people back, denying them access to fair asylum procedures, or simply leaving them stuck in a humanitarian emergency cannot be the answer of a Council of Europe member state bound by the European Convention on Human Rights, the Refugee Convention and other international human rights instruments," Mijatović said.
Land dispute
The impasse is centered on an area which is geographically disputed: Polish Prime Minister Mateusz Morawieck insisted on Tuesday that the migrants "are on the Belarusian side of the border. Belarus is responsible for these groups. If someone on the Belarusian side wants to apply for refugee status, please do so in Minsk."
At least some members of the group have reportedly requested international protection in Poland but border police have either ignored or rejected their request. This week the Polish Human Rights Ombudsman said that border authorities had violated the Geneva Convention by not accepting verbal declarations from some of the migrants that they wanted to apply for international protection in Poland.
A lawyer who visited the migrants at the border on August 20, Tadeusz Kolodziej, confirmed to DW that he and his colleagues had also submitted the applications in writing to police in Bialystok, and that these had been rejected. He said this indicated that Polish authorities were carrying out "illegal pushbacks."
There have been several reports, also backed up by Kolodziej, that the migrants did manage to cross into Polish territory but were transported back to the border by border guards.
Also read: Afghans stranded in Poland refuse to return to Belarus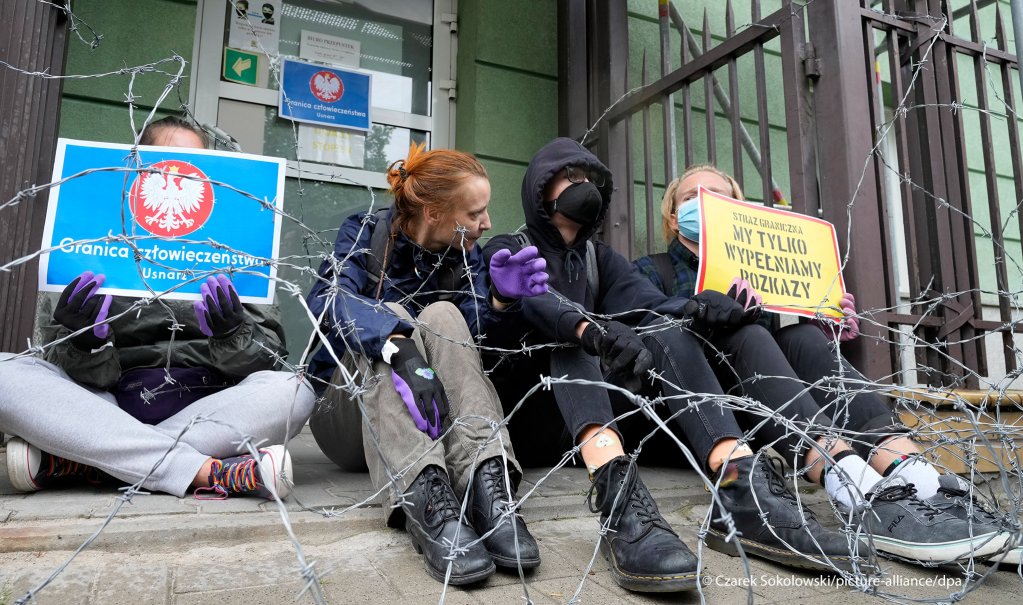 Polish lockdown
Poland's refusal to allow the Afghans onto its soil is in part aimed at Alexander Lukashenko: Morawieck says the move would be giving in to "blackmail" from the Belarus president. During a visit to the border on Tuesday he said attempts by migrants to enter Poland were part of a plot by the Minsk regime to sow political instability in the EU.
The Warsaw government also fears that taking in the migrants would lead to attempts by larger groups to enter its territory. "If we accept this group, the next moment we will have not 10 or 20 ... but 1,000, 2,000 and 10,000'' people trying to enter, Deputy Foreign Minister Marcin Przydacz said.
On Monday, the defence minister, Mariusz Blaszczak, announced that a new 2.5-meter-high solid fence would be built along the eastern border, aimed at keeping out irregular migrants. The government in Warsaw is also tightening immigration law to make it easier to deport foreigners. A proposed amendment would allow claims for international protection to go unacknowledged, DW reports.
This is not new, according to the paper Gazeta Wyborcza. On Tuesday the Polish daily reported that "Unfortunately, for many years Poland has had a problem with "not hearing" requests for help from refugees when they come to our border."
But Poland's Foreign Ministry denies the claim, saying it fully applies provisions of national and international law with respect to asylum. "Poland fully respects the Convention Relating to the Status of Refugees and complies with its provisions in the current situation," a ministry statement said.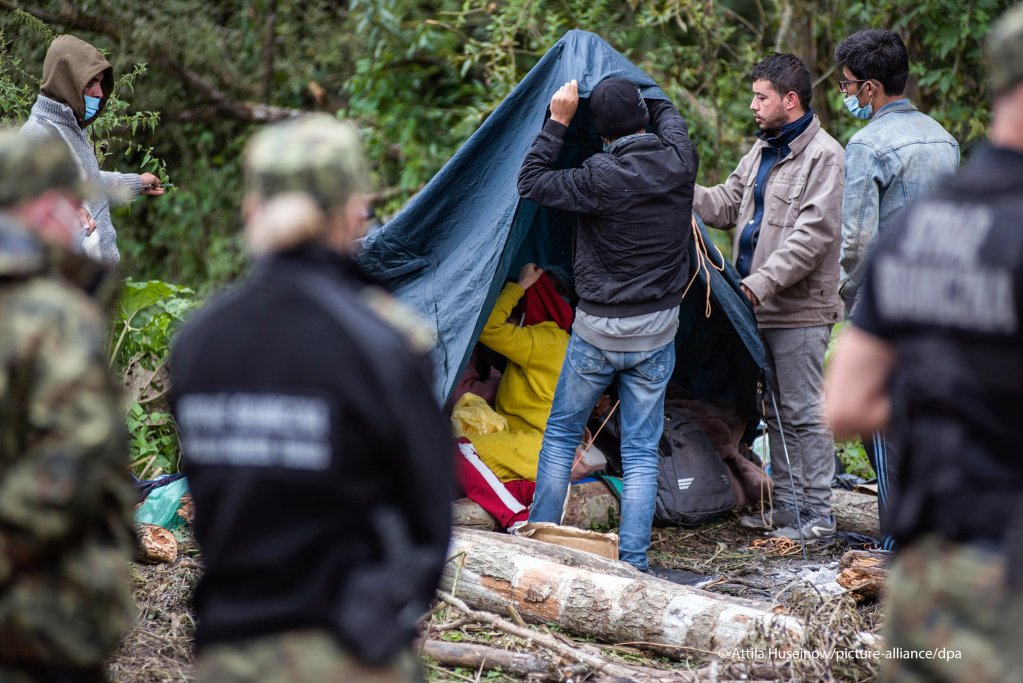 Migrants' situation worsening
The UN refugee agency UNHCR appealed to Polish authorities this week to take in the migrants and provide them with medical care, legal assistance and psychological and social support.
On Tuesday, Poland's government said it had sent tents, blankets, power generators and other items to help the group. But refugee aid workers and activists are worried that the migrants' situation is becoming critical. The Polish Ocalenie (Rescue) Foundation succeeded in getting food, water and hygiene products to the group "a few times," DW's Sieradzka reports.
The migrants have tried to communicate with aid workers that some of them were sick, but a doctor, Paulina Bownik, told DW that Polish border guards had prevented her from even approaching the refugees. "Why won't they let me go to these people in need? Some of them are obviously sick. As a doctor, I'm here to help people. I'm not going to abduct anyone," Bownik said.
The Helsinki Committee for Human Rights this week said it had asked the European Court of Human Rights to initiate temporary measures to force Poland to ensure the migrants' safety and offer them food, water and shelter at a refugee center.
With agencies, DW