German government numbers indicate that there are still tens of thousands of people that Germany is trying to get out of Afghanistan. Meanwhile, the government is under fire for not showing enough flexibility trying to save Afghan lives.
Germany's Federal Ministry of the Interior has announced that more than 40,000 Afghan nationals, who in the past have worked for German authorities and military in Afghanistan (including their close family members) are still stuck in the country after evacuation flights have ended.
At the beginning of the evacuation mission in mid-August, there were only 174 local forces with their family identified, resulting in a total of 886 people being taken to security outside of the country at the time.
The German military has brought a total of 4,587 people to Germany during its evacuation mission. Among them were 3,849 Afghans and 403 Germans and people from other countries, according to the Interior Ministry.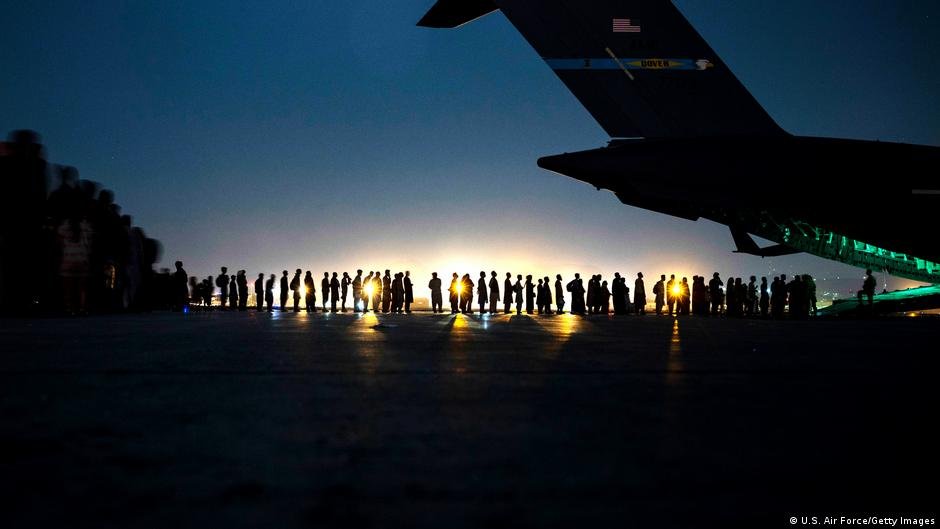 The discrepancy in numbers between those already evacuated and those yet to be saved is apparently due to the fact that Afghans helping German forces had to proactively indicate if they felt at risk and file a report to this end. In recent times, there have been too many such reports to process, as the Taliban swept across the country.
Read more: Afghans left with land borders as only escape from Taliban
Mission to continue
According to a Foreign Office spokesman, a "four-digit number of people" also needs to be added to the more than 40,000. This group includes particularly endangered persons, such as human rights activists and their relatives, who have been offered the prospect of leaving the country but currently have no means to get out of the nation.
This will likely bring the list of people to yet be taken out of Afghanistan with the help of German authorities to close to 50,000.
German Foreign Minister Heiko Maas said that in order to complete the mission of getting people out of Afghanistan, he believes that direct contact with the Taliban is inevitable.
"I personally believe there is absolutely no way around talks with the Taliban," Maas said during a visit to Qatar, adding that instability in Afghanistan is something the West "simply cannot afford at all."
Read more: Afghanistan: Germany secures Uzbekistan's help with evacuations
Criticism against interior ministry
Meanwhile, the German Kabul Airlift Rescue Initiative (Rettungsinitiative Luftbrücke Kabul) has accused the German government for lack of support and massive opposition to private evacuation flights from Afghanistan. 
"The real mother of all problems related to this evacuation mission is without doubt the Federal Ministry of the Interior," said co-initiator Ruben Neugebauer in Berlin on Wednesday. He added that there had "simply been a lack of political will" to rescue as many people as possible from Afghanistan, resulting in severe delays.
The Federal Ministry of the Interior rejected his criticism. Ministry spokesman Steve Alter told the dpa news agency that the ministry had no prior knowledge of the planned flight at the time.
Read more: 'Now it's like a grave': Afghan women tell FRANCE 24 of their fears for the future
A waste of funds?
The rescue mission, consisting of activists, non-governmental organizations and refugee initiatives, had sent a privately organized chartered plane to Kabul, financed by donations, costing a total of €350,000. However, only 18 endangered people could be brought to safety at such "immense expense" -- "when there could have been hundreds more," according to Rettungsinitiative Luftbrücke Kabul. Thanks mainly to the support of British and American troops, the operation was still successful in the end, they added.
The initiative reiterated its demands for creating safe escape routes, unbureaucratic air bridges from neighboring countries, as well as a "visa upon arrival" procedure, i.e. the issuing of visas after arrival in Germany.
The Islamist Taliban returned to power in Afghanistan two weeks ago. Following the withdrawal of the last US soldiers from Kabul, they also took control of the airport in the Afghan capital on Tuesday night. However, there is no air traffic control in place at the moment for flights to arrive or depart.
Read more: Students in Kabul, looking for solutions for expatriation
With KNA, AFP, dpa