Around 60.4 million people are eligible to vote in the 2021 German national election, including 7.4 million citizens with migrant roots. But the manifestos of the six most popular parties differ greatly when it comes to migration and asylum policy. We summed up where the parties stand regarding integration, deportations and other relevant issues.
This year's German Parliament (Bundestag) election takes place on Sunday, September 26.
Here's an overview of migration-related positions and policy proposals in the election manifestos* of the six political parties in Germany that are currently polling above the 5% threshold and are thus expected to make it into the German Parliament in the next legislative period. The following order is based on the latest representative election poll.
Also read: German election: Are immigrant voters ignored?
In a nutshell
The Social Democrats consider migration an enrichment that advances Germany. Migration policy is a task that should be tackled at the European level. They call for a humanitarian EU asylum system and solidarity with refugees and migrants.
The Union emphasizes prevention and deterrence. It wants to further reduce the number of people fleeing to Germany and regulate migration a lot more. The party believes that "targeted immigration" ("gezielte Zuwanderung") has societal and economic benefits -- if it is orderly, adheres to clear rules and is accompanied by successful integration.
The Greens advocate a "diverse immigration society" ("vielfältige Einwanderungsgesellschaft"). They want to facilitate naturalization and create new pathways for labor and educational migration.
The Liberals consider Germany a country of immigration, which requires clear rules, and see migration as an opportunity. The basic right to asylum for politically persecuted persons, including for religious reasons and sexual identity, is inviolable.
Even more so than the Union, the AfD stresses prevention and deterrence. It wants a restrictive refugee and migration policy by significantly reducing migration and asylum and dealing with it on a national level. Asylum seekers should be rejected directly at the border.
The Left champions an "immigration society that shows solidarity" with "global freedom of movement and equal rights for all."
Migration, refugee and asylum policy
'Flight and asylum' is the type of migration to which the six parties devote by far the most space in their election manifestos -- at least 75% in their sections on migration policy -- despite first-time asylum seekers making up only slightly more than 10% of all immigrants who came to Germany in 2019. With the exception of the AfD, all parties want to reform the European asylum system and are committed to the tenets of the Geneva Refugee Convention (although the FDP doesn't mention the latter explicitly). While all parties agree on the necessity to prevent forced migration, their approaches differ greatly.
The Social Democrats want to create a "functioning" European asylum system with what they see as a necessary "balance between responsibility and solidarity". It would include a reform of the

Dublin Regulation

as well as a "supportive distribution mechanism" across Europe. They want to create legal migration paths and fight root causes of flight and migration in the countries of origin.
The Union avows itself to the basic right to asylum and to the legal and humanitarian commitments of Germany and Europe. While migration should be controlled more strongly at the EU level, it considers the European asylum system to be fundamentally in need of reform. Regarding the prevention of people fleeing and migration in the first place, it wants so-called decision centers ("Entscheidungszentren") at the EU's external borders, common standards and a fair distribution of costs and burdens within the EU. What's more, the Union prefers for those who fled to stay in the region around their home country.
The Greens want to create more federal reception schemes and take in refugees via quotas from EU countries with external borders, for example by means of mentor programs based on the Canadian model. They say those who fled their home country should be registered and screened for security concerns at "registration centers" at the EU external borders managed jointly by European institutions. Until they are "efficiently" distributed to a EU member country based on "personal circumstances" like family ties or language skills, they shall receive medical and psychological first aid as well as be accommodated in keeping with human rights standards. The distribution mechanism is based on voluntary reception by member states, regions and municipalities, who in turn would receives support via the EU integration fund. n regards to the reception of refugees and migrants, they champion a greater voice for Germany's states and municipalities. In the future, states "should be able to decide autonomously and freely about the reception of refugees". The Greens reject camps or transit centers like on the Greek island of Lesbos, instead favoring accommodating recognized refugees in a decentralized manner. Similar to the Union and the SPD, The Greens consider migration policy a European task. They want to reduce the time asylum seekers must stay in reception facilities in Germany from currently 18 months to three months. They reject not only defining countries as "

safe states of origin

" but also the cooperation with Libya's coast guard. The Greens want to replace the

EU-Turkey deal

with a new agreement.
The Liberals place emphasis on the differentiation between politically persecuted people, (civil) war refugees and permanent immigrants. People fleeing from war and civil war are to receive their "own unbureaucratic status". This temporary humanitarian protection would only be valid for the duration of the war. The FDP seeks a binding distribution mechanism among EU member states of those seeking protection, with Germany leading the "coalition of the willing" in the reform process of the Common European Asylum System (CEAS). The Liberals want to create "safe escape paths" by enabling asylum application in home countries at embassies of EU member states. If somebody's life is "seriously or concretly" at risk, a humanitarian visa shall be issued.
The AfD wants to leave the migration and refugee pacts of the United Nation (UN). Only particularly vulnerable people are to be granted protection -- and only under the condition that their identity and citizenship are clarified. "Unauthorized immigration" at the border and family reunifications are to be prohibited/eliminated. Generally speaking, the AfD wants a qualified immigration policy geared to the

Japanese Model

.
Germany's Left party calls for a migration and participation ministry. Moreover, The Left advocates legal and safe migration paths to the EU as well as guaranteed access to asylum procedures and legal protection for asylum seekers at the EU's external borders. Binding refugee rights are to be expanded to those fleeing from poverty as well as due to environmental and climate-related reasons. The EU is to offer "Klimapässe" ("climate passports") to residents of nations that have become uninhabitable due to the climate crisis. People without residency status are to get legalized and given safe access to education, health and protection from exploitation. Furthermore, The Left not only wants to revoke the EU-Turkey deal and the Dublin Regulation, it also calls for ending the "cooperation with militias and dictators in states like Libya, Egypt, Sudan and Morocco."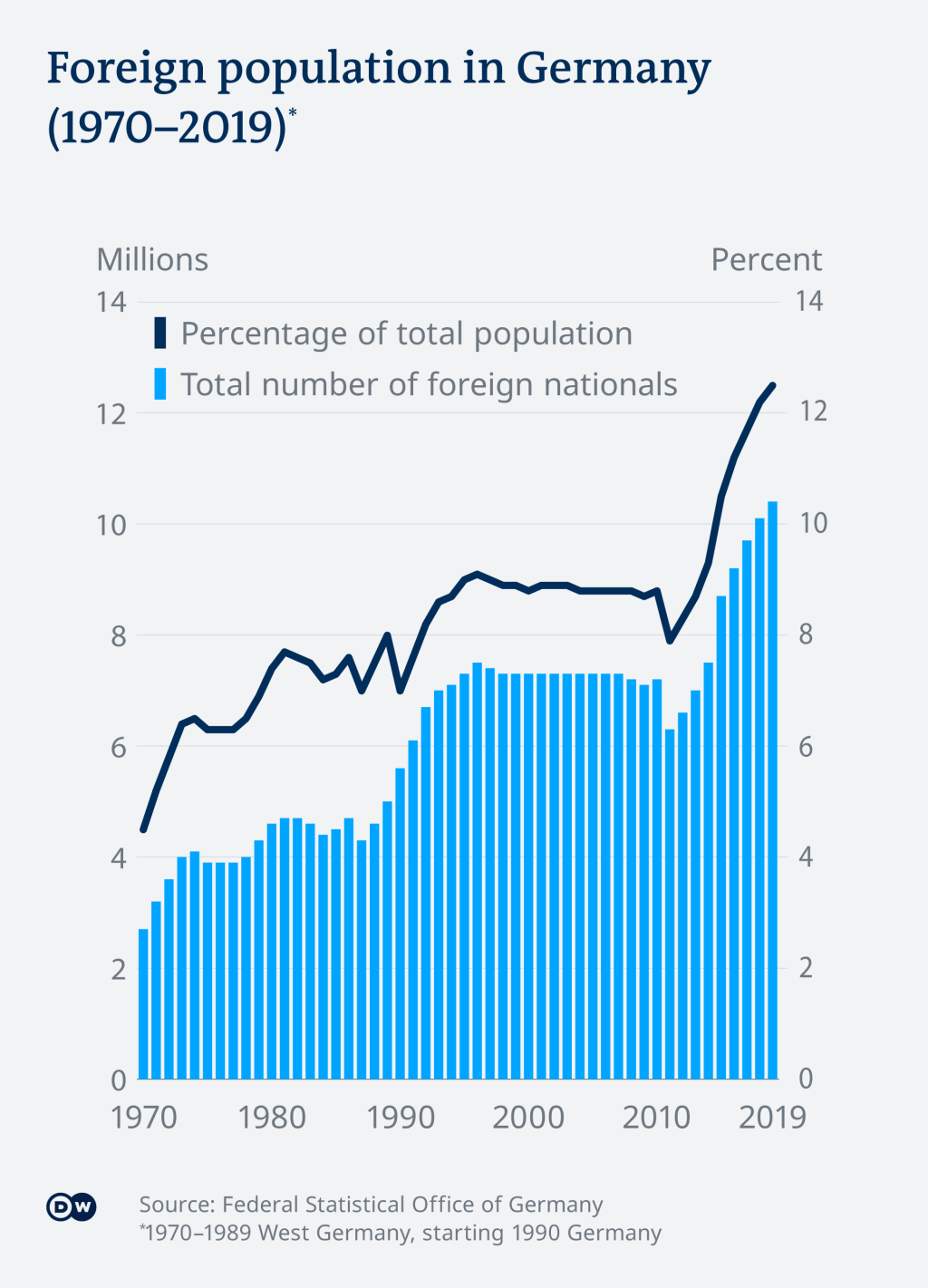 Integration and participation
Despite making up roughly a quarter (26%) of Germany's population, only 8% of all parliamentarians had a so-called migration background after the last federal election in 2017.
For the SPD, integration is a permanent task for both the state and society. Newcomers are to be entitled to integration and language courses -- regardless of their citizenship and their residency status. The party intends to enable all children to attend a day care center as soon as they arrive, which they have a legal claim to in theory, but regulations and red tape can make it difficult in practice. At the same time, they are not exempt from compulsory, immediate school attendance. Those who have integrated well and are without secure residence status would receive a permanent right to stay. To the Social Democrats, so-called 'Kettenduldungen' -- repeatedly extending temporary suspensions of removal -- are a barrier to integration that needs to be removed.
The Union expects immigrants to be willing to integrate, relying on accelerated language acquisition. It campaigns for obligatory language support for children in day care centers and elementary schools and a stronger representation of people with a 'migration background' in the public service.
Integration is a major focus for The Greens. Like the SPD, the Green party wants to do away with 'Kettenduldungen'; those people are to be granted the safe right to stay after five years. They also want to turn 'Duldungen' of those who are employed ('Beschäftigungsduldung') and of those doing an apprenticeship ('Ausbildungsduldung') into the right of residence. The Greens also champion "binding targets" to increase the share of people with a 'migration background' "at all levels" to ensure an equal representation. They also want to further the so-called

Diversity Budgeting

.
The FDP calls for an integration policy concept based on Germany's Constitution and emphasizes the "principles of cosmopolitanism, tolerance and personal responsibility." To the liberals, integration is a two-way street: While language and integration courses are to be made available nationwide and free of charge from day one, immigrants are obliged to make made use of them. The FDP intends to reduce red tape regarding labor market access of asylum seekers, among other things, and wants to introduce "Integrationspaten" ("integration godparents"), based on the Canadian model.
The AfD thinks the onus is on the immigrants. To them, acquisition of the German language is indispensable. Head scarfs would not only be banned from public service, but also at public schools for female teachers and students. The AfD wants to eliminate temporary suspensions of removal ('Duldungen') and replace them with "certificates of the obligation to leave the country".
The Left banks on participation instead of integration to help ensure that all people who live in Germany will be "put on equal footing legally, politically and socially." Civil society groups, refugee councils and migration organizations are to receive long-term support through a democracy promotion law ("Demokratiefördergesetz"). What's more, The Left calls for a quota system for the representation of people with a 'migration background' in the public service and advocates more migrants in the higher echelons.
Labor, educational and family migration
Although it makes up more than half of all the migration to Germany from non-EU countries, the themes labor, educational and family migration are comparatively rare in election manifestos, according to research by the Kiel Institute for the World Economy (IfW). This distorted view -- equating migration with flight by overemphasizing forced migration -- perpetuates a flawed assumption already prevalent among voters, the (IfW) researchers say.
The SPD wants to do away with both the restrictions on family reunification for those with subsidiary protection and employment bans, which apply to certain groups, including those seeking protection who live in a initial reception facilities as well as asylum seekers and those with temporary suspensions of removal from a 'safe state of origin'.
The Union wants to make it easier to recognize foreign qualifications while leaving the hitherto existing arrangements regarding family reunification in place. 
The Green party offers the greatest number of proposals in this area, together with the FDP. The Greens want to make family reunification for those with subsidiary protection status possible again as well as the subsequent immigration of siblings. A "Talentkarte" ("talent card") based on a point system and the yearly labor demand is to empower those with no formal or recognized educational qualification to immigrate.
The pro-business FDP favors rules for skilled immigration based on the Canadian model. They want to allow a "Spurwechsel" ("lane change") for skilled and well-integrated migrants who are not entitled to asylum but who are employed, interning or studying -- they would be allowed to stay in Germany by switching from the asylum system to labor migration. The FDP wants to steer labor migration with a two-pillar approach, which comprises a revised EU Blue Card that would also encompass non-academic skilled workers as well as a new "Chancenkarte" ("opportunity card") akin to the Greens' "Talentkarte". The latter would introduce a "point system based on the Canadian model" that allows recipients to come to Germany and look for work without an existing job offer. Level of education, German language skills and demand for skilled workers are listed as immigration criteria.
The AfD believes only recognized asylum seekers should receive work permits. It rejects all forms of family reunification.
The Left party is not in favor of recruiting foreign skilled workers. Instead, it wants better apprenticeship and working conditions as well as better payment for all people in Germany, including seasonal workers, who'd get the same salary as locals. Foreign qualifications are to be better recognized. Language courses are to be made available free of charge and refugees are to be housed in decentralized apartments instead of collective accommodations.
Citizenship and naturalization
Thanks to the 'birthplace principle' (Geburtsortprinzip), which has been in effect since 2000, children of parents with foreign citizenship who were born in Germany automatically receive German citizenship and are therefore entitled to vote.
The SPD wants a citizenship law that includes the general possibility of possessing two citizenships. Morevoer, it advocates shortening the eight years of residency before people can apply for naturalization as well as "doing away with existing" hurdles for naturalization, without providing any further details.
In the Union's 140-page election manifesto, naturalization and citizenship aren't discussed.
The Greens would allow all foreign citizens to get naturalized after five years of staying in Germany. Those born in Germany with one parent living here lawfully are to gain German citizenship automatically at birth. Multiple citizenship should be recognized.
The FDP wants to make naturalization easier, too. Immigrants are to be able to become German citizens after four years (instead of currently eight years). The Liberals also want to anchor the right to multiple citizenship in Germany's citizenship law.
The AfD intends to return to jus sanguinis that preceded the birthplace principle, i.e. citizenship being determined or acquired by the nationality or ethnicity of one or both parents.
The Left party wants to grant citizenship to all those born in Germany and whose parents live there permanently; they should also have the right to multiple citizenships. Those who have been living in Germany for five years would be entitled to naturalization.
Deportation policy
The SPD rejects deportations to countries where deportees face danger to life.
The Union wants to "better assert" obligations to leave and determine additional 'safe states of origin'. Moreover, it advocates a new concept of

"small" safe states

to facilitate and speed up deportations. The obligation to leave the country ("Ausreisepflicht") is to be asserted better by, among other things, creating custody facilities at airports to facilitate collective deportations. People found guilty of a crime are to be forcefully deported. 
While The Greens argue against deportations to war and crisis countries like Syria and Afghanistan and reject the concept of 'safe states of origin', they believe that people who don't receive a right to stay -- if there are no barriers to deportation -- should have to leave again speedily." Deportations should be the last resort. Rather, the Green party wants to promote voluntary return schemes. Those in deportation detention are to receive legal assistance and be accommodated separately from prisoners.
The FDP is in favor of "forcefully asserting the obligation to leave by means of deportations" of people who have lost their protection status. The party also wants to create a sufficient number of deportation detention spots.
The AfD demands a "deportation offensive" and backs an expansion of the list of 'safe states of origin'.
The Left is the only one of the six parties that rejects deportations of any kind.
Frontex
Although the SPD doesn't mention Frontex in its 66-page manifesto, it says sea rescue shouldn't be "criminalized but also guaranteed by the government through the EU."
The Union wants EU border agency Frontex to become a true border police and coast guard.
The Greens demand Frontex to be held accountable for pushbacks and to put an end to the "systematic breach of law at the EU's external borders". They want to help stamp out intransparency and human rights violations, for instance via parliamentary control of Frontex missions.
While the FDP is in favor of strengthening Frontex, it wants the embattled agency to conduct search and rescue missions without interfering with NGO sea rescues. The Liberals also call for a "structural reform as well as an extension of control and transparency mechanisms". Human rights violations like pushbacks must be investigated and prevented.
To the AfD, Frontex should maintain its responsibility for safeguarding Europe's external borders.
The Left wants to dissolve Frontex and replace it with a "civil European sea rescue program."
* Sources: Mediendienst Integration, tagesschau.de, Institute for Migration Research and Intercultural Studies (IMIS), Kiel Institute for the World Economy (IfW), Expert Council on Integration and Migration (SVR)