Over the past few days nearly 190 migrants have been rescued by private rescue ships. Protesters who formed a human chain at the weekend, stretching from the North Sea to Italy, have demanded a coordinated European sea rescue operation.
Nearly 130 people, including several children, were rescued from the Mediterranean at the weekend by the Ocean Viking, a former cargo vessel. The ship, operated by the charity SOS Mediterrannee, carried out four separate rescue operations on September 18 and 19, taking a total of 129 migrants on board.
On Monday, Italian authorities evacuated two people who needed urgent medical care, plus four others.
"This morning two people who had been rescued and their close family members were evacuated by the Italian coast guard. Both had chronic illnesses and required urgent medical treatment ashore," the organization's tweet said.
Two groups had been found in wooden boats off the coast of Libya, while two were drifting off Malta, south of Sicily. Among the rescued migrants was a baby less than 30 days old, SOS Mediterrannee said.
'Our sufferings are over'
The Geo Barents, another rescue ship, picked up 60 migrants during two operations on Monday. In the first, six people were rescued from a small fibreglass boat in the Libyan search and rescue zone, according to the organization Doctors Without Borders (MSF) which operates the boat.
In the second operation 54 people, including 21 unaccompanied minors and a baby, were rescued. They screamed "our sufferings in Libya are over," when they saw the Geo Barents approaching.
Human 'rescue chain'
The number of people trying to cross the Central Mediterranean in small boats, and of those who have died in the attempt, has been rising. Since the start of 2021, more than 1,370 people have died in the Mediterranean, the vast majority in the stretch of water between Libya and Italy, according to the IOM.
Also read: Mediterranean: Migrant arrivals in Italy continue to soar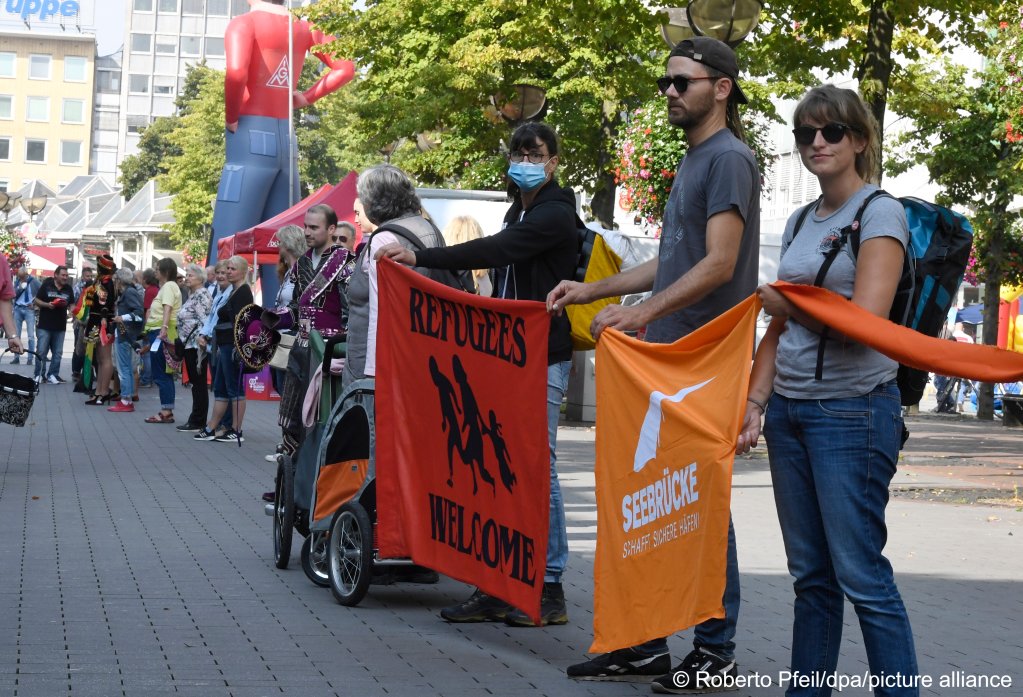 Human rights campaigners have demanded action from the EU to stop migrant deaths in the Mediterranean. On Saturday several thousand people joined a demonstration forming a 'human chain' – holding a colored ribbon instead of hands – which was meant to stretch from the North Sea to Italy.
There is no European official search and rescue effort in the Mediterranean Sea. There are several private vessels currently operating, including Geo Barents, operated by Doctors Without Borders (MSF), and Sea-Watch 4, which was permitted to sail last week after spending five months impounded in Trapani. 
With AFP, KNA