The UN human rights chief has called on countries to take in people uprooted by natural disasters. According to a new World Bank report, climate change could cause some 216 million people in six regions to move within their countries by 2050.
In Afghanistan, heavy rains and floods triggered an estimated 16,000 displacements across 14 provinces in May. In the western United States, eleven wildfires uprooted over 73,000 people between July 1 and August 15. And in Madagascar, four years without rainfall may lead to "the world's first climate change-induced famine", according to the World Food Programme, and force hundreds of thousands to migrate.
These devastations are the latest indicators that persons displaced in the context of disasters and climate change, so-called 'environmental' or 'climate migrants' is a growing global phenomenon.
According to the Internal Displacement Monitoring Center (IDMC), the consequences of human-made climate change, which include desertification, increasing temperatures, loss of biodiversity and sea level rise, can not only gradually "render areas uninhabitable and reduce the opportunities to earn a living and find food and water"; they can also increase the risk of extreme weather itself.
In East Asia and the Pacific alone, typhoons, floods, earthquakes and volcanic eruptions triggered 12.1 million new displacements last year, according to IDMC figures. To make matters worse, disaster displacement is often protracted.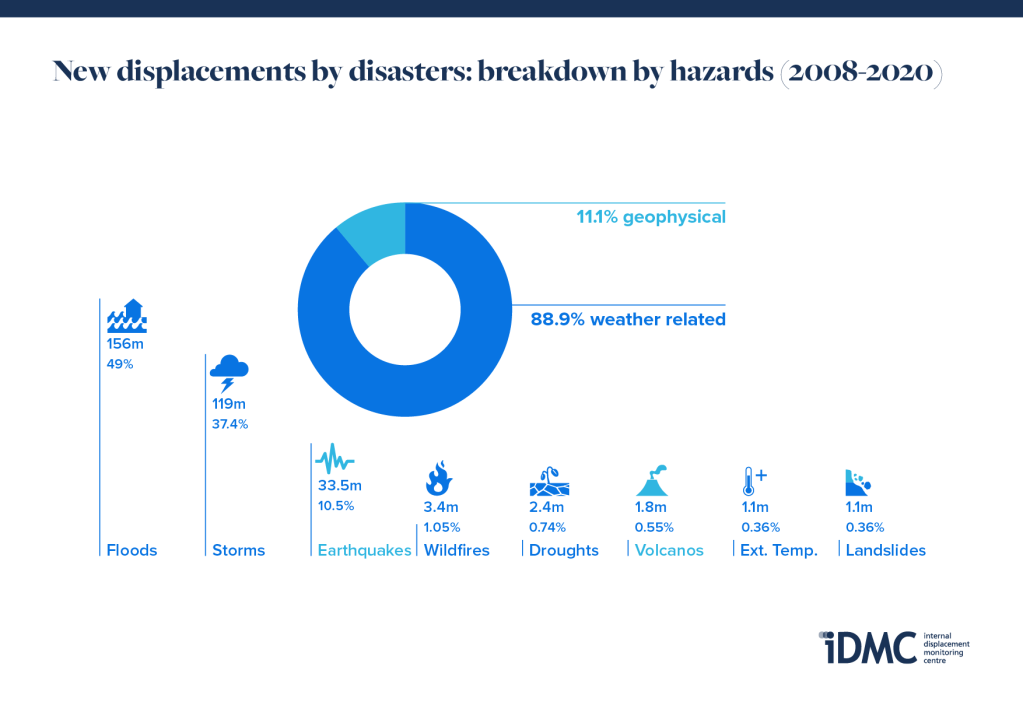 'Single greatest challenge to human rights'
At a meeting of the United Nations' (UN) Human Rights Council last week, the UN High Commissioner for Human Rights demanded migration paths for 'climate refugees'.
"The interlinked crises of pollution, climate change and biodiversity act as threat multipliers," Michelle Bachelet wrote in an online statement published on September 13. "They amplify conflicts, tensions and structural inequalities" as well as "force people into increasingly vulnerable situations."
The commissioner called these environmental threats the "single greatest challenge to human rights in our era," before detailing examples of climate-induced displacement. Examples included Bangladesh, where 17% of the country will be submerged by rising sea levels; and the Middle East and North Africa, where rainfall is projected to decline by 20% to 40%.
The human rights chief also pointed out that displacement due to environmental degradation is especially serious in Asia. According to a report by the Internal Displacement Monitoring Centre, China, Bangladesh, India and the Philippines in 2019 saw a staggering 70% of all disaster displacement worldwide.
Millions exposed to risk of suffering, hunger and displacement
In recent months, droughts from Morocco to Senegal and Siberia have exposed millions to the risk of suffering, hunger and displacement. Additionally, gigantic forest fires and floods devastated large swaths of land and towns all over the world.
Bachelet also reported that environmental activists increasingly face prosecution, violence and death, such as in Brazil and Southeast Asia. She also announced the launch of a program for the protection of environmental protectionists, implemented by her UN Office for Human Rights and the UN Environment Programme (UNEP).
In the coming weeks, the 47 countries of the UN Human Rights Council, among them Germany, will discuss the creation of an expert body for the global observation of the climate crisis and the ramifications for human rights. EU member states support the plan, according to news agency dpa.
Humanitarians and human rights activists have been raising awareness about the interplay of climate change and migration for years. In September 2019, Bachelet warned that "we are burning up our future -- literally."
Also read: A Bangladeshi migrant becomes the first 'environmentally displaced' person in France
Reports illustrate magnitude of climate migration
Echoing Bachelet's demands, two new reports highlight the scope and seriousness of displacement caused by climate change.
The first report, published by the World Bank on Monday (September 20), found that 'slow-onset climate change impacts' on water availability, crop productivity and sea-level rise will increase the pressure on livelihoods and human well-being.
Building on a first report published in 2018, which covered Sub-Saharan Africa, South Asia and Latin America, the second part of the report also focuses on 'internal climate migration' and adds projections from East Asia and the Pacific, North Africa, Eastern Europe and Central Asia. Both analyses follow the same scenario-based modeling approach.
The authors found that "climate-driven internal migration could escalate in the next three decades," hitting "the poorest and most vulnerable regions the hardest' and threatening to reverse development gains. Sub-Saharan Africa could see as many as 86 million internal climate migrants by 2050, according to the report's projections. East Asia and the Pacific as well as South Asia could see 49 million and 40 million, respectively.
"Climate change ... could force people to migrate in distress. Countries could see an emergence of climate migration hotspots, as early as 2030, which will then continue to intensify and expand," the authors of the report said.
A silver lining, if one can call it that, is that it's not too late to act, according to the report: Reducing global greenhouse gas emissions could lower internal climate migration by as much as 80%. To achieve this, however, development must be "green, resilient and inclusive."
Disaster-related displacement becoming the norm
The second report, published last week by the IDMC, says that in Indonesia alone, more than half a million 'disaster displacements' were recorded in the first six months of 2021.
Afghanistan, for one, saw 22,500 new disaster displacements between January and June primarily linked to floods, according to the report. "COVID-19, disasters, and Afghanistan's vulnerability to climate change have further complicated the situation," the authors of the report wrote.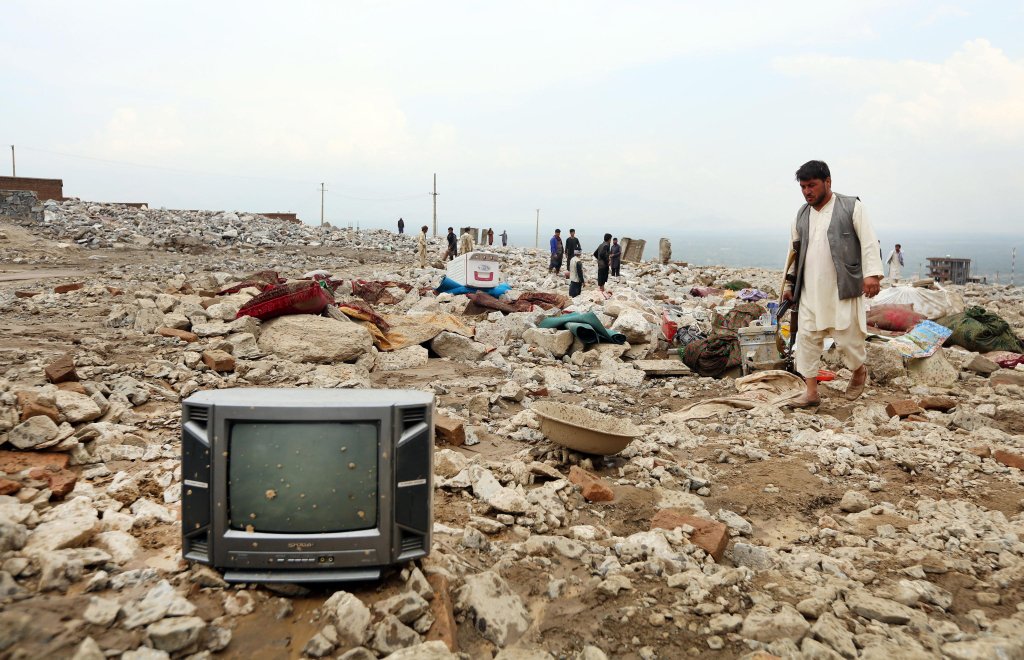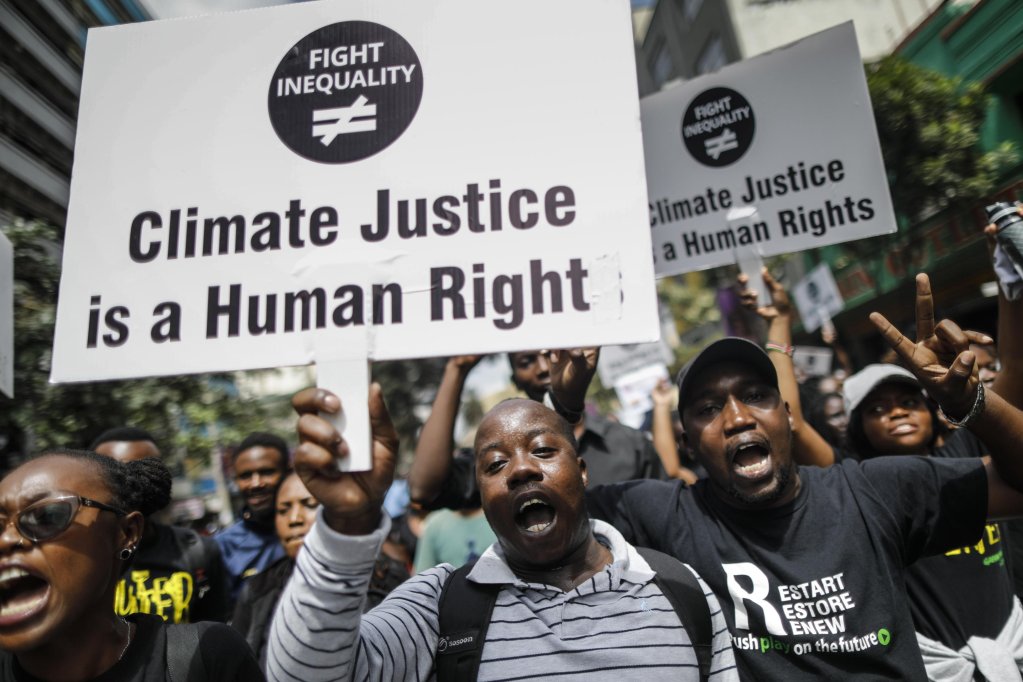 At the same time, the IDMC stressed that "the scale of this phenomenon is unknown" as "internal displacement in the context of climate change is particularly challenging to identify and monitor." What seems inevitable, however, is that the number of 'environmental migrants' will continue to increase.
Researchers say that climate-related displacement has thus far been mainly internal. Indeed, internally displaced people (IDPs) make up more than half of all estimated 82.4 million forcibly displaced people worldwide, according to the UN refugee agency UNHCR.
A number of factors
Still, migration induced by the climate crisis doesn't stop at the border, especially when it's exacerbated by conflict. 1.1 million Somalis, for instance, fled to Kenya and Ethiopia from the impending civil war after the 1991 collapse of the government. The political instability was compounded by drought-related famine, itself linked to armed conflict and violence.
Such cross-border movements in situations where conflict or violence has interacted with disaster or adverse effects of climate change is an area known as 'nexus dynamics.' In the words of a 2018 UNHCR report on the subject, Somalia can be characterized as a "situation in which preexisting conflict, and responses related to it, exacerbated the impacts of disaster and adverse effects of climate change."
Importantly, nexus dynamics is an example of a "situation where the refugee criteria of the 1951 Refugee Convention or broader refugee criteria of regional refugee law frameworks may apply," according to UNHCR. This matters because 'climate migrants' -- or environmental migrants as they are sometimes called - are not legally considered refugees according to international law. To date, there is no globally accepted or legally binding definition of a 'climate migrant,' and the term 'climate refugee' meanwhile is being discouraged from being used and somewhat regarded as a misnomer -- even by UN bodies.
In April, UNHCR released a new data visualization titled 'Displaced on the frontlines of the climate emergency,' which shows how disasters linked to climate change may worsen poverty, food insecurity and access to natural resources in ways that can stoke instability and violence.
Erdogan warns of climate refugees
These predictions about increasing numbers of displaced people in the future, whether within or outside their home regions is also playing out in the minds of world leaders and their politics.
On Tuesday (September 21), Turkish President Recep Tayyip Erdogan said at the UN General Assembly in New York City that the world needs to find a way to deal with its existing refugees fleeing from conflict.
Anticipating the arrival of 'hundreds of millions' of climate change refugees in the near future, Erdogan warned that Turkey, which currently hosts more than 4 million registered, mostly Syrian and Afghan refugees, cannot take in any more migrants. He also voiced this sentiment when he talked about Afghanistan, telling delegates it was time for all stakeholders to share responsibility, the Associated Press (AP) news agency reported.
"We no longer have the potential nor the tolerance to absorb new immigration waves," Erdogan said at the assembly. Without elaborating, he promised, however, that Turkey would meet its "fraternal duty" to Afghanistan. He proceeded to ask the international community for support and solidarity.
According to AP, the topic of displacement played a prominent role in Erdogan's nearly half-hour speech. Turkey, whose economic instability has been considerably exacerbated by the COVID-19 pandemic, has been experiencing heightened xenophobia against people of Arab origin and anti-migrant sentiment in recent weeks and months.
Last month, Erdogan had said that Turkey will not become a 'refugee warehouse' for Afghans fleeing the Taliban.