Poland has said it will seek a 60-day extension of a state of emergency along its border with Belarus, citing a "serious national security threat". Meanwhile, aid organizations warn that a humanitarian catastrophe could be unfolding along the Polish-Belarusian border following the confirmed deaths of five migrants.
On Monday (September 27), Polish Interior Minister Mariusz Kaminski told reporters that Poland has recorded 9,400 attempts to irregularly cross the Polish border from Belarus since August. A total of 8,200 of the attempts were stopped and around 1,200 people are being held in detention centers after being picked up while trying to enter Poland, Kaminski said further.
At the press conference, the minister also presented findings of Poland's special services about the migrants in detention. The report alleges that the phones of some of the migrants in detention contain evidence of them having a criminal past. The accusations include ties to terrorist organizations and, in some cases, long-standing ties to Russia.
The findings further "suggest that Russia is emerging as a more and more important point on the illegal migratory route to Poland and the European Union," a statement from the special services said.
The presence of such individuals in Poland "may pose a serious national security threat," the statement further claims, which, according to the Associated Press (AP) news agency, couldn't be verified. Meanwhile, AP reported that Poland's Defense Minister Mariusz Blaszczak accused Belarusian forces of firing shots into the air, aiming guns at Polish soldiers and other confrontational actions.
"Incidents are being provoked at the border that may lead to very tense situations," said Blaszczak. He's in favor of the government extending the state of emergency along the border.
Along with Latvia, Poland in early September declared a state of emergency along the border areas for 30 days in an effort to reduce the number of irregular crossings. Interior Minister Kaminski said he wants to see it extended for another 60 days. On Monday, he said on Twitter he'd "submit a recommendation to the government to extend the duration of the state of emergency."
Poland also sent an additional 500 troops and special vehicles to its border with Belarus. Both Poland and Lithuania, moreover, are currently building razor wire fences and increasing border patrols. On Monday, the Polish Ministry of Defense tweeted that the border fence will be over two meters high and that 2,500 soldiers are now stationed at the 400-kilometer long border.
Tensions between Belarus and the EU
Over the past few months, thousands of mainly Middle Eastern migrants have been trying to reach the European Union via Belarus, choosing paths to EU member states Lithuania, Latvia and Poland.
The governments of the three countries have repeatedly accused Belarusian President Alexander Lukashenko of attempting to destabilize the EU by encouraging people from the Middle East and Africa in his country towards the border in order to sow divisions and chaos within the EU. His actions came as a response to the EU's imposition of sanctions on his country after his security forces diverted a Ryanair plane flying from Greece to Lithuania in May. The plane had a Belarusian activist and his girlfriend on board, both of whom are now in prison in Belarus.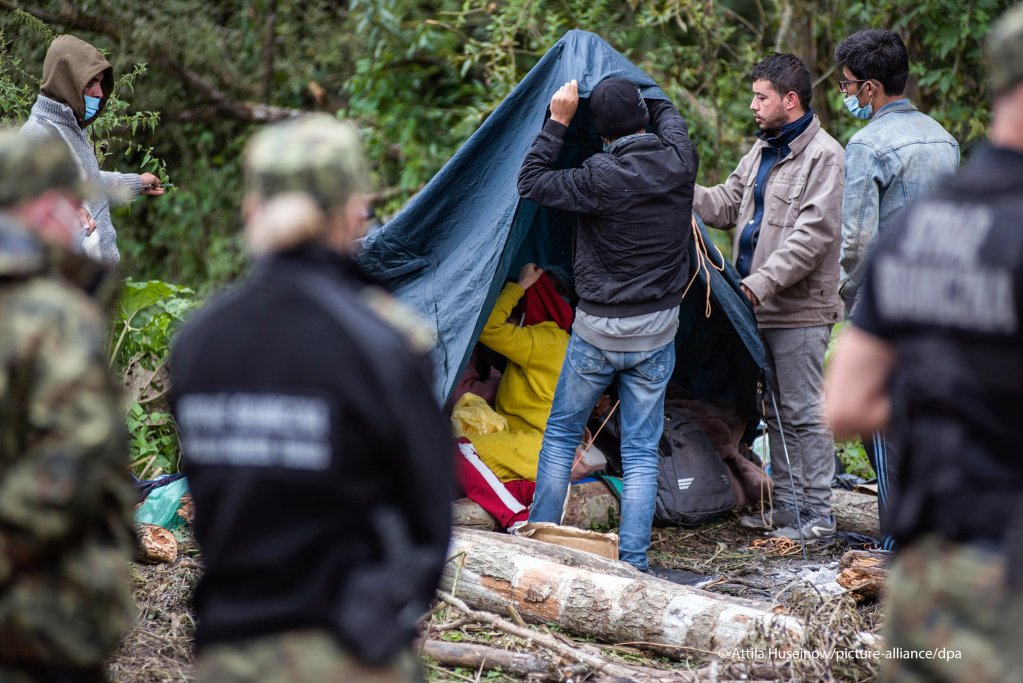 Most migrants who enter Poland from Belarus irregularly apparently aim to reach Germany, where more and more of irregular arrivals are registered. Germany's federal police have taken steps to accommodate the arrivals, whose number they expect to increase further.
On Friday (September 24), German publication Bild reported that Iraqi migrants pay smugglers several thousand euros to help them fly to Minsk, the capital of Belarus, from where they take taxis or travel by foot to EU countries. According to Bild, some migrants warned of the dangerous route from Belarus to the EU. Moreover, Bild reported that an initial reception facility in the German border town of Eisenhüttenstadt was at capacity.
Read more: 'This is like death': Polish border guard pushbacks put migrants' lives at risk
Aid workers warn of humanitarian crisis
While the state of emergency and other tough actions by the government amid the rising number of irregular migrant arrivals are largely popular among Poles, NGOs and international bodies have criticized Poland over its treatment of migrants in the border region. 
In light of reports of people being stranded for weeks, more migrants from the Middle East continuing to mass there in an attempt to enter the EU, as well as sub-zero temperatures at night and winter on the horizon, aid organizations are warning that a humanitarian catastrophe could be unfolding along Poland's border with Belarus.
"We appeal to the Polish government to allow doctors and paramedics to access the border," Maria Zlonkiewicz of the recently formed Grupa Granica, an organization monitoring the situation on the Polish border, told news agency dpa on Tuesday (September 28). "Otherwise, we'll find many dead bodies come spring," she added.
Since September 19, five migrants have died at the Polish-Belarusian border, all believed to be Iraqi nationals. In early September, two Afghan refugee children in Poland died after eating poisonous mushrooms.
Aid and rights workers advocating on behalf of the migrants fleeing war or poverty at home view the state of emergency as unjustified, arguing that there's no control over authorities' actions in the border area.
Several activists entered the Warsaw office of the Polish Red Cross on Monday, beginning a sit-in protest as they accuse the organization of doing too little to help the migrants.
Read more: Human Rights Commissioner urges Poland to protect rights of trapped migrants
With AP, dpa