Polish border guards have begun to send text messages to migrants who are trying to cross from Belarus to Poland. In the text, they warn migrants that the border is closed and they should return to Minsk. Migrants have also been in touch with Polish NGOs, pleading with Poland to "have mercy" and take them in.
"The Polish border is sealed. Belarusian authorities told you lies. Go back to Minsk!" reads the text of the mobile phone messages (SMS) that Polish border guards are now sending to migrants hoping to cross the border from Belarus into EU state Poland.
That's according to a text posted by Poland's Interior Minister Mariusz Kaminski on Twitter. In it, the minister adds another warning to the message: "Don't take any pills from Belarusian soldiers."
The reference to pills, according to Belsat.EU, a Polish free-to-air satellite television channel aimed at Belarus and co-funded by the Polish Ministry of Foreign Affairs as well as international donors, was brought up in a press conference on September 27 in Poland.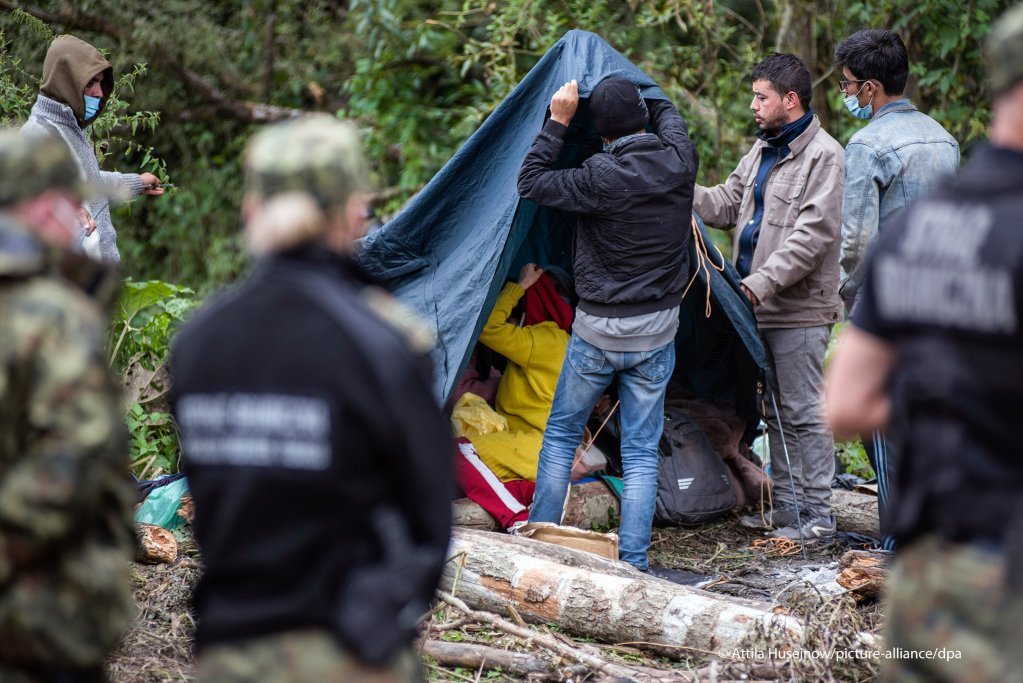 'Strange pills'
During the conference, the press secretary of the Minister-Coordinator of Special Services of Poland, Stanislaw Zaryn, claimed that the Polish authorities had been told by their Lithuanian colleagues that Belarusian law enforcement officers were giving out "strange pills" to migrants to help them "survive" the border crossing into the EU.
"The Belarusians gave methadone [a manufactured heroin substitute] to one of these groups of migrants there," Stanislaw Zaryn said, according to Belsat EU.
Poland's interior minister backed up these claims, reported Belsat, saying that the information they had received from the Lithuanian services was "very accurate." He cited one incident which is alleged to have occurred on "July 22 near Druskininkai, where Lithuanian border guards arrested a group of 15 citizens of Iraq and the Russian Federation of Chechen origin. The group included two children, aged six and one and a half years old."
According to Kaminski, after the arrests, the parents told the Lithuanians that they were unable to wake their children and needed help. They said that the Belarusian guards had given the children "two pills" so that they "wouldn't cry when crossing the border."
Kaminiski said that these two children were hospitalized in time and saved.
The German news agency dpa reported that Poland was sending these messages to all migrants who were within range of Polish mobile phone networks. Alongside the warning, the messages contain a link to the Polish interior ministry website where the situation at the border is then explained in English, Arabic, and Russian.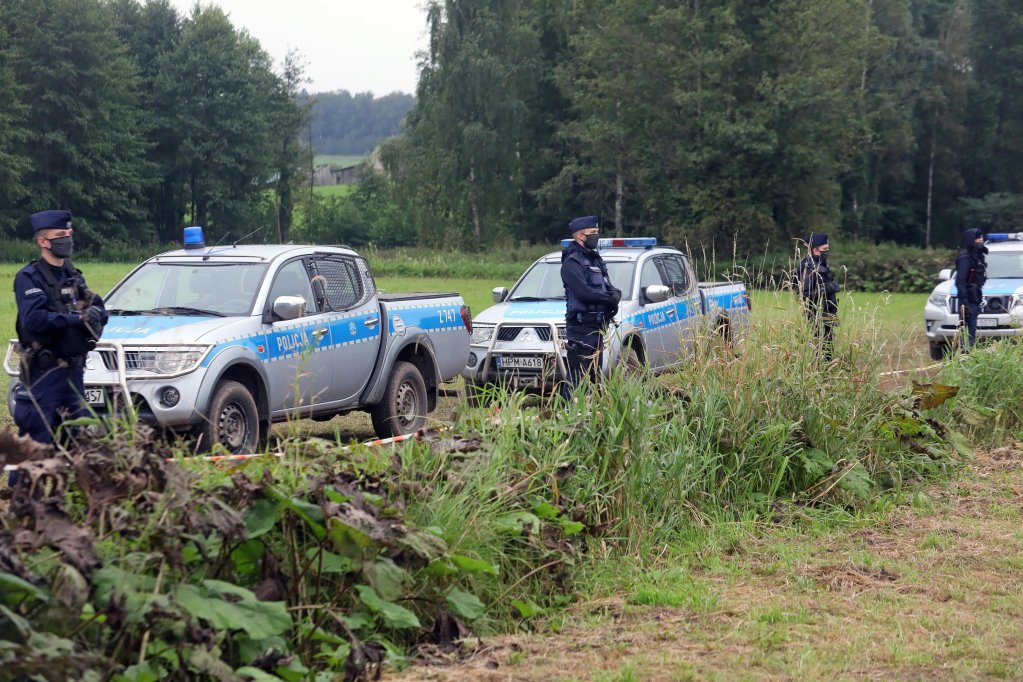 Migrants being used as pawns
The Polish government, like its Baltic counterparts, accuses the Belarusian authorities of using migrants as pawns, to put pressure on the EU to withdraw the sanctions placed on Belarus after its leader Lukashenko declared he had won elections in August 2020, an assertion the opposition claim is false.
Since then, Lukashenko has also diverted a European Ryanair plane flying from Greece to Lithuania, because among the passengers was a Belarusian opposition activist and journalist, Roman Protasevich and his girlfriend Sofia Sapega. On landing in Minsk, the two were arrested by the Belarusian authorities and remain in prison there.
In May 2021, Lukashenko declared that he would stop preventing migrants from crossing the borders into the EU.
Back at the Polish-Belarusian border, migrants have accused Poland of operating pushbacks, not only by preventing them from crossing the border, but also pushing them back to Belarus if they do and refusing to allow them to ask for asylum. All actions that would be illegal under European and international law.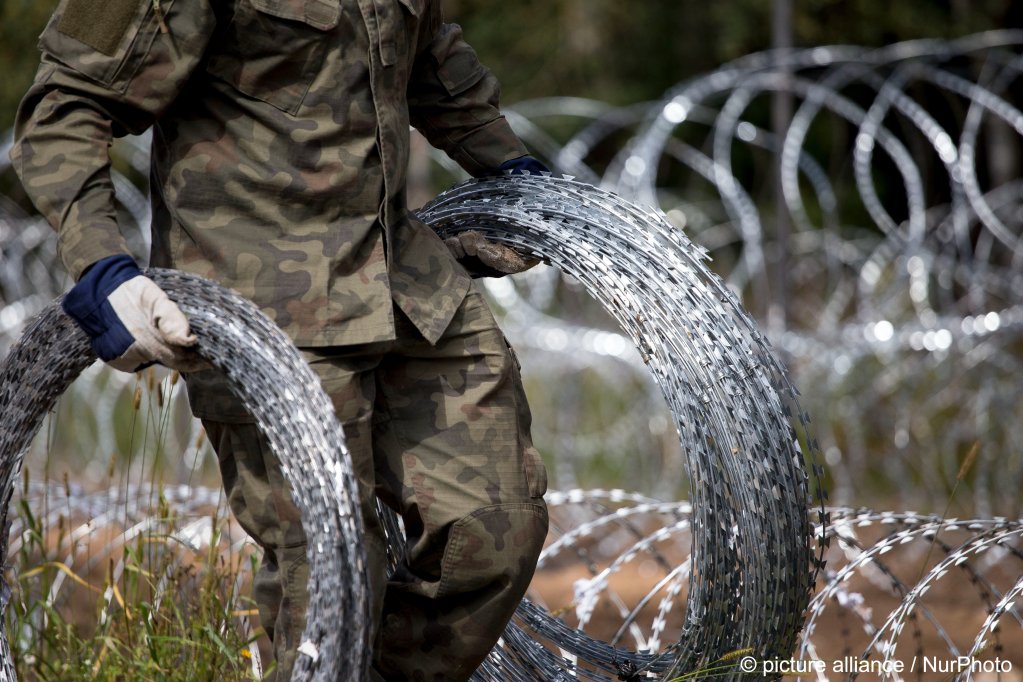 State of emergency
Poland has declared a state of emergency around the border zone and is refusing to allow journalists or those wanting to help the migrants near the border zone. However, according to dpa, one migrant claimed in a Polish newspaper Gazeta Wyborcza that after having been pushed back from Poland to Belarus, he had been picked up by the Belarusian authorities, hit, and then brought back to the border area.
Earlier this week, a Polish foundation, the Ocalenie foundation, released a series of messages it says it received from migrants in the border zone. The Ocalenie Foundation is described by the UN's cultural body UNESCO as a foundation which "plays a very important role in helping foreigners and facilitating intercultural dialogue," in Poland.
The foundation runs a series of projects, including a help center for foreigners which offers a range of experts like psychologists, lawyers and advisers in a range of languages (including English, Arabic, Georgian and Russian,) to foreigners arriving in Poland. They also run an aid project addressed to those who have received international protection or are applying for refugee status.
According to UNESCO the foundation tries to help the social and economic integration of Muslim immigrants in Poland. The foundation says it has been in "regular phone contact with a group of asylum seekers stuck in Usnarz Górny on the Polish Belarusian border," since September 3.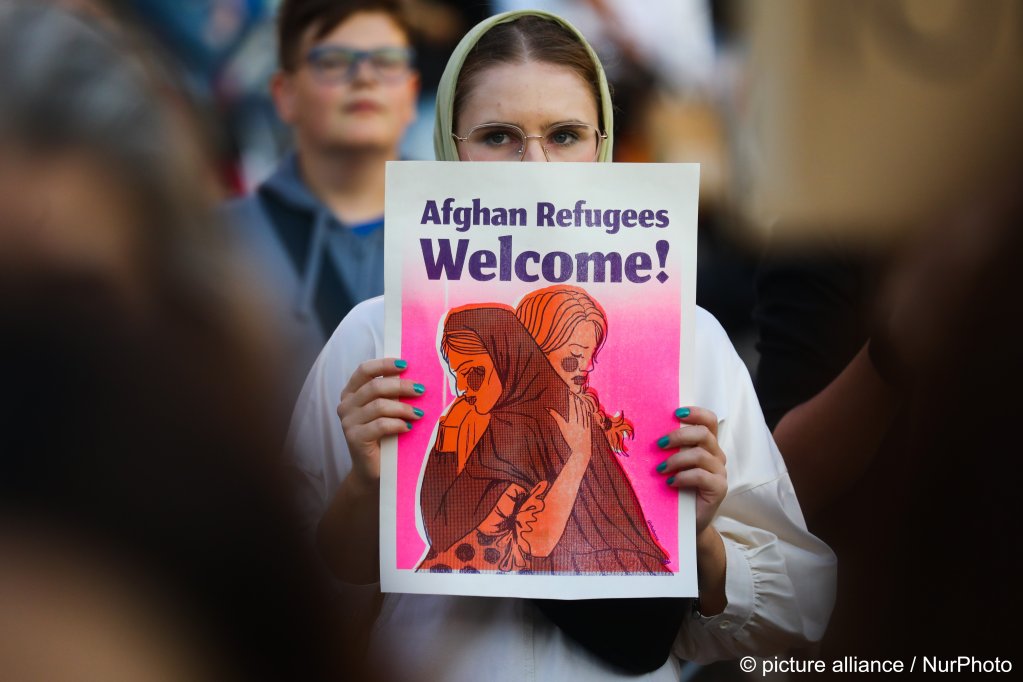 Content of messages 'so dramatic'
In a press statement, sent to DW on September 28, the foundation said that they had not disclosed the information before now because they were concerned for the safety of the group. However, they said that the messages had become "so dramatic," that they saw no other option but to take the content to the media.
They published the recordings of the conversations on You Tube and said the group had agreed to their publication. The chairperson of the Board of the Ocalenie foundation, Piotr Bystrianin, said that they think that the phone is "most likely under the control of the Belarusian border guard – after all, someone is charging this phone."
That is why, he said, workers with the foundation had previously relied on face to face contact but after being prevented from visiting the border region, the group has had to rely on phone contact with the group every couple of days. The conversations take place via an interpreter in Dari.
The last conversation, says Bystrianin, took place on September 21. In this call, they talked to a Ms Gul and Masoud. Ms Gul told the foundation that the group was "sitting between the barbed wires of Poland and Belarus. What are we supposed to do? You know in whose hands Afghanistan is."
'Please have mercy on us'
Ms Gul continued to appeal to the Polish group, saying to them, "you know from your own history what it is to be refugees. You are not at home, you have no food." Ms Gul said she looked at both sides of the border every day, at the barbed wire and pleaded with the Polish authorities to "have mercy on us! Take us from here, somewhere inside the country! We only ask this much, save us from death! If you do not want to offer us protection at least save us from death."
Ms Gul said she had pains in her back and one kidney, and that "officers on both sides of the border can see our condition. We ask them to have mercy. They see the state we are in." The extract of the call ends as she begins to sob loudly.
Another member of the group, named as Abdul Hafiz told the foundation on September 11 that "due to the small amount of food consumed, people detained in Usnarz satisfy their biological needs only every four to five days."
A couple of days later, on September 13, Hafiz told the Polish group that "people tried to sing together to lift their spirits. However, they are all so weak that they cannot remember the words of any song."
A few days after that, the group told the Polish foundation that "Belarusian soldiers surround us from four sides with barbed wire so that we cannot go anywhere."
'If we stay here and die, will you take care of our dead bodies?'
In Masoud's call he said that the group consisted of 32 people who had been "sitting for 42 days hungry, cold and in a very bad condition." Masoud said for the last three days "it has been raining days and nights." Masoud said that "between four and ten people could die in the next few days," because they were, at the time of his call "just lying in their tents, they have headaches, stomach aches, they are in a very bad condition."
Lastly, Masoud appealed once more to the Polish authorities to take them in, because neither side wanted to take them in. His call extract ended with a question: "If we stay here and die, will you take care of our dead bodies?"
The foundation said that by September 21 Abdoul Hafiz was "too weak," to talk to them and that is why the communication had been taken over by Ms Gul and Masoud. The foundation's statement said that they hoped the Polish authorities would work to prevent any more deaths, after five people have already been found dead in the area. They asked the Polish authorities to "provide the necessary assistance to asylum seekers in need, --those from Usnarz and those elsewhere along the border-- before another irreversible tragedy occurs."
The EU court of human rights ECHR has also urged the Polish authorities to help those Afghans at the border.