Hundreds of thousands of people forced to flee their homes in Afghanistan have remained in the country. Those who are sleeping in tents in a Kabul park are calling on the international community to send aid urgently.
"So far we have not received any aid from anyone," Agha Nori told the news agency Reuters. Nori is one of thousands of Afghans sleeping in tents and makeshift shelters in the Shahr-e-Naw park in Kabul.
Nori and his family of seven are originally from the northern Takhar province. When he spoke to Reuters, Nori explained that they hadn't eaten any lunch or dinner. "We call on the international community and the United Nations to help as soon as possible," he said.
The UN Refugee Agency UNHCR said in August 2021 that 550,000 people had been newly displaced in Afghanistan between January and July this year. By September, that figure had increased to 630,000.
According to the UNHCR, 3 million people were already internally displaced in the country by the end of December 2020. There are 2.2 million Afghan registered refugees in Iran and Pakistan. Since the Taliban marched into the capital Kabul and the previous government fell, even more have tried to make it over the borders into Pakistan, Iran and Tajikistan.
"This latest wave of violence in 2021 is another blow for Afghans, who have suffered more than 40 years of conflict, natural disasters, chronic poverty and food insecurity," the UNHCR stated in an emergency appeal.
'We fled only with a blanket'
One woman, who gave her name as Maryam and was displaced in Mazar-e-Sharif in August, told the UNHCR that when she left her home she and her children had no time to gather anything. "We fled with only a blanket," she said.
In August, 24-year-old Maryam appeared in a UNHCR film. "There was war. Bombs were being dropped," she explained. "My father was killed there and a lot of my relatives were killed. "We were forced to flee. I was responsible for my children and I didn't want them to be killed."
Maryam and her elderly mother fled with her children. In the film two of her children collect water for tea and cooking in small bottles. They all lived crammed into a small tent and struggling to survive, according to the UNHCR.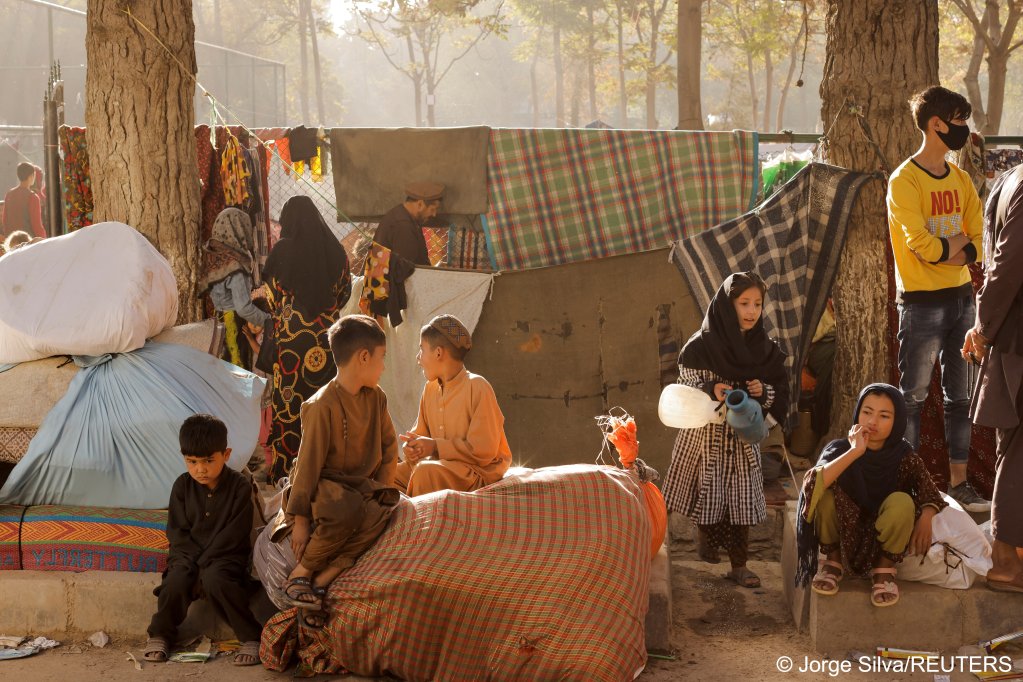 'Our children need food'
Temperatures at the time were soaring to over 40 degrees. There was little clean water and not enough to eat. "Our children need food," Maryam said. "They ask for things because they are children. They don't know whether we have it or not."
Many of the children were barefoot in the film, their eyes big and their hair covered in the dust of the desert.
According to Reuters, since the Taliban took over, poverty and hunger have worsened still further. The country is also suffering a drought and everything has been made worse by the COVID-19 pandemic.
In October, another woman in Kabul park asked Reuters rhetorically, "who is the figure who takes care of the poor?" Giving her name as Zia Gul, the woman, who said she came originally from another northern province, Kunduz, said that in her group there were four to five families. "We are all homeless," she said.
'More humanitarian aid urgently needed'
The UN says that "without help, Afghans risk losing hope." The UN said in August that it had activated its emergency response to try to protect the most vulnerable and assist newly-displaced Afghans. In August it was establishing hand-washing stations and distributing hygiene kits to those displaced. The agency was also providing emergency cash support to some displaced families. "But more humanitarian aid is urgently needed," the UNHCR said.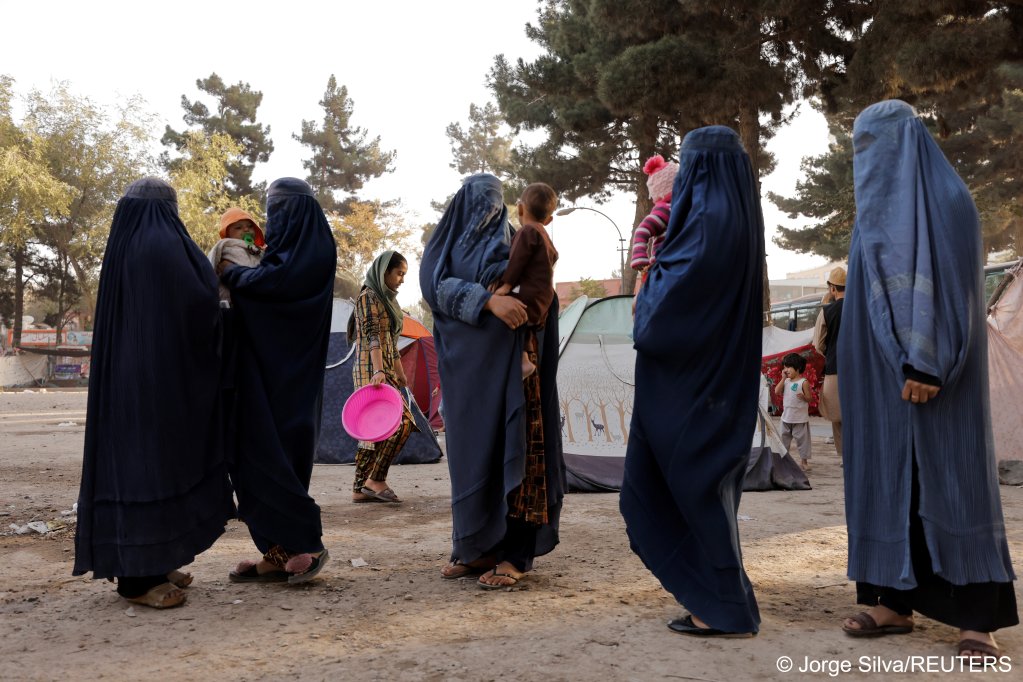 According to the UNHCR's data portal, updated in August 2021, the agency still needed a 58% gap in its funding needs, to the tune of almost $220 million (about €190 million).
Maryam told the UNHCR: "We want a normal life just like everyone else. I want my children to become something in Afghanistan, to become doctors, engineers or something, that is my hope."
But as about 65% of the displaced are children and young people, the UNHCR confirmed that many are anxious about their futures and have so many challenges to contend with that their "resilience is at breaking point." The agency fears that the current instability will only lead to further displacement.
Situation worsening
When the UNHCR chief Filippo Grandi visited the country in September, he said the situation had become even more dramatic.
Grandi met members of the interim government and said he had spoken to them about women employees being guaranteed a safe return to work as well as a continuation of education for all Afghan children, including those from minorities which have often suffered discrimination in the country, including under the Taliban.
The UNHCR has just opened a carpet workshop in Mazar-e-Sharif which is offering work to 45 workers to help some of the displaced support their families.
The Swiss newspaper Nau recently reported that the UNHCR had called on the country to take in more Afghans in need of protection. A similar request was sent to EU countries too.
With Reuters